| | | | | | | |
| --- | --- | --- | --- | --- | --- | --- |
| | | || | | || | | |
ALUMNI UPDATES
Adam Kushner '03, New Republic Online Editor
By Monica Villavicencio '02
In nearly four years since graduation, Adam Kushner '03 has made headlines at The New Republic, a weekly national magazine covering public affairs, arts and culture: He is the magazine's first managing editor for its online division and at the age of 26, its youngest editor.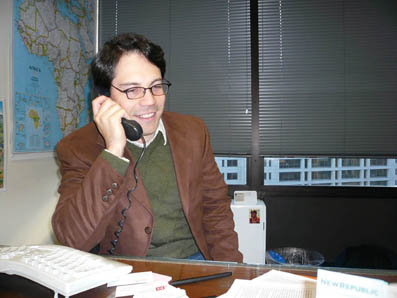 PHOTO: SACHA ZIMMERMAN

I catch up with Kushner at a coffee shop in Washington, D.C., where TNR is based, hoping he'll divulge the secrets of his success to a fellow alum and fledgling journalist. He kindly obliges. "Someone told me that I was promoted because I kept such an organized desk, inbox and calendar," Kushner says. He looks businesslike but casual in a dark sweater, shirt collar peeking out. There's a confidence in his brisk speech. "But that's not really why."
The truth is that for a recent graduate, Kushner is surprisingly experienced. His journalism career began while he was still a student working at Spectator, where he wrote, edited and did layout for the paper's World Page and Editorial Page. Kushner took a strong interest in opinion journalism and wrote many Spectator op-ed pieces. While his Spectator tenure allowed him to gain experience writing opinion columns, Kushner felt the limits of the genre. "The 800 word op-ed is not a particularly intellectually rich medium," Kushner says. "I wanted to be more reportorial, calling sources but opinionated." So in his junior year, Kushner seized the opportunity to write in-depth, researched opinion pieces and started the Columbia Political Review, a multipartisan magazine published two to three times a semester.
The magazine's staff writes book reviews, personal essays and fact-rich opinion and analysis pieces. Kushner's CPR bylines include a cover story on the need to act against Saddam Hussein and a piece on the mislabeling of Hezbollah as a terrorist organization. Each issue also featured a Kushner interview with an influential person, from then-presidential hopeful Howard Dean to Pulitzer Prize-winning former New York Times reporter Sydney Schanberg. While the publication was in its infancy, Kushner poured a great deal of energy into the writing, editing and design of the magazine, and in six years it has grown from a black-and-white, no-frills labor of love to a thriving glossy color fixture in the Columbia political scene with a circulation of 4,500.
During summer 2002, Kushner landed an internship at The Miami Herald that turned out to be more rewarding than the average coffee-fetching, fact-checking internship. "It was very serendipitous for me. They were short staffed, so I was writing editorials about things such as the Florida pension system." And even more unexpectedly, "A few weeks after that, they gave me my own column about the Middle East," he says, marveling.
After a busy senior year, Kushner braced himself for post-Columbia life. He had lined up a reporting fellowship at the Poynter Institute in Florida and another internship at the Chicago Tribune. But his plans would only carry him through the end of the summer, and without a full-time job offer in hand, Kushner was getting worried. The night before Class Day, he was rushing out the door for a pre-graduation happy hour when he received a welcome phone call from The New Republic, where he had interviewed for a one-year reporter-researcher position. TNR hires three reporter-researchers each year following a rigorous application process that includes the submission of a 750-word critique of the magazine and an interview that Kushner describes as intimidating (it included questions such as which New York Times columnist he'd fire). "The goal, I realized later, was to see whether I'd stand up for my ideas and make arguments for them, or just back down in order not to upset a potential employer," Kushner says. "I suppose I did OK."
Kushner began his post-Columbia life assisting TNR's editor, writing and researching. "I can't really do justice to how much I learned about politics and journalism that year, and though it was hard, often chaotic work, it was so edifying," Kushner says. After just eight months, he was promoted to assistant managing editor and became the youngest person, at 23, to hold that position in the magazine's history.
Last summer, Kushner was promoted again — this time to the position of managing editor/online, which he describes as a tripartite job of editing, producing and hiring, otherwise known as "making sure the trains run on time." He's in charge of the magazine's website, putting up about five stories a day, written by TNR staffers and freelancers, and a staff column, most of which is original Web content. The job is demanding; a typical day might have Kushner squeezing in an hour or two of work at home before hopping on his bike and heading to the office around 10 a.m. What he enjoys most about his job is assignment and top editing — calling writers and talking through arguments, posing counterarguments, suggesting structure. "Every day is an extended exercise in logic," he notes. Still, he misses writing and hopes eventually to do more of it. And with bylines in a number of major metropolitan publications such as the Los Angeles Times and the San Francisco Chronicle, no doubt he'll easily make the transition.
Kushner, whose father, Fred '70, '74 P&S, chairs the New Orleans region of the College Alumni Association Board of Directors, majored in ancient studies and remembers his time at Columbia fondly. The Core Curriculum was an integral part of his journalistic training, Adam says, and the "Great Books" curriculum and liberal arts education helped foster his generalist sensibilities. "The best thing Columbia gave me is the ability to keep learning," Kushner says. "In a more avocational sense, now I have the tools to follow my interests into any discipline I want."
---
Monica Villavicencio '02 is a Joan B. Kroc Fellow at National Public Radio.
| | | | | | | |
| --- | --- | --- | --- | --- | --- | --- |
| | | || | | || | | |


CCT Home


This Issue


Previous Issue

CCT Masthead