| | | | | | | |
| --- | --- | --- | --- | --- | --- | --- |
| | | || | | || | | |
ALUMNI UPDATES
Joshua Lederberg '44 Receives Medal of Freedom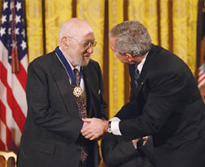 Photo: White House Photo by Eric Draper

Nobel Prize-winning microbiologist Joshua Lederberg '44, whose advice helped create NASA's early biology programs, was awarded the Presidential Medal of Freedom, the United States' highest civilian honor, on December 15. The medal, which was presented by President and Mrs. Bush at the White House to Lederberg and nine other honorees, recognizes high achievement in public service, science, the arts, education, athletics and other fields.
"Joshua Lederberg has always seemed ahead of his time," President Bush said during the presentation. "He was researching genetics when the field was scarcely understood. He was studying the implications of space travel before there were astronauts. And even three decades ago, he was warning of the dangers of biological warfare. All of his life, people have seen something special in this rabbi's son from Montclair, N.J. Someone who knew him in college said, 'You could tell that Joshua was in the lab because you could hear the breaking glass. He was so young, bursting with potential.'
"[Lederberg] earned his Ph.D. in his early 20s. And at the age of 33, he won the Nobel Prize. Dr. Lederberg has remained at the top of the scientific field, as a professor, researcher and writer. As a columnist, and adviser to many administrations, he brought clear, independent thinking and wisdom to matters of public policy — especially in national security and nonproliferation."
Lederberg became interested in exobiology — the study of life beyond Earth — in the 1950s, as interest in exploring space began to build in the United States and other countries. He was one of the first scientists to express concern that spacecraft from Earth might carry microbes that could contaminate the moon or other landing sites. He co-chaired the 1964 Summer Study, sponsored by NASA and the Space Studies Board of the National Academy of Science, which outlined the rationale for searching for life on Mars and started to make the search for life beyond Earth intellectually respectable. He frequently was consulted by NASA during the development of the Viking mission, which carried experiments designed to determine whether life could exist on Mars.
Lederberg has remained active with NASA. In 2000, Baruch Blumberg, then-director of the NASA Astrobiology Institute, included Lederberg on his Director's Science Council. Lederberg continues to be affiliated with institute activities and recently served as a reviewer for the joint NAI-American Philosophical Society "Lewis and Clark Fund for Exploration and Field Research in Astrobiology."
Lederberg was born in Montclair, N.J., on May 23,1925, and was brought up in Washington Heights. He attended Stuy­vesant H.S before earning a B.A. with honors in zoology (premedical course) from the College and studying at P&S, where he carried out part-time research in the zoology department. He later went to Yale's department of microbiology and botany as a research fellow and graduate student; he was awarded a doctorate in 1948.
In 1947, Lederberg was appointed assistant professor of genetics at the University of Wisconsin, where he was promoted to associate professor in 1950 and professor in 1954. He organized the department of medical genetics in 1957 and was its chair during 1957–58. Lederberg organized Stanford School ofMedicine's genetics department, which appointed him professor and executive head in 1959. In 1962, he became director of the Ken­nedy Laboratories for Molecular Medicine at Stanford. In 1989, he received National Medal of Science for his contributions to the scientific world. In 1994, Lederberg headed the Department of Defense's Task Force on Persian Gulf War Health Effects, which investigated Gulf War Syndrome.
He served as president of Rockefeller University in NYC from 1978–90 and is now profesor emeritus.
| | | | | | | |
| --- | --- | --- | --- | --- | --- | --- |
| | | || | | || | | |


CCT Home


This Issue


Previous Issue

CCT Masthead