FEATURE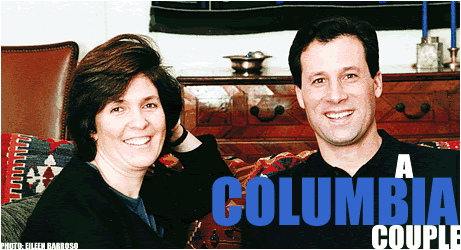 Associate Professors Karen Barkey and Anthony Marx Combine Work and Family
By Laura Butchy
Karen Barkey, associate professor of sociology, and Anthony Marx, associate professor of political science, have much in common. Both have spoken all over the world at various institutions, authored multiple books, and written numerous research articles. At Columbia, both are now tenured professors and departmental representatives, popular with students and respected by their colleagues. Both are actively involved in College affairs. Marx has served on numerous committees and has been a faculty representative on the College Alumni Association Board of Directors. Barkey has been a member of the Provost's Committee on Social Science General Education, the President's Committee on Ethnic Studies, and the Executive Committee of the Faculty of Arts and Sciences. Both have participated in recent alumni events, such as Dean's Day in Washington D.C. in April and a meeting of the Los Angeles alumni association last October.
"They are lively, considerate, knowledgeable, committed, and quick," praises Charles Tilly, the Joseph L. Buttenwieser Professor of Social Science.
They are also married.
The couple met when a mutual friend brought Barkey to dinner at Marx's house over Labor Day weekend 1990, just before Marx began teaching at Columbia. Two years later to the day they were married, and a year after that they had their first child, Joshua.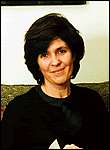 Karen Barkey
PHOTO: EILEEN BARROSO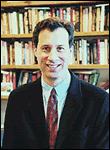 Anthony Marx
PHOTO: EILEEN BARROSO


Barkey, who specializes in Turkish studies, arrived at Columbia in September 1989; Marx, an expert on South African politics, came the following fall. In 1998, they became Columbia's first couple to earn tenure at the same time. Marx said they celebrated with friends and champagne, but were mostly exhausted following the long tenure process.
After being asked to think about more interdisciplinary activities for students in the social sciences, Marx and Barkey have now become founding co-directors of the University's Center for Historical Social Science, which will open in September 2000.
In an interview in Barkey's spacious Fayerweather Hall office, Marx reclined on a couch while Barkey sat in a large chair next to the fireplace. Among the old floor-to-ceiling wooden bookshelves, both spoke modestly of their achievements.
"We've stayed pretty even in terms of our accomplishments," Marx says. "We've both won prizes for books [and] we've won important fellowships."
"We have influence on each other's work - a lot, in fact," Barkey says. Because their disciplines are closely related, they read and critique each other's work, which is often productive. "We don't work on the same time periods, but the themes are the same," says Marx. In addition to their research, they also discuss teaching and departmental issues.
But Marx is quick to emphasize that work is not all they talk about. "At home it's more like how to get the kids to eat vegetables or go to bed early," he says, laughing.
The couple has a strong commitment to undergraduate education. As departmental representatives, they head their respective departments' undergraduate programs. "The College should be the centerpiece of the University," Marx says, echoing one of the themes of President George Rupp's administration.
During the spring semester, while Marx was on leave, Barkey taught "Introduction to Historical Sociology" and co-taught "The Jewish Experience in the Christian West" with Ira Katznelson '66, Ruggles Professor of Political Science.
"I feel that she is committed to the constant improvement of the undergraduates' quality of education," says Kateryna Rakowsky '00, a history and sociology major. "Not only has she helped me, but Professor Barkey has also paid attention to feedback I've had regarding the department."
According to Barkey, team teaching may be harder at times, but is also more stimulating. She says one of her best experiences at the College was co-teaching a course with Professor of History Mark von Hagen, director of the Harriman Institute.
"It was so free, so positive, and just a marvelous experience for all of us," Barkey says. The small seminar allowed each student to participate more, and she still keeps in touch with some of the students from the spring 1996 course.
"Professor Barkey embodies that mythical college professor that really cares and is willing to bend over backwards for her students," Rokowsky says. "She has helped me in immeasurable ways since becoming my advisor this academic year. My experience here at the University has been unquestionably bettered by her presence. She has influenced my life as much as - if not more than - any other professor here."
Marx says teaching allows him the luxury of continuing to learn, read and write. "[The best part is] being able to interact with smart students about topics you are interested in," Marx says.
"It's fun when issues get students riled," Marx adds with a smile, explaining that he then attempts to contain their excitement and channel it to a good purpose. According to Marx, teaching material that he is personally interested in and simultaneously researching for other projects is helpful and stimulating. "Research and teaching should go together at a university, like they do here."
"Professor Marx incorporates relevant current events into the lectures and aims to get students to better understand and challenge our own personal biases," says political science major Yahonnes Cleary '00. "For example, in his first lecture for 'Political Change in the Third World' [during the fall 1999 semester], he brought in a page of The New York Times international section in which an article about Third World poverty was placed next to a Tiffany advertisement for some thousand dollar piece of jewelry, illustrating our nation's inconsistent and almost schizophrenic concern for the world's underprivileged."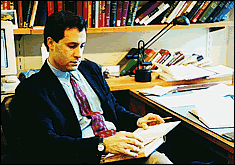 PHOTO: EILEEN BARROSO


This semester, Marx had more time for his studies as he spent his sabbatical working on a comparative history of nationalism with funding from a Guggenheim fellowship. He also enjoys working with other faculty members, such as when he and Jack Snyder, the Robert and Renee Belfer Professor of International Relations, co-taught a course using their different approaches to race and war.
With related fields, Barkey and Marx sometimes have the chance to teach or interact with the same students. They have served together on dissertation committees and assisted each other in helping students get jobs. Barkey is quick to refer students attracted to South African and Brazilian politics to Marx, and Marx directs students interested in Turkey and Eastern empires to Barkey.
The new Center for Historical Social Science will give Barkey and Marx even more opportunities to work with students. "The Center will have graduate students and more senior fellows, and a set of programs and workshops on a variety of themes, including methodology, institutions and identities and democracy and inequality," Marx explains.
"We're very fortunate to have Karen Barkey and Anthony Marx on our faculty," says Dean of Academic Affairs Kathryn Yatrakis. "Both come to their studies with incredible enthusiasm, and they are also active in other areas of college life."
"They contribute especially to comparative-historical social science at Columbia," Tilly says. "That's why it's such a pleasure to see them starting a new center for historical social science."
Until she moved to the United States to attend college, Barkey lived in Istanbul. Nonetheless, she says Columbia is a "recurring theme" in her life. When choosing an American college to attend, which she had to do sight unseen from Turkey, Barkey considered Columbia, and the summer before she enrolled at Bryn Mawr, she participated in Columbia's summer American Language Program for English. Later she was offered a Columbia graduate fellowship but opted instead to earn her M.A. from the University of Washington in Seattle and her Ph.D. from the University of Chicago.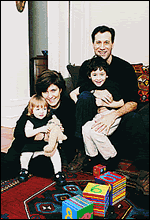 PHOTO: EILEEN BARROSO


Barkey received her introduction to sociology from a high school teacher-a Chilean exile teaching in a French school in Turkey. Her interest crystallized while she was studying with sociologist Daniel Chirot '73 GSAS at the University of Washington. Prior to Columbia, Barkey taught at the University of Chicago and the University of Wisconsin. Since arriving at Columbia, she credits Harrison White, Giddings Professor of Sociology, and Tilly with influencing her continuing studies and writings.
Marx's relationship with Columbia goes back to his childhood. He grew up around the corner from Baker Field and spent his youth "sneaking into Columbia games" and hanging out at the West End "pretending to be an undergrad."
Marx's path strayed from Columbia when he went to Wesleyan, though he later completed his bachelor's in political science at Yale. Marx traces his focus on political science back to his college years, when South Africa was in political turmoil. In 1984, he traveled to South Africa to teach, work and study. There he worked for a leading anti-government group and set up a university for black students.
"It was the most harrowing, distressing place in the world," Marx says of the experience. "Everyone was living and breathing politics, and it was the most amazing experience I've ever had." Marx wrote his first book, Lessons of Struggle: South African Internal Opposition, 1960-1990, following his time there.
"I didn't plan to be a scholar by any means," Marx says. He returned to the United States expecting to become a political activist and enrolled in Princeton's Woodrow Wilson School to study with sociologist Theda Skocpol. (When Barkey and Marx met Labor Day weekend 1990, neither realized that they already had something in common: Skocpol had advised Barkey at Chicago.)
Marx went on to study with political science advisors as well as people who inspired him in other disciplines, such as political economy and sociology, and eventually he earned his Ph.D. in politics from Princeton. He spent one semester teaching at Yale before finding his way back to Columbia.
Cleary says Marx's personal experiences benefit students. "He lectures almost as if he is telling a story, often relying on personal anecdotes and experiences to illustrate a point," Cleary explains.
"What was most interesting was that he knew the people he was talking about, especially in the politics of South Africa," says Lorenzo Wyatt '93, who is now deputy assistant secretary of the University. "It was impressive to see such a young guy who was well-traveled, had spent time in South Africa, and had spent time with the leadership making changes there. He's really committed to social change."
The couple lives among colleagues and students in Morningside Heights, which Marx describes as "like a college town in a big city." Their two children, Joshua, 5 1/2, and Anna-Claire, 1 1/2, will certainly be encouraged to attend the College.
Although their jobs, children, and large dog keep them busy, they enjoy traveling when they can. "The beauty of what we do for a living is the luxury to do new things and see new places," says Marx. His most recent book, Making Race and Nation: A Comparison of South Africa, the United States, and Brazil, led him to visit Brazil in 1993. For a portion of that time, Barkey joined him in Rio de Janeiro.
Barkey continues to visit Turkey regularly to research in Istanbul's regional archives. Her first book, Bandits and Bureaucrats: The Ottoman Route to State Centralization, has recently been translated into Turkish, although she had difficulty proofreading due to changes in the language. She also co-edited with Mark von Hagen After Empire: Multiethnic Societies and Nation-Building, the Soviet Union and the Russian, Ottoman, and Habsburg Empires.
At the moment, Barkey is working on Post-Imperial Nations: State and Nation-Building after the Habsburg and Ottoman Empires, a comparative study of post-imperial nation building. "I analyze the varying discourses of the nation before and during the Interwar era in Hungary and Romania, Austria and Turkey, Greece and Czechoslovakia," she says.
For his future research, Marx hopes to write more about South Africa and the problem of democracy and inequality being too comfortable together.
"At some point, I would like to return to South Africa and study it since its historic transition," he says. "When the kids get older we'd like to take them to see these places we care about."
Last October's meeting of the Los Angeles chapter of the alumni association, at which both Barkey and Marx spoke, illustrates one of the realities of their unique marriage.
"They knew if they asked us both, they had a better chance of getting us," Marx says, laughing.
About the Author: Laura Butchy is a graduate student studying dramaturgy in the School of the Arts.