FEATURE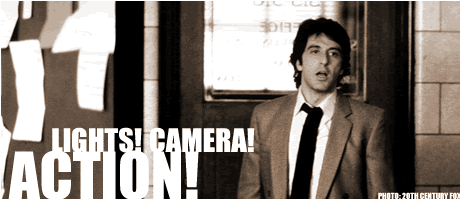 Some of Hollywood's Biggest Names Have Come to Morningside Heights Searching for the Perfect Setting for their Feature Films

By Lea Goldman '98
Most days, 309 Havemeyer plays home to a packed house of pre-meds, slouching in wood-and-iron seats that have outlasted even tenured professors. Some days, though, 309 Havemeyer plays home to Hollywood.
In recent years, the 330-seat lecture hall, typically reserved for required pre-med courses, has become a favorite for directors in search of the archetypal college classroom to complement a film's depiction of University, USA. Featured in several major motion pictures, including Malcolm X (1992), Ghostbusters (1984) and Ghostbusters II (1989), and most recently Barbra Streisand's The Mirror Has Two Faces (1996), the lecture hall is among the most filmed sites on Columbia's campus.
"Havemeyer is a real big sell because of those great classrooms," said Ann-Linda Pugliese, Columbia's manager of special events & commercial filming. From her cramped office in the underbelly of East Campus, Pugliese acts as the coordinator for projects ranging from commencement exercises to catalogue shoots and fields the initial inquiries from directors and photographers scouting sites.
After assessing materials for their "appropriateness" - content, theme, use of Columbia's name and premises - and the extent to which they would disrupt campus activities, Pugliese passes potential projects to Alan Stone, vice president of public affairs, himself a former Hollywood screenwriter and President Clinton speechwriter, for approval.
For "non-controversial" minor films and those that require minimal shooting on campus, Stone will make the final call, though he will mention the project "in passing" to University President George Rupp. "If Columbia's involvement went beyond that level and/or contained any close calls, I would raise it with Dr. Rupp," Stone said.
The department chairs and deans of the various schools on campus weigh in their opinions to projects. Stone noted that if a dean or department head strongly objected to the filming of one of their classrooms or buildings, he would consider that a solid reason to pass on the project altogether.
Chemistry Chair Ged Parkin downplayed the inconveniences such shoots pose for his department. "There are both good and bad things about filming in Havemeyer," he said. "The good things are we get to see the building in a movie and can tell our friends, 'That's where we work!' In fact, a student once made a film about films that have been shot in Havemeyer. We may even get to see a star!"
Havemeyer is hardly the only Hollywood hotspot on campus. Photographers and directors frequently request the Low Library steps as a backdrop, according to Pugliese, and Alfred Lerner Hall already has appeared in episodes of the TV series Wonderland and Now and Again.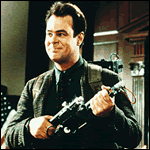 Dan Aykroyd co-wrote and starred in Ghostbusters, which was filmed in part on the Low Library steps and in the tunnels beneath campus.
PHOTO: COLUMBIA PICTURES INDUSTRIES INC.


Recent renovations to Butler Library have enhanced its appeal to directors, but don't expect any lights, camera, or action there in the near future. "Because we're renovating it and keeping that kind of old-world, traditional building, [it] is a big sell. But Butler's not really interested in it - they have rare books, expensive items," said Pugliese. The prospect of film crews, heavy equipment, and increased traffic in the library has deterred Butler's handlers from agreeing to shoots there. "It just wouldn't be worth it to them," Pugliese said.
The time-consuming and intrusive nature of filming generally limits long-term filming on campus. Most projects are shot during winter, spring or summer break, thereby avoiding conflicts between filmmakers with a vision and students with a final exam. "It would have to be a big win-win" situation for Columbia to authorize such projects when classes are in session, added Pugliese.
The financial windfall from a film or commercial is just one consideration in the equation. "Yes, they're moneymakers," Pugliese said. "But that's not the reason we're here-to make money from commercials. So it would have to be worth something to the department to want to do it."
For commercials, photo spreads and other small-scale projects, location costs for exterior shots on the Columbia campus begin at $450 an hour. Shoots inside campus buildings cost upwards of $750 an hour. Movie deals are negotiated differently, with fees for security, parking and facilities sometimes skyrocketing the total cost. While the University will not disclose how much Streisand paid to film on campus, location costs alone exceeded $230,000, according to a fact sheet obtained by the Columbia University Record. Prior to The Mirror, the highest fee charged to a film company in the past decade was $13,826.30 for the Hugh Grant thriller Extreme Measures (1996), which contained exterior shots of Earl Hall.
Streisand's romantic comedy depicted the Columbia campus prominently, as a character unto its own, in addition to using scores of actual students in classroom scenes and background shots. Filming began in October, 1995 and wrapped in late December. During that time, the campus was beset by Hollywood stars including Jeff Bridges and Pierce Brosnan. And, of course, there was Streisand herself.
While scouting Philosophy Hall prior to filming, Streisand reportedly happened upon a conference between an English department doctoral student and his student, concerning the latter's paper on Edgar Allen Poe. Clad in black and accompanied by an entourage, Streisand approached the two and described her film, as well as her role in it as an English professor. The trio then engaged in a protracted discussion about love stories and the novels of Jane Austen and Charles Dickens. Streisand asked if her character, a professor who teaches cultural myths and the relationships between men and women, would fall under the rubric of comparative literature. University Professor Edward Said arrived soon after and offered the Funny Girl a recommended reading list, including Marina Warner's Six Myths of Our Time.
Perhaps because of this collegial exchange, Philosophy Hall made the final cut in the film, though countless students vying for coveted spots as extras were not as lucky. While no figures are available for just how many students auditioned for non-speaking roles, lines outside Miller Theatre for an open casting call snaked down Broadway as students responded to ads placed in Spectator. Some carried rollerblades, others laptop computers, as per the advertisement's directive.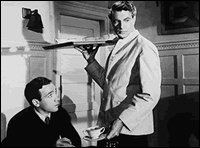 Herman Mankiewicz '17 co-wrote Pride of the Yankees, the story of baseball great Lou Gehrig '25 (played by Gary Cooper), seen here waiting on tables at a fraternity.
PHOTO: MUSEUM OFMODERN ART/ FILM STILLS ARCHIVE


The use of actual students and Columbia's academic facilities enhanced the realism of the film. Though floodlights illuminated Philosophy Hall well into the night and Christmas lights sparkled around the entrance to Butler Library during filming, few liberties were taken with the actual appearance of the campus.
"In one of the classroom scenes where Barbra Streisand was lecturing, I remember looking around the classroom and thinking, 'These look like Columbia students.' I like that. There was nothing fake about it," said Stone.
Despite the throngs of students clamoring for bit parts, reaction to the project was not wholly positive. Filming for The Mirror violated a basic, albeit implicit, University tenet concerning such projects: students and faculty are not to be relocated. According to Emily Lloyd, executive vice president of administration, classes were, in fact, moved to accommodate film crews, though only with the consent of the appropriate deans and departments. When Streisand returned to Columbia in late December to reshoot some scenes, several final exams had to be relocated to accommodate the filming. "But all classes were moved to locations of comparable size," said Lloyd.
When walkways flanking Butler Library were rerouted during finals period, tempers occasionally flared between students and the film crews. David Konschnik '98 recalled a confrontation with the Streisand camp while his theater group rehearsed Macbeth outdoors.
"We were braving the cold to get the show together, and one of Streisand's lackies showed up and asked us to leave. He then reminded us that they had paid a lot of money to use the campus. He didn't seem to know that we had paid a lot of money, too," Konschnik said. "I went home that night and melted my collection of Streisand vinyls over my gas stove."
A shouting match between students and film crews on another occasion prompted Stone to charge a staffer with defusing escalating tensions. "I don't remember it as being a big deal," he said. "I think all along we look at these things with regard for tastefulness and capacity for disruption. I'm sure that was the case then and that would be the case now - we're very conscious of not disrupting people. We do get requests fairly frequently to use classrooms and stuff. If the deans say no, this is not appropriate, we don't do it."
But when the deans say yes, the payoffs can be measured in increased departmental budgets or capital improvements. Part of the fee for Ghostbusters reportedly went to renovations of South Lawn. Professor Parkin hopes the publicity and fees culled from such projects in Havemeyer will prompt renovations to the building. Some of the Streisand fee was earmarked specifically for the School of the Arts, whose administrators strongly encouraged approval of the site request, according to Lloyd.
"It was an opportunity for them to observe a major studio film, an opportunity for their students to participate as extras. They were very eager to do it," she said.
While Columbia played as large a role in The Mirror as the stars themselves, more often than not university landmarks are virtually unrecognizable on film. Parts of Ghostbusters and Ghostbusters II were filmed on the Low Library steps, for example, but lesser known is that some scenes were shot in the tunnels that snake under the Morningside Heights campus.
Stalwart New Yorker Woody Allen shot a scene for his 1996 comedy Everybody Says I Love You on the walkway between Low Library and Lewisohn Hall. Though the brief scene, featuring Natasha Lyonne lip-synching into a cell phone, ended up on the cutting room floor, Allen frequently treks uptown to capture the campus and Morningside Heights on celluloid. Among other recent Woody Allen films, scenes from Hannah and Her Sisters, Zelig, A Midsummer Night's Sex Comedy and Crimes and Misdemeanors were shot at Columbia, while parts of Husbands and Wives were shot at Barnard. Allen also frequently refers to the University by name, rather than generically, in his dialogue.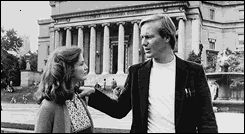 In Altered States, William Hurt played a man searching for his "unborn soul" with hallucinogens.
PHOTO: WARNER BROTHERS


While Columbia was home to the U.S. Signal Corps School of Photography during World War I, the cinematic history of the Morningside campus dates to 1940, when the University approved a proposal from Samuel Goldwyn Productions to shoot part of The Bishop's Wife on campus. Better-known is the 1942 film Pride of the Yankees, in which Gary Cooper portrayed Lou Gehrig '25 hitting home runs on South Field.
Among the stars who have filmed projects on campus are Dustin Hoffman (Marathon Man), Al Pacino (Author! Author!), William Hurt (Altered States), Ryan O'Neal (So Fine) and most recently Meryl Streep (Music of the Heart). Meanwhile, Columbia's on-screen faculty has included Alan Arkin (Simon), Jill Clayburgh (It's My Turn), Doris Day (Teacher's Pet) and Lee Remick (The Detective).
The recent TV miniseries The Sixties re-enacted the Columbia protests of 1968 and the takeover of Low Library, but the film was actually shot at a California university. An administrator there updated Stone on the progress of the miniseries, including efforts to recreate Columbia's landmark steps.
"She called me one day to tell me they're hiring students for extras there, but they're having a hard time finding kids that look like Columbia kids," Stone recalled with a smirk.
Similarly, a feature film based on a diary about Spring '68 at Columbia, The Strawberry Statement, had to be filmed at Pacific University in California because Columbia officials denied permission to use both the campus and the school's name. A less political film from that era, The Magic Garden of Stanley Sweetheart starring a young Don Johnson, was permitted to be filmed on campus.
By virtue of their celebrity casts, films draw more spectators to campus than the commercial and catalogue shoots, which occur more frequently, according to Pugliese. Last summer, J. Crew and Gap shot ads on campus, as well as Sears and RTV, a German film company. But scouring fashion magazines for a glimpse of Alma Mater peeking out behind a cargo-pant model would prove futile to all but the most sharp-eyed Columbians. Fearing an implicit product endorsement, Columbia stipulates that the campus be unrecognizable to the general public in any such advertisements. Thus, Columbia's cameos go uncredited, without the howling fanfare and glittering celebrity Hollywood generally accords its movie stars.
About the Author: Lea Goldman '98 lives and works in New York City. This is her first article for CCT.