ALUMNI PROFILE
Ric Burns '78: The Man Behind New York
By Lisa Kitayama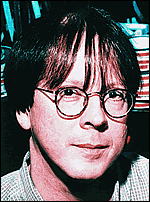 Ric Burns '78
PHOTO: DON PERDUE


"It's not that New York is the greatest, but that it is the most important," says Ric Burns '78, two-time Emmy winner and director, co-producer and co-writer of New York: A Documentary Film. The six-part, 12-hour series, which Burns describes as the "project of a lifetime," presents the 400-year progression of a seventeenth-century Dutch outpost to the world's greatest metropolis, all the while negotiating the dual effects of democracy and capitalism.
Last November, more than 21 million viewers bypassed football, sitcoms, and even Who Wants to Be A Millionaire in favor of the first five two-hour episodes of New York, which scored the highest Nielsen ratings ever for Channel 13/WNET in New York. Co-produced by Lisa Ades, co-written by James Sanders '76, and narrated by David Odgen Stiers, the series's sixth and final segment, "The City and the World (1931-2000)," is scheduled to air on PBS this year.
Burns spent almost a decade in graduate school intending to become a professor of English literature, receiving an M.A. from Cambridge and a M.Phil. from Columbia. But in 1985, when his brother Ken, whose documentary film credits included Baseball and Mark Twain, offered him a place on his project The Civil War, he left academia in the career change of a lifetime.
Ric Burns went on to win two Emmys for The Civil War, which he co-produced with his brother and co-wrote with Geoffrey C. Ward, and discovered a medium that offered an audience far greater than any lecture hall could provide. He credits the intellectual training in undergraduate and graduate school, including experiences with professors such as Michael Rosenthal, Steven Marcus '48, Ted Taylor, and Edward Said, with shaping his approach to his work.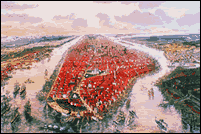 Bird's Eye View of New York and Environs, 1865. From New York: A Documentary Film Thirteen/WNET.
© COLLECTION OF THE NEW-YORK HISTORICAL SOCIETY


"I was incredibly fortunate to go to Columbia at a time when they were all teaching," he said. "It was a completely transforming experience, intellectually, psychologically, and morally. It permanently shaped and deeply effected who I am."
What impressed Burns most about the 70 or so commentators involved in the New York project was their dedication to and passion about the city. "The commentators were not chosen just for their expertise, but also for their heart," he said. "It's more than their knowledge, but that combined with their character, personality, and judgment-their ability to reach a large audience."
Prominent among these was Kenneth T. Jackson, Jacques Barzun Professor of History and the Social Sciences, whose course, "History of the City of New York," is among the most popular at the College. Jackson served as a behind-the-scenes consultant on the series and helped Burns by providing a pre-press disk copy of his monumental Encyclopedia of New York City.
In 1989, Burns founded Steeplechase Productions and went on to direct three critically acclaimed programs, one of which, The Donner Party (1992), earned him a Peabody Award and Emmy nominations for directing and writing. Burns was honored by the College in March with a John Jay Award for Distinguished Professional Achievement.