AROUND THE QUADS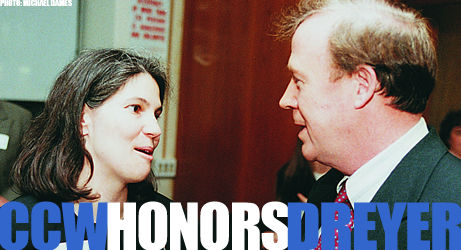 Educator Receives Ninth Annual Alumna Achievement Award
By Alex Sachare
Columbia College Women presented Susan Dreyer '87, a leader in second-chance education, with the organization's ninth annual Alumna Achievement Award at a reception on March 30 at the International Affairs Building.
Dreyer is the director of Satellite Academy High School, the second oldest alternative high school in New York City. "We take students who on the average have attended three previous high schools and try to give them what they didn't get at the other schools," she explained.
"The No. 1 thing that kids talk about is having a relationship, being connected," said Dreyer. "Something like [the killings at] Columbine High School is a result of alienation. It happens because students don't feel connected. They don't feel they belong. You have to provide relational education. They have to feel connected."
Dreyer, who has a doctorate from Teacher's College, is affiliated with the Annenberg Institute for school reform at Brown and the Center for Collaborative Education in New York, which works with the Board of Education to offer alternative forms of learning and assessment for students. She was promoted to director of the Satellite Academy H.S. after teaching history at the school for seven years.
At the award presentation, Dreyer made a point of thanking her "friends and classmates who have been some of my best teachers." Lee Ilan '87 presented her with the award.
Dean Austin Quigley spoke at the reception, emphasizing how Columbia College Women can fill a special need for the growing number of alumnae of the College. The keynote speaker was Ellen Galinsky, president of the Families and Work Institute, a non-profit organization dedicated to researching the changing nature of work and family life and fostering better relationships between workplaces, families and communities. An authority on work-family issues, she is the author of Ask the Children: What America's Children Really Think About Working Parents.
Columbia College Women was founded in 1989 to further professional and personal opportunities for the growing community of women associated with the College - alumnae, students, faculty and administrators. CCW, which serves a membership in excess of 2,000 in the metropolitan New York area, focuses on career development, undergraduate mentoring, fund-raising for the College, and organizing social and cultural events.
For more information about Columbia College Women, please visit their website at: www.columbia.edu/cu/college/alumni/ccw. You may also contact Gabrielle Haskell '91 of the CCW executive committee at: gabby9@concentric.net.