FEATURE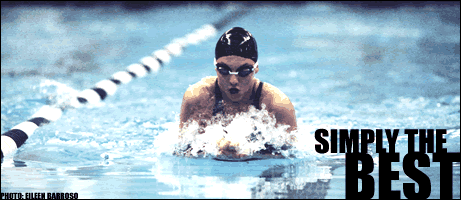 Four Years Later, Gold Medalist Cristina Teuscher '00 Leaves Columbia Undefeated and Looks to Another Olympics

By Jonathan Lemire '01
The first line of Cristina Teuscher '00's entry in the Columbia women's swimming team's media guide simply reads: "Most accomplished Ivy swimmer ever."
It is a claim that is virtually indisputable. She graduates this month as the holder of six Ivy League and 10 school records and a member of five school record-setting relay teams; in fact, there are only four Columbia women's swimming records that she does not own. Last month she was named the winner of the Honda Award as the nation's top collegiate female swimmer.
A 1996 Olympic gold medalist who hopes to add to her collection at the 2000 Games in Sydney, Australia this summer, she won two events at the 1998 NCAA Championships and, after skipping the meet for a year, two more at the 2000 NCAAs in March.
Perhaps most impressively, Teuscher never lost an individual collegiate race in her four years at Columbia. Whether it was an Ivy meet or a non-league contest, a dual meet or a national competition, she always touched the finish wall first.
She seems to belong in a league of her own. Indeed, few in the Ivy League ever have dominated a sport as she has; athletes of such accomplishment usually opt for more traditional athletic powerhouses. However, for Teuscher, there was very little question as to where she wanted to spend her college years. Despite scholarship offers from Stanford, Southern Cal and Southern Methodist, among other better-known swimming powers, the native of New Rochelle, N.Y., wished to remain close to home. "I love New York," she said, "and I didn't see the need to travel across the country to go to a great school."
In addition to her desire for a rigorous academic environment, she wanted to stay local in order to see her family frequently and to continue training with her long-time coach, John Collins of the Badger Swim Club. "Cristina at Columbia does make sense, but it's not what most American swimmers would do," Collins said.
Finances were the only thing that could have kept Teuscher off Morningside Heights, but her parents, despite having another daughter at a private university, supported her decision to turn down the athletic scholarship offers. "It was tough to deal with at first," Teuscher said, "but grants helped relieve the financial pressure."
While most incoming first-years in 1996 were getting ready for school, Teuscher was competing in the Summer Olympic Games in Atlanta. She did not place as well as she would have liked in her individual events (eighth in the 400-meter freestyle and sixth in the 200-meter free), but she swam the fastest leg on the gold medal-winning 800-meter freestyle relay team.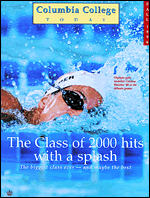 Four years ago, CCT welcomed a gold medalist.


Parades and a White House visit followed, and when she finally stepped through the 116th Street gates four years ago, she was treated as a minor celebrity on campus.
"Some people recognized me even without my cap and goggles," she said, smiling.
However, it wasn't long before the spotlight began to wear off, and while she certainly was the center of attention at swim meets, Teuscher settled into a state of relative anonymity on the bustling campus. Some star athletes might have had a problem with that, but not Teuscher.
"People here don't care what you have done," she said with a laugh, "and that really grounds you. It's a wonderful environment. I like being anonymous, and I am really glad that swimming isn't the only thing here, like it is for some of my friends who compete at other, more 'traditional' swimming schools.
"A student will ask me what I do, and I'll tell them I swim. They usually pause for a moment, go 'Oh, that's nice,' and then launch into telling me about their latest internship. It's that spirit which I really like about the place."
While she immediately fell in love with the school, there was some question as to how Teuscher, considering her impressive background and relative fame, would fit in with the other swimmers. The team captain at the time, Rachel Strong '97, expressed that apprehension during Teuscher's first year at Columbia.
"How she would fit in - that was a concern of mine, but Cristina has been great," Strong said at the time. "She's just an amazing person, the most down-to-earth girl you could ever meet. She's always laughing, and we all love her."
She remained popular with her teammates over the ensuing four years, a feeling that was completely reciprocated. When asked her favorite memories of her four years at Columbia, not once does Teuscher, one of the 1999-2000 squad's tri-captains, mention a personal success. In swimming, the most individual of sports, she is a true team player.
"There's such a great team atmosphere here. The team's camaraderie is my favorite thing," she said, adding that compared with the atmosphere at the swimming powers, "I know our team has a lot more fun."
"It's really great to see how far the team has come from my first year to my senior year," she continued. "The team has really grown and is more serious and focused now. When we beat Yale in my junior year, the feeling of team accomplishment was so great that I knew that it, more than anything else, is why I swim."
Teuscher brought success with her to Morningside Heights. The Lions finished fifth in the Ivy League championships all four years she swam for the Light Blue, a placing they had never reached before.
"I hope that she and her co-captains are remembered for helping us turn the corner in terms of being committed and highly competitive in the league," said women's swimming coach Diana Caskey. "We have turned the corner, and now it's left to the juniors, sophomores and first years to keep the momentum rolling. We have all been inspired by Cristina's work ethic and love of her team."
Director of Athletics John Reeves believes that Teuscher's legacy will extend far beyond the swimming program.
"Her impact has been the greatest in global terms," he said. "Not only is she a great athlete and one of the finest people I've ever met, but she has also always been very outspoken about the compatibility of great academic and athletic opportunities. She has incredible credibilty."
"Her impact will continue well after she leaves Columbia. Right now, we are raising the possibilty of a new aquatic center on Amsterdam and 121st Street, and she deserves a huge amount of credit. She has helped create a better program and athletic department."
As she prepares to leave Columbia, Teuscher, a psychology major, has no regrets about her choice to spend her college career in the demanding Ivy League. "I am very happy with my decision," she said. "It was the best decision for me. My teammates are great. The academics are great. I met great friends and my boyfriend here. It was everything I could have hoped for."
After graduation later this month, Teuscher's complete attention will be focused on returning to the Olympic Games. During her time at Columbia, she continued to swim in national and international events. Although she finished a disappointing seventh in the 200-meter freestyle at the 1998 World Championships, she was also on the second-place 800-meter free relay team. Later that year, she enjoyed more success at the Goodwill Games, winning both the 200 and 400-meter free. While she did not compete at the NCAA Championships in 1999, taking advantage of an opportunity to visit relatives in Argentina, she swam at the 2000 NCAA Championships in Indianapolis on March 17-19, winning both the 400-meter freestyle and the 400-meter individual medley, both in times that were personal bests.
"Both of her swims were outstanding. She dominated the field of top athletes in the U.S. in both of her events," Caskey, who accompanied Teuscher to the meet, told the Spectator. "She swam smart, technically sound races and buries her competition. It is awe-inspiring to see someone so clearly dominate at the national level.
"It has been a great four years for Cristina, myself, and the team, and winning two more NCAA championships is a fitting way to end her career here. She just keeps getting better and better, which obviously bodes well for her this summer," said Caskey.
This summer means the U.S. Olympic Trials in August, at the same venue in Indianapolis where she did so well in the NCAAs. Then, if all goes according to plan, it's on to the Olympic Games themselves in September and in Sydney, Australia.
After that? Perhaps graduate school, but Teuscher is not looking that far ahead. "I'm just taking it one thing at a time," she said with a laugh, sounding like so many other seniors.
"Right now, I'm just working on easing my way out of the classroom."
About the author: Jonathan Lemire '01 is hoping his Boston Red Sox can somehow overcome not only the Curse of the Bambino but the Sports Illustrated jinx as well and dethrone the Yankees.