FEATURE
Distinguished Alumni Receive John Jay Awards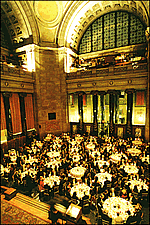 Low Library Rotunda provides a stately setting for the John Jay award dinner.
PHOTO: EILEEN BARROSO


Ric Burns '78, Martin S. Kaplan '61, Robert M. Rosencrans '49, Stephen D. Solender '60 and George L. Van Amson '74 were awarded the College's highest honor for distinguished professional achievement, the 2000 John Jay Awards, at a black-tie dinner in Low Library Rotunda on March 28.
Burns is an Emmy Award-winning filmmaker whose most recent work, New York: A Documentary Film, aired on PBS. Kaplan, a former president of the CC Alumni Association, is a senior partner in the Boston law firm of Hale and Dorr. Rosencrans, former chair of CU's Board of Visitors, is a cable television pioneer who helped found C-SPAN. Solender is president and CEO of United Jewish Charities, which oversees Jewish philanthropies. Van Amson, a University trusee, is a principal and senior equities trader at Morgan Stanley Dean Witter.
The event, which benefits the John Jay Scholarship Program and was chaired by George J. Ames '37 and Carlos R. Munoz '57, included the showing of a segment of Burns's New York and a musical performance by Elizabeth Paw '00, one of the stars of the long-running musical Miss Saigon.