FEATURE
Memphis Blues
By Traci Mosser '95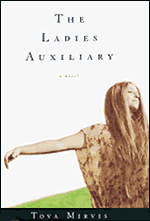 The debut novel by Tova Mirvis '95 stirred strong feelings.


In most parts of the country, The Ladies Auxiliary by Tova Mirvis '95 '98 M.F.A. hardly would qualify as controversial. But in the small Orthodox Jewish community in Memphis, Tenn., the book has stirred up rather strong feelings among some.
That's because in her debut novel Mirvis draws back the curtain from the quiet enclave where she was raised and where generations of her family have lived since the Civil War, and reveals both the strengths and weaknesses of the enchanting and mysterious Orthodox world. It's a kind of scrutiny, Mirvis says, with which many in her hometown are not comfortable.
"'Airing dirty laundry in public' is the term I have heard applied to what I am doing," she says. "There's a sense of, 'If you're really one of us, you would never do such a thing.'"
Mirvis is no stranger to controversy. In fact, her decision to go to Columbia was viewed by some teachers at her 18-girl high school as "not the best thing you could do," she says. "They definitely didn't think it was something for a nice Jewish girl to do - which is ironic considering how strong Columbia's Jewish population is."
She describes her hometown as a religious, close-knit world that can be intensely protective of its way of life and may have a tendency to believe it is immune to the outside world's problems. And while in many ways her novel is a celebration of the rich culture and traditions of the religion and its adherents in Memphis, it also looks critically at levels of tolerance and acceptance within the community.
The novel chronicles the arrival in Memphis of Batsheva, a free-spirited, independent, passionate convert to Orthodox Judaism who was inspired by a friend of Mirvis's when she was at Columbia. The story is inventively narrated by a communal voice - a collective "we" consisting of the women in the community - who at times admire Batsheva's spirituality and courage and at other times are bewildered by her refusal to conform to norms.
The members of the Ladies Auxiliary - so well-versed in what is right and proper - don't know what to make of this strange woman who sings so loudly at shul and performs the rituals of the faith with such fresh enthusiasm that it borders on the suspicious. The rumor mill constantly churns out gossip about this woman who threatens to unravel the tightly knit social structure of the community.
Just as in the fictional community, small-town rumors and gossip played a starring role in the drama surrounding the publishing of the book. The grumbling and muttering began months before the book hit the shelves.
"People were angry," Mirvis says. "They thought I had written about a true-life scandal that had happened in the community. Someone even claimed he had read the book and that, yes, it was about this scandal and that I'd used everyone's real names! This wasn't true at all, of course, but it was still very upsetting."
Although Mirvis is quick to point out that the book is not autobiographical - she doesn't write about events that happened to her and her setting is actually a fictionalized version of her hometown - she concedes that the novel is "emotionally autobiographical." She grapples with feelings and issues she dealt with while growing up in a community with the strictest notions of "right and wrong" and "insiders versus outsiders." As a feminist, liberal Orthodox Jew, Mirvis knows she embodies a number of contradictions and says she has felt at times like an outsider in the Orthodox world.
Coming to Columbia gave her insight to both the larger world and the insular world from which she came. Although she was at first overwhelmed by the number of students at Columbia, Mirvis grew to appreciate the more open and heterogeneous environment. Being away from home also helped her develop a new appreciation for Memphis. It was her conversations with non-Jewish friends that showed her just how colorful her hometown was to outsiders.
An English major, Mirvis initially channeled her writing talents into journalism, writing and editing for Spectator. But a fiction-writing class taught by Barnard's Mary Gordon changed her focus. "I didn't have a sense of what I wanted to write about, and [Professor Gordon] really helped me think about creating stories and characters. Taking her class made me realize the kind of writing I wanted to do," Mirvis says.
She enrolled in Columbia's MFA program in the fall of 1995, and began writing her novel to satisfy the thesis requirement. The idea for The Ladies Auxiliary was sparked by a conversation with a Columbia friend who had converted to Orthodox Judaism, and the idle imagining between the two of the chaos that would ensue if this friend moved to Memphis.
"She seemed very independent-minded and free-spirited. I was struck by how she didn't seem aware or concerned about what people thought of her," Mirvis says, adding that what began as a character based on her friend became very different in the final version of the novel.
She wrote much of the book while teaching Logic & Rhetoric to first-years. During an internship (which she landed through Columbia's Center for Career Services) with the Watkins/Loomis literary agency, she worked up the courage to ask an agent she admired to read her book. The agent loved it. "I feel like Columbia played such an important part in everything that's happened with the novel," Mirvis says.
If Mirvis sometimes felt like an outsider growing up and going off to Columbia and the big, bad city, it was nothing compared to the feelings she experienced going back to Memphis after the book was published.
"It was really eye-opening. At first people who I knew had been talking about the book didn't even mention it - pretending it didn't exist. Eventually, they'd mention it in a very, genteel southern way, but still letting you know how angry they were," she says.
A few people refused to speak to her, and some even gave her dirty looks. "I felt like I was Batsheva. I understood what it was like to walk in the synagogue in Memphis and feel like everyone was talking about me," Mirvis says.
"One person came up to me and said, 'Well, we heard it was unflattering.' That was really the complaint - that the book just wasn't 'nice.' They seemed to think of fiction as either 'nice' or 'not nice,' and they'd try to judge it in those terms."
Others are judging it in less black and white terms. The book was selected for Barnes & Noble's Discover Great New Writers Program and has received several positive reviews. Norton, the book's publisher, has heavily promoted the novel and touts it as an Orthodox version of the best-selling Divine Secrets of the Ya-Ya Sisterhood.
"One of the best compliments I've ever gotten about the novel was from a woman in Mississippi who said she didn't know a thing about Jews, but that the book reminded her of the ladies in her mother's Methodist church," Mirvis says, in a voice hoarse from a whirlwind book tour of a dozen cities in half as many weeks.
Mirvis, 27, lives near Columbia with her husband, Allan Galper, and their toddler son, Eitan. Although she says that even before writing her novel she wasn't planning on moving back to Memphis, her decision has been solidified by the events of the past year.
These days Mirvis spends much of her time at the local Starbucks turning out pages for her second novel, which also will be set in an Orthodox Jewish community, though perhaps not Memphis.
She says that writing about her religion has brought new meaning and significance to her life.
"Trying to describe the Jewish holidays and the traditions forced me to really think about what it is I find so special about them - to really convey what they meant to someone who might not know."
About the author: Traci Mosser '95 is a writer, editor and Southerner who just can't bring herself to move away from the Columbia neighborhood.