FEATURE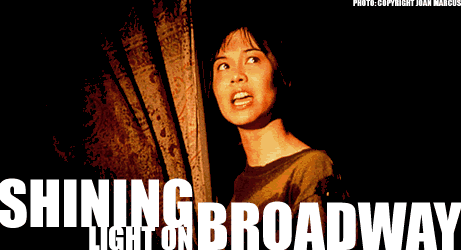 Elizabeth Paw '00, Starring in Miss Saigon Successfully Blends School and Stage
By Lisa Mitsuko Kitayama
Why is it that so many of Broadway's brightest stars claim Columbia roots? From the composer and lyricist teams of Rodgers and Hart and Rodgers and Hammerstein, to a noted playwright like Terence McNally '60, to Death of a Salesman star Brian Dennehy '60, the connection between the two worlds runs deeper than mere pavement.
Continuing the tradition of College people shining on Broadway is Elizabeth Paw '00, one of the stars of the long-running musical Miss Saigon. Though she hasn't yet received the Tonys and other accolades that have gone to luminaries like Oscar Hammerstein II '16, Lorenz Hart '18, Richard Rodgers '23, McNally and Dennehy, the 24-year-old Paw is exceptional in that she has achieved so much while also a full-time student at Columbia.
Paw's path to Broadway began at age 9, in a summer community theater production of The Sound of Music. At 16 she auditioned for Miss Saigon, and by her first year at Columbia she was appearing in the lead role of Kim at the Cameron Macintosh Theater on Broadway.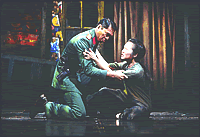 BALANCING ACT: Elizabeth Paw '00, seen above with Edmund Nalzaro in a scene from the current Broadway production of Miss Saigon, has juggled earning a College degree with a successful stage career, and this year a magazine internship as well.


Based on Puccini's Madame Butterfly and set in the final days before the American evacuation from the Vietnamese capital, Miss Saigon is the ill-fated love story between an American soldier, Chris, and a young Vietnamese prostitute, Kim. The New York production has been seen by over 5.5 million people; 10 international productions swell the total audience to more than 13 million.
Her schedule is a hectic one, but Paw has learned to juggle her roles as student and performer. She was a member of the Long Island children's theater troop "Kids for Kids" and appeared in school productions, and at 16 she began studying at the American Academy of the Dramatic Arts in Manhattan. She first auditioned for Miss Saigon while she was a sophomore at Half Hollow Hills High School in Dix Hills, L.I, and a year and a half later, during the summer before her senior year, she was hired as an understudy for the role of Kim. She climbed the ladder from understudy to alternate for the matinees and then to the lead, which she played on Broadway for six months before joining the second national tour.
Initially, it was an adjustment for Paw to balance her mornings as a student and afternoons as the tragic heroine, but she credits her fellow cast members for their support and guidance.
"It was great watching them perform and watching how they lived their lives outside as well," she said. "That was a big deal for me, because all of a sudden, here I was making money and coming into the city every day from Long Island. At the same time it was my senior year in high school, so they were also involved in my experience as far as homecoming and prom - someone from the show even designed my prom dress. It was very much a family experience for me, and I'm very appreciative of that."
In the fall of 1994, at the same time that she entered the College, Paw's responsibilities with Miss Saigon increased. Then, when the second USA national tour was launched in 1995, Paw took a year off from Columbia to tour with the company. The production averaged four weeks in each city, staging eight shows each week. Paw played the main role of Kim and was responsible for six evening performances, with an alternate taking over the two matinees.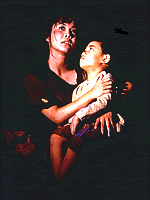 From the National tour of Miss Saigon.
PHOTO © JOAN MARCUS


While grateful for the chance to travel the country and for the experience she gained on and off the stage, she is happy to be back with the New York production. Since November, Paw has been playing Kim twice a week at matinees, which she will continue to do until her contract expires in July. This schedule has allowed her to focus on her schoolwork and other non-Broadway interests, which this year have included a magazine internship at ESPN. A political science major, she is interested in a career in journalism after graduation this month and plans to gain more practical experience in the field this summer.
"As much as I love theater, I wanted to pursue my education and other interests as well, and New York was the ideal place to do that. I've been very fortunate," she said. She's also been involved with the show for so long, stepping into the role of Kim for the past year's matinees has been "second nature. It's a great release for me, especially with school and the magazine. I can just relax and enjoy it."
Because of the time commitment of the show, Paw has taken six years to complete what is traditionally a four-year college experience, and has seen many friends from her entering class graduate before her. But she harbors no regrets. Her experience with Miss Saigon afforded her the exciting opportunity to live in different cities and meet many people. It also paid for her education.
Paw says that one of her favorite aspects of being involved with Miss Saigon for seven years has been working offstage with the children who have played her son in the various productions.
She also has a favorite moment in the show. It's a number in the second act, "Sun and Moon Reprieve," where Kim is dressing in her wedding clothes before what she thinks will be her meeting with Chris. "I've always loved the way that moment is staged," she said. "It's the one moment Kim has in the show where she gets to be happy and to be reflective; in the rest of the show, she is willing to do something for someone else, or pushing for something."
Perhaps she relates to it so well because, as a woman who has spent so much of her young life on the go, Paw understands the importance of such moments of solitude.
About the author: Lisa Mitsuko Kitayama is an editorial assistant for CCT and a graduate student in GSAS. Out of respect for the hearing public, she has no intention of venturing near the musical world of Broadway, except as an audience member.