| | | |
| --- | --- | --- |
| | | 1 | 2 | 3 | 4 | 5 | | |
COLUMBIA FORUM
"Fields of Creativity"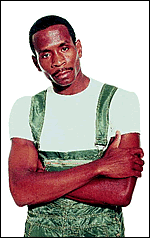 Glenroy Winston James '89


This winter, Lyric: Poems Along a Broken Road by Glenroy Winston James '89 was selected as a finalist for a Lambda Literary Award in the category of gay men's poetry. (The winners of this year's awards, presented by the Lambda Literary Foundation, a non-profit organization supporting gay and lesbian literature, will be announced on June 1.) A native of Jamaica, James has contributed poems and other writings to numerous literary anthologies. He is a former fellow of the Millay Colony for the Arts in Austerlitz, N.Y. and a former executive director of Other Countries, a New York-based gay black artists' collective. He is currently at work on Confining Rooms, a collection of short fiction. In this poem from Lyric, James contemplates the difficulties of pursuing his craft.
windows
How do you write happy things
when you are not?
How do you create playgrounds,
and laughing children
when your seeds are wooden,
your fields of creativity fallow
after so many months of late winter?
How do you make your poems smile -
show a hint of gladness
when you've tried so hard
to tighten your mouth against the sorrow
that your lips have become like glass?
How do
you
write
create
make
do
when you so often think
to just close your eyes
and rest?
How do you make the sun
rise
in your life
when your work so mirrors
your soul?
| | | |
| --- | --- | --- |
| | | 1 | 2 | 3 | 4 | 5 | | |