| | | | | | | |
| --- | --- | --- | --- | --- | --- | --- |
| | | || | | || | | |
ALUMNI CORNER
Celebrate the College
By Charles J. O'Byrne '81
President, Columbia College Alumni Association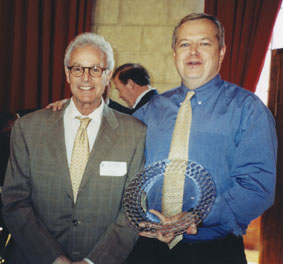 Alumni Association President Charles J. O'Byrne '81 (right), with the award he received in April at the final board meeting of his two-year term, is joined by incoming President Bob Berne '60.
PHOTO: ALEX SACHARE '71

Columbia's campus sparkles in the spring. The trees that line College Walk are in full blossom, and the eye darts from the quick action of an impromptu soccer game to the gliding grace of a Frisbee crisscrossing the geometric lines that define the space between Low and Butler. Sun worshippers fill the steps, and with each passing weekend, the campus rocks to yet another outdoor concert, arts festival or barbecue. The pace of campus life responds in kind: The College calendar becomes a maze of events with the Senior Dinner, Class Day, academic convocations, celebrations, dedications, receptions, commencement, class reunions and more.
Members of the Class of 2004, many dressed to the nines, gathered under a magnificent tent on April 26 to celebrate their senior class dinner, which has become one of the College's smartest traditions. Dean Austin Quigley's keynote address, replete with Britishisms and witty repartee, brought the class to its feet as he touted its achievements and reminded the soon-to-be graduates that the College would always be their home.
Class Day, May 18, was grander than ever as two representatives of each class for the past 50 years paraded with class banners, and the faculty, administrators and Class of 2004 processed up the long walk that leads from Butler to the Sundial while the strains of Brahms played. This year's speaker, renowned playwright Tony Kushner '78, delivered a stirring address in which he implored the members of the class to become leaders in a world beset by challenges on many fronts. [Editor's note: For the full text of Kushner's remarks, see cover story.]
After each graduate went up to the stage for the traditional congratulatory handshake from Dean Quigley and President Lee C. Bollinger, leaders of the Senior Class Gift Committee presented Dean Quigley with the class gift. More than 75 percent of the graduating class made a gift to the College, a record for senior class support. The class gift program is one of the many ways in which students are connecting with alumni. Kathryn Wittner, associate dean of student affairs, has done an extraordinary job of forging links between students and alumni, defining a culture of care for the College among our youngest alumni that will prove decisive for Columbia's future.
In early June, alumni from classes ending in 4 or 9 converged on campus for Reunion Weekend. "I wouldn't miss a Columbia reunion for the world," said a member of the Class of 1994, who had flown from Los Angeles, where he is a screenwriter, to try his hand at the playing tables that filled the Hammerstein Ballroom at Manhattan Center for the annual Casino Royale. This always-popular event is another "new" tradition for young alumni, whether in a reunion year or not. More than 1,000 attendees played with "Columbia cash," won prizes and danced the night away at the annual Young Alumni Dance Party, which includes Barnard and SEAS alumni.
Meanwhile, reunion classes gathered on campus, at restaurants from Tavern on the Green to V&T and at other venues around the city to kick off their weekend-long events. Attendance records again were set as alumni and their families shared stories from the past, listened anew to their favorite professors and renewed ties to alma mater. The Dean's Brunch was standing room only as George Lowry '53 received the President's Cup for his exceptional leadership of his class' 50th reunion.
Planning and executing reunion weekend is an enormous logistical challenge. I'd like to thank Derek Wittner '65, dean of alumni affairs and development, and Ken Catandella, executive director of alumni affairs, for putting together three days of nonstop action. They and their colleagues from the Alumni Office worked around the clock to ensure that attendees had everything they needed. The Alumni Office deserves our thanks and gratitude.
In the midst of all this activity, the Alumni Association Board of Directors held its last meeting in late April. In this, my final column as president of the Alumni Association, I thank the outgoing board, particularly the executive committee, who gave so much of their time, wisdom, energy and enthusiasm. They performed a genuine service for the College, advising the dean on a range of issues while maintaining a steady commitment to increasing financial support for alma mater.
It's been a great privilege to serve as president of the Alumni Association during the past two years, and I am grateful to my colleagues on the board for their support. I am delighted to report that the association is in exceptionally good hands with Bob Berne '60 as its new president and Brian Krisberg '81 as first vice president.
I also am extremely grateful to the professionals who serve the College's alumni. I've thanked several of them in this column, and throughout the year I tried to mention several by name at events and gatherings to recognize and thank them for their efforts. There is no more fitting way for me to sign off than by thanking several members of the Alumni Office staff who get far too little credit for their work on behalf of the College. Alex Sachare '71, CCT's editor, has brought communications at the College to a new level of excellence, maintaining the quality and integrity of this magazine and delivering it to alumni more often than at any time in its history. He is ably assisted by Lisa Palladino, managing editor and copy editor extraordinaire; Laura Butchy, assistant editor and shepherd to our loyal flock of correspondents, whose Class Notes are the backbone of every issue; and Tim Cross, director of electronic programs, whose work with our E-Community points to the way of the future for alumni communications.
| | | | | | | |
| --- | --- | --- | --- | --- | --- | --- |
| | | || | | || | | |


CCT Home


This Issue


Previous Issue

CCT Masthead