| | | | | | | |
| --- | --- | --- | --- | --- | --- | --- |
| | | || | | || | | |
ALUMNI PROFILE
It's Not Easy Being Green
By Claire Lui '00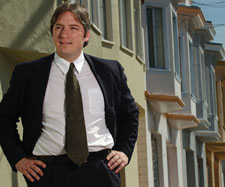 After losing a close runoff election for the mayoralty of San Francisco, Matt Gonzalez '87 has chosen to step back from politics for a while as he ponders his future.
PHOTO: AP PHOTO/MARCIO JOSE SANCHEZ

Matt Gonzalez '87 is standing at his desk, opening mail. As president of San Francisco's Board of Supervisors, the No. 2 politician in the city hears from many opinionated citizens. His favorite came on a postcard and read, simply, "The supervisors are all dumb and you are their leader!"
The writer might be happy to know that Gonzalez, seen by many as a fast-rising progressive star, is not running for re-election this fall. His supporters are not.
Last November, Gonzalez's star seemed especially bright. In the city's mayoral race, which he had entered just weeks before the primary, Gonzalez had pushed Gavin Newsom, the Democratic favorite, to a runoff. In San Francisco, a long-time blue stronghold, the idea that the Dems might lose to a Green Party member made everyone pay close attention. The candidate himself was happily cocky. When I congratulated him on making it to the runoff, I could hear the smile over the phone: "Did you doubt I would win?"
When Gonzalez lost the mayoral runoff by a narrow margin, it was considered to be a setback, but not a major one. He still was arguably the highest-ranking Green in the country and an important presence in San Francisco politics. Most observers assumed more races were soon to come.
But in March, Gonzalez announced he was not running for the Board of Supervisors again. He is going into private legal practice, and is considering various progressive firms. Certainly, he says, there is another political race in the future, but when pressed for a timeline, Gonzalez criticized the concept of a career politician. People think "politicians are supposed to stay forever," he says, "but politicians who return to private life stay connected to what people are doing."
After growing up in a small Texas town, Gonzalez left for Columbia. Entering as part of the College's first coed class, Gonzalez describes the student body as a diverse group and says he's glad his class was "not just filled with valedictorians," adding, "I went to school with some incredibly bright and compelling people who challenged my thinking and my ways."
Graduating with a double major in political science and comparative literature, Gonzalez attended Stanford Law, where he was an editor on the law review, and graduated in 1990. For the next decade, he was a public defender in San Francisco. Discouraged with the then-district attorney, Gonzalez ran for the position in 1999. Though he lost, he was emboldened to run for supervisor in 2000. Originally listed as a Democrat, he became frustrated with the insider politics of the party, and he quit and ran as a Green. He won and was elected to represent District 5, which includes Haight-Ashbury, the Western Addition, Japan Town and the Inner Sunset. It's a district that includes the poor and homeowners, long-time residents and a new influx of hipsters - in short, a snapshot of San Francisco.
Art Agnos, a Democrat and the former mayor of San Francisco, continued to support Gonzalez after his switch to the Greens: "I believed then, as I do now, that the important thing was his honesty, his character and his commitment to the issues that we share: economic justice and neighborhood empowerment."
During Gonzalez's term as a supervisor, he pushed through a minimum wage raise. Speaking about the politicking involved, he noted, "It was difficult to get people interested in it because it didn't benefit their constituencies. A lot of times when you try to get progressives to make a decision, rather than convincing them, you simply checkmate them around their own rhetoric and force them to go against their will."
Lawrence Kane '86, who remembers Gonzalez as "very smart and relatively quiet" at the College, organized San Francisco Mayoral Forums for the Northern California Columbia Club and compared Gonzalez and Newsom: "As an individual, Matt appeared to be much more of an ordinary person whom you would meet around town. He came on time, by himself, and was extremely personable. On the other hand, Gavin had many handlers and ran a much more professional operation."
It was a contrast noted by many. Newsom was viewed by his opponents as a wealthy socialite, a man beholden to business interests and the outgoing Willie Brown administration. Gonzalez, meanwhile, was viewed by many as a left-winger who supported such seemingly quixotic ideals such as free bus rides, and who did much of his fund raising through events featuring poetry readings and art shows.
In the end, Gonzalez lost 47-53. And Newsom, with his headline-making support for gay marriage, became more progressive. But in San Francisco, where gay marriage has widespread support, Gonzalez notes, "I would caution against believing that support of gay marriage in San Francisco defines you as a progressive here."
In response to those frustrated by his decision to step back from politics, Gonzalez points to his best adviser: himself. "Why should I stop making decisions on what I think is right? That's what got me elected to being a supervisor, that's what got me elected to the mayoral runoff." And, he says, opening up the field to a new supervisor is what's best for the constituents. "People shouldn't be held hostage by one person's idea of what a district needs," he says.
There's also a possible return to his roots, as he mentioned last year. "I'm not capable of saying I won't go home," he says. "Notwithstanding the political differences of Texas, I've always liked where I come from, so it's always been a natural thought that I would get back there."
Claire Lui '00 grew up in San Francisco and spent one summer working in Mayor Willie Brown's office. She is a freelance writer and researcher, and lives in Queens, N.Y.
| | | | | | | |
| --- | --- | --- | --- | --- | --- | --- |
| | | || | | || | | |


CCT Home


This Issue


Previous Issue

CCT Masthead