| | | | | | | |
| --- | --- | --- | --- | --- | --- | --- |
| | | || | | || | | |
FEATURES
Alumni Reconnect at Reunion 2004
By Shira Boss-Bicak '93
More than 900 College alumni, plus families and guests, returned to campus June 3-6 to celebrate their class reunions (photos 1, 2) as well as the University's 250th birthday. Some alumni came back to Morningside Heights for the first time in a quarter-century or more to find a campus and neighborhood that has undergone many changes, most for the better. Classmates visited at receptions, lunches and dinners; lectures and panel discussions; tours; cultural outings and other events. This scrapbook highlights just some of what went on at Reunion Weekend 2004, the best-attended ever.
FRIDAY FESTIVITIES
Friday morning and afternoon boasted spectacular weather, and alumni took full advantage of being on campus to meet for panels and tours, including an excursion to Kykuit, the former Rockefeller family estate in Tarrytown, N.Y.; walking tours of historic Harlem and Times Square; and a VIP tour of the United Nations, sponsored by Fernando Ortiz '79, legal officer with the United Nations Department of Peacekeeping Operations. Many classes held evening cocktail parties on, near and off-campus — the Class of 1979 even split up its gatherings, with separate events for alumni and partners.
CASINO ROYALE
Friday night's Casino Royale (3) and Young Alumni Dance Party (4) at the Hammerstein Ballroom was crowded and rocking as usual, with more than 1,300 young alumni from the College, Barnard and SEAS gambling with "Columbia cash," which they could redeem for prizes, and then dancing the night away.
The Class of '94 kicked off its 10th reunion at a buffet dinner in a special room on site, where many reconnected — and some just met, as was the case for Matti Almers '94 and Henry Woo '94, bankers in New York and London, respectively. Shawn Landres '94, who was especially busy covering reunion for Class Notes correspondent Leyla Kokmen '94, came from Los Angeles and brought his wife, Zuzana Riemer Landres. Dana Herdoon-Raucher '94 enticed her husband, Yossi Raucher '04 Business, to return to campus just two weeks after his graduation.
SATURDAY ACTIVITIES
Saturday's weather was cool with intermittent light rain as the parties continued at class luncheons and at the busy barbecue buffets under tents on Low Plaza and South Field (9). The youngest attendee at the Dean's Brunch (10) was Eleanor Teweles (born January 9), daughter of Liz Pleshette '89 and Josh Teweles. Professor of Classics and History Roger Bagnall (5) delivered the weekend lecture, while many children of alumni played at Camp Columbia (8).
Plastic surgeon Robert Kraft '74 and neurologist Gary Friedman '74 (6), who moved back to New York from Oklahoma a year ago, recognized each other at the Classes of '64–'84 barbecue on Low Plaza. Nearby, Kraft's wife, Ruth, sat with their son, Mike '05, and neuroradiologist Steven Schonfeld '74, whose son, Scott, graduated last year.
The omnipresent Gerald Sherwin '55, former Alumni Association president, was gathering ideas for his class' 50th reunion and caught up with basketball star Alton Byrd '79 (7), who was back to campus for the first time, with his wife, Francine, and their daughter, Alana. After graduation, Byrd played professional basketball in London for 17 years.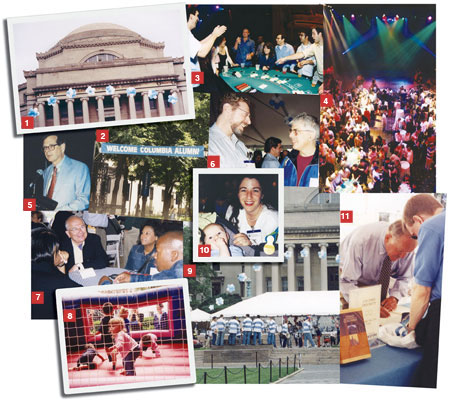 PHOTOS: EILEEN BARROSO (3, 4); SHIRA BOSS-BICAK '93 (6, 7); ALEX SACHARE '71 (1, 2, 8, 11) and MASHA VOLYNSKY '06 (5, 9, 10).

TUNNEL TOUR
The guided tour of the campus' underground tunnels (13) was a big hit. Parts of the labyrinthine system are reported to predate the University's move to Morningside Heights and stem from Buell Hall, the former Bloomingdale Insane Asylum. Today, the tunnels are closed to pedestrians, but alumni from the '50s and earlier remember darting through them on a regular basis. "The tunnels were a godsend in bad weather. Theywere warm and dry," remembered Harvey Leifert '59, who waited with his wife, Claudine, for the tour, only to give up their places when it was overcrowded. "Oh, well," Leifert said, "I've seen them."
After the 1968 demonstrations, during which the tunnels provided access to blockaded buildings, many of the entrances were closed. An underground community of the curious continues to secretly explore the system, however. One of the more committed tunnel fans, a 2001 SEAS graduate, sneaks under campus and gives guided tours. He'll also answer questions sent to undercolumbia@yahoo.com.
Reunion-goers entered the tunnels through the basement of Hamilton Hall, walked along an increasingly narrow passage crammed with pipes and wires and climbed through a door leading to the center stairway of Philosophy Hall. The next tidbit was served by descending the outside of Uris Hall to the University's cavernous plant, two underground stories of giant equipment where steam heat is generated.
For those who missed the tour, an illustrated article about the tunnels can be found on the Internet: http://newmedia.jrn.columbia.edu/2003/issue2/story1/page2.html. Another article about the tunnels was published in Spectator last year; go to www.columbiaspectator.com and search for "Forbidden Tunnels Guard CU History."
On another tour, alumni got a look at the Manhattanville area (12), site of Columbia's proposed new campus.
CLASS DINNERS
On Saturday evening, class dinners were held at venues on or near campus. The bicentennial class of 1954 celebrated its golden reunion in Low Rotunda. Barnard history professor Robert McCaughey, author of Stand, Columbia (Columbia University Press, 2003) and Saul Turteltaub '54, a Hollywood writer and producer, spoke to the class, and items from Peter Ehrenhaft '54's collection of Columbia memorabilia were displayed. McCaughey (11) signed copies of his book on Friday.
In Low's Faculty Room, the classes of 1944 and 1949, including Albert Koska '49 and his wife, Catherine (17), heard head football coach Bob Shoop speak on "Columbia Football: Now and Then," while the Class of 1959 dined at Terrace in the Sky on West 119th Street.
At the Class of 1964 dinner, held under a tent on South Field, Ivan Weissman '64 introduced the evening's speaker, historian Mike Wallace '64, by announcing, "My freshman roommate won the Pulitzer Prize. What did your freshman roommate do?"
Nearby, the class of 1969 was invited to cocktails in the recently renovated Hamilton Hall lobby and to dinner in a tent on Van Am Quad. Provost Alan Brinkley gave a keynote talk. Woody Lewis '69 (16, left, with Jon Rosenfeld '69), a software developer, came from the San Francisco area. "I like people I knew then to see me now," he said, explaining that he was a rock musician during his campus days. This was Lewis' fourth reunion, and he declared it the best so far, owing to the increasing earnestness of classmates. "People are more intent on discovering our experiences and commiserating or sympathizing with our troubles. We're survivors, and people cared enough to come and share what we've been through." Among them was Mark Rudd '69, who participated in a spirited panel discussion earlier in the day that explored the long and winding road many had traveled since their College days.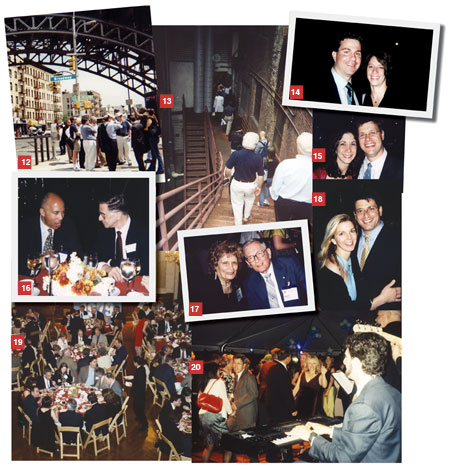 PHOTOS: SHIRA BOSS-BICAK '93 (14, 15, 16, 17, 18); LAURA BUTCHY (19); EMILY MORRIS '02 (12, 13) and ALEX SACHARE '71 (20).

The 1974 class dinner was held in the Starr East Asian Library in Kent Hall. Several classmates attributed their attendance to the tireless recruitment efforts of longtime CCT class correspondent Fred Bremer '74, including New Yorker Brian Eskenazi '74, who publishes illustrated art books and was attending his first reunion.
Attorney Bill Roth '74 said, "Most of the people I've been talking to I've never met before," but pointed out what an easy ice-breaker the Columbia connection is. Roth discovered another school's connection in Pasquale DeVito '74, however. Roth looked across the table, read a nametag and asked in surprise, "You're Mr. DeVito?" It turns out that DeVito has been Roth's daughter's religion teacher at Horace Mann for the past four years. Roth had heard much about the talented Mr. DeVito, but had not known they were classmates.
The Class of 1979 rang in its silver reunion at Casa Italiana (19), joined by Dean Austin Quigley. With a turnout of nearly 100, the 20th reunion Class of 1984 celebrated in the Jed Satow Room on the fifth floor of Lerner Hall, with a spectacular view of campus. Rupert Li '84 came from Hong Kong for the occasion, which was attended by the class' special guest, Professor Emeritus of Spanish and Portuguese Karl-Ludwig Selig.
Members of the Class of 1989 caught up over cocktails and dinner in the Hepburn Lounge of Uris Hall. The Class of 1994 reminisced during dinner in John Jay Dining Hall, while the most recent graduates at reunion, the Class of 1999, celebrated their fifth anniversary in Lerner Hall.
STARLIGHT RECEPTION
After Saturday's dinners, alumni converged on Low Plaza for the annual all-class champagne and dancing extravaganza (20). The weather cleared, the band kept the music going into the wee hours, and as always, Dean Austin Quigley and his wife, Barnard professor of English Patricia Denison, were front and center on the crowded dance floor. Only the chocolate truffles and pastries drew some to the sidelines. Alumni from SEAS and Barnard joined in the merriment, and the happy crowd swelled out the sides of the tent.
COLUMBIA COUPLES
Among several intra-College couples attending reunion were Shelley Schneiderman '94 and real estate development consultant Adam Ducker '93, who met not on campus but later, at a College alumni event in Washington, D.C. They were married in 2001, and recently moved back to D.C. after living in San Francisco.
Christina Benedetto '89 and Robert LaPlaca '89 (15), who met on Carman 12 during their freshman year and were married two years after graduation, came from Connecticut, while doctors Nicholas Bavaro '89 and Jacqueline Bavaro '88 (14), who met in chemistry class, went to med school together and were married at St. Paul's Chapel in 1993, came from Westchester.
Annie Della Pietra '91 and Chris Della Pietra '89 (18) met not while students but as alumni, at the 1994 Homecoming football game. For his proposal, Chris came up with an excuse to get Annie to board the 1 train from the West Village to 116th Street so he could kneel in front of Alma Mater. They were married in 1997 and live in New Jersey.
Contributing writer Shira Boss-Bicak '93 is a freelance journalist in New York. Her most recent CCT cover story (March 2004) was about the 20th anniversary of coeducation at the College.
| | | | | | | |
| --- | --- | --- | --- | --- | --- | --- |
| | | || | | || | | |


CCT Home


This Issue


Previous Issue

CCT Masthead