| | | | | | | |
| --- | --- | --- | --- | --- | --- | --- |
| | | || | | || | | |
FEATURES
Flouting Convention, Part I: Wayne Root Gambles His Way to Success
By Dina Cheney '99
Wayne Allyn Root '83, whose success story reads like a paean to PR says, "If a tree falls in the forest and there's no one there to hear it, there's no point."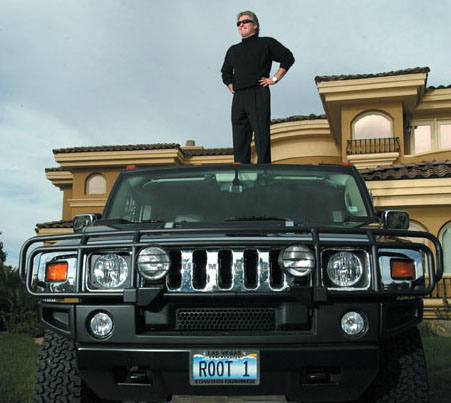 Never the shy, retiring type, Wayne Root '83 poses atop his Hummer in front of his Las Vegas-area home. By combining his sports handicapping prowess with his penchant for self-promotion, Root has developed a successful and lucrative career.
PHOTO: STEVE MARCUS/LAS VEGAS SUN

Making the world aware of his gambling skills and charisma has been the unifying theme of Root's unorthodox career, which began with a local newspaper article in 1977 and has grown into GWIN (Global Winners), the only publicly-traded sports handicapping firm in the country, of which Root is founder, chairman and CEO.
Root, who grew up as a self-described "SOB" (son of a butcher) in Mount Vernon, N.Y., was profiled at 16 in his hometown newspaper, the Daily Argus. After he read the article, which reported his impressive sports picks and described him as "the betting whiz kid" and "the next Jimmy the Greek," referring to longtime sports handicapper Jimmy Snyder, this high school football player and casual gambler decided that one day he would become the next sports handicapping legend.
But first, Root needed to follow his father's orders and attend college. At Columbia, Root - spurred by paternal pressure to become involved in politics or law - took pre-law courses and majored in political science, but sports handicapping remained at the back of his mind.
After graduation, Root immediately ran, unsuccessfully, for Westchester County Legislator. Confused, he proceeded to dabble in several entrepreneurial ventures, including a restaurant, a dating service and a nightclub. Root even spent time in Los Angeles trying to break into acting. "I never stuck with anything because nothing fit my passion like football did," he says.
While working as a real estate broker, Root experienced a "stroke of luck," as he calls it. He met businessman Doug Miller, who took him out for a life-changing Chinese meal. Over Szechuan chicken, Miller, now GWIN's COO, asked Root what he wanted to do with his life. Root, thinking of his gambling skills and outgoing personality, said that he wanted to be his generation's Jimmy the Greek. For perhaps the first time, Root's audience took him seriously; Miller soon became Root's manager.

"A lot of handicappers can win, but they can't get everyone's attention. I am the P.T. Barnum of this new form of entertainment."

Their first course of action was distributing promotional press releases, which led to a full-page story in the New York Daily News sports section. Root and Miller sent the article to other media outlets, which led to additional press and finally two big breaks: Root was asked to make sports predictions on NBC radio in New York and pen a column picking NFL winners for the Daily News. Though he wasn't paid, Root realized the value of free publicity and building an image.
"I was broke and living in my father's house, but I was walking around in pricey suits, so the world was starting to believe," he says. "Some would call me a self-promoter, which I don't consider a negative. As with every other business, 10 percent of what I do involves credibility, another 10 percent is winning and the remaining 80 percent is marketing. It is more important to be known than to win the most."
Soon, Root was noticed - by the head of NBC's Source Radio Network (co-owned by Westwood One) - and offered him a sports handicapper job with a six-figure salary. His show was carried by 130 stations, but the 25-year-old Root had his sights set higher. He sent demo tapes to a bevy of television networks and stations. "I had this idea to merge Wall Street and sports gambling," he explains. "I wanted to create a show similar to Wall Street Week, where five sports handicappers would talk sports, odds and strategies."
Two years later, the idea became a reality: Root was hired by the Financial News Network (since folded into CNBC). While at FNN, he fulfilled another dream and co-hosted an NFL pre-game show, Who Beat the Spread, with his idol, Snyder. From CNBC, Root moved on to the USA Network's Pro-Line, a sports handicapping TV show, where he remained from 1991-99.
In 2000, this natural salesman raised several million dollars to start GWIN, which is based in Las Vegas and develops and markets sports handicapping advice and information via the Internet (www.winningedge.com) and the Winning Edge national TV and radio shows. These outlets offer sports predictions, based on the analysis of historical factors and team tendencies. The company makes money through subscriptions to its weekly, monthly and annual handicapping services as well as through advertising fees from TV, radio and website sponsors.
GWIN's approach is to take sports gambling, which often is viewed as a vice or addiction, and turn it into respectable entertainment, akin to smoking a fine cigar or attending the theater. "So many men gamble on sports, but no one talks about it," says Root. "I don't see any difference between betting on sports and betting on Wall Street, but one is legal and the other less so. Sports clients can get the same return as investors.
"In fact," he continues, "the secret to doing well in sports gambling is similar to the stock market. If everyone loves a stock, that's when you want to sell it, not buy it. You want to buy low and sell high. With sports gambling, I get results of pools from around the country and I find out where the money's going, and I go the opposite way."
Root, who claims he will not watch sports without betting ("It's only entertaining if there's money at stake"), puts a premium on promotion. "A lot of handicappers can win," he says, "but they can't get everyone's attention. In an industry filled with boring talking heads spouting reams of dry, dull information, statistics and trends, I am the P.T. Barnum of this new form of entertainment."
Root, 42, is one busy man, and he likes it that way. In addition to running the company and writing (Root has authored three books, and is working on a fourth, tentatively titled The Zen of Gambling), he speaks at corporate gatherings and is a frequent radio and TV guest. "The saddest thing would be for the phone to stop ringing. That would be very lonely," he says.
Root's wife, Debra, a former Miss Oklahoma, describes Root as a "hurricane" who is constantly on the phone, as much as 14 hours a day, seven days a week. He usually works from his home office in Henderson, Nev., and can spend short breaks with Debra and their three children.
Even though GWIN is flourishing (the company claims a client list of 600,000), Root is not about to rest on his laurels. "A million young guys want to be me now," he declares. "Staying at the top is even more difficult than getting there." So Root is expanding his shows and website to European and Asian audiences, has been pitching reality show ideas to TV networks and hopes to launch television's first gaming network.
For all that, this entrepreneur has another goal in mind. "Once I become even more well-known, and as soon as I have enough money," he says, "I will run for the U.S. Senate."
Would you bet against him?
Dina Cheney '99 is a freelance writer and recipe developer. She offers private cooking classes and guided tasting parties through her business, Cooking by Heart (www.cookingbyheart.com).
| | | | | | | |
| --- | --- | --- | --- | --- | --- | --- |
| | | || | | || | | |


CCT Home


This Issue


Previous Issue

CCT Masthead