| | | | | | | |
| --- | --- | --- | --- | --- | --- | --- |
| | | || | | || | | |
AROUND THE QUADS
Preservation, Renovation, Renewal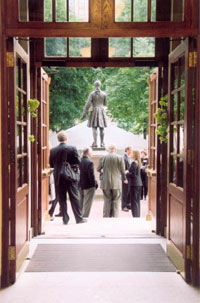 In Hamilton Hall, just about everything old is new again.
PHOTO: EILEEN BARROSO

A dedication ceremony marking the restoration of Hamilton Hall, the College's headquarters building that was built at the turn of the 20th century, was held on May 20 on Van Am Quad in front of the statue of Alexander Hamilton.
President Lee C. Bollinger offered remarks and Dean Austin Quigley thanked the many benefactors whose generosity made the project possible. "Hamilton Hall is the home of the College and the home of the Core Curriculum, which has evolved steadily," observed Quigley. "With this project, we are restoring Hamilton Hall to its former glory and renewing it to meet the exciting challenges of the future."
In addition to a totally refurbished lobby, which Quigley described as "a marvelous combination of restoration and renovation," 38 classrooms have been or will be completely modernized, a new Center for the Core Curriculum has been created and the Office of the Dean and Office of Admissions have undergone total renovation. One of the project's highlights is the refurbishing and installation of two 13-foot high Tiffany stained glass windows that depict Vergil and Sophocles. These artifacts, which are more than a century old, stand at opposite ends of the lobby and are passed by students on a daily basis as they head to classes.
| | | | | | | |
| --- | --- | --- | --- | --- | --- | --- |
| | | || | | || | | |


CCT Home


This Issue


Previous Issue

CCT Masthead