| | | | | | | |
| --- | --- | --- | --- | --- | --- | --- |
| | | || | | || | | |
WITHIN THE FAMILY
McMillian, '68 Lions Hoop It Up
By Alex Sachare '71
The initial class of the Columbia Athletics Hall of Fame has been announced, and I'm pleased that Jim McMillian '70 (individually) and the 1967–68 men's basketball team (collectively) are on the list. They played key roles in my Columbia athletics experience.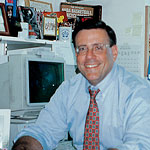 I was here for McMillian's three varsity seasons — back then, freshmen wisely were not permitted to play varsity ball and were given a year to adjust to college life. McMillian was a 6-5 forward who averaged 22.8 points per game, was a three-time All-Ivy selection and made numerous All-America teams. A first-round draft choice of the Lakers, he was a member of their 1972 NBA championship team, played nine pro seasons and averaged a respectable 13.8 ppg.
Jimmy Mac was no Air Jordan, not by a long shot. He was a stocky kid from Brooklyn (I can relate) who wasn't much of a leaper but who made the most of his abilities, an old-school player whose effectiveness was below the rim. He'd move without the ball to get open, use a quick first step to drive to the basket or a head fake to create space for his precise jumper. What I liked best was that he never seemed to stop working when he was on the court.
McMillian made his varsity debut on that 1967–68 team, a squad that also featured 7-foot center Dave Newmark '68, slick guard Heyward Dotson '70 and undersized forward Roger Walaszek '69. Columbia won its first four games that season, lost three in a row on the road, then shot to national prominence by reeling off 16 straight wins. That streak began with a sweep of three major college powers, West Virginia, Louisville (with the great Wes Unseld) and St. John's, in the Holiday Festival at the Garden, games I had the pleasure of watching alongside my father, a St. John's alum.
The winning streak came to an end in the regular-season finale at Princeton, but that only set up a one-game playoff against the Tigers for the Ivy crown — at a supposedly neutral St. John's site that was filled with Columbia supporters. The Lions dominated Princeton 92–74 to win Columbia's only men's basketball title in the Ivy League, which is now in its 50th season of competition. An 83–69 win over La Salle in the first round of the NCAA tournament was followed by a 61–59 loss to Lefty Driesell's Davidson team in an NCAA East Regional in Raleigh, N.C., a mere 150 miles or so from Davidson — no home-court advantage for Columbia this time!
Members of the '67–'68 Lions are expected to be on hand for an inaugural event honoring the first class of Hall of Famers on February 18 in Low Rotunda. It should be quite a reunion, despite the absence of the venerable coach, Jack Rohan '53, who passed away in August 2004.
Kudos to AD Dianne Murphy for instituting the Hall of Fame. Anything that connects the present with the past and recognizes Columbia's athletic tradition, one whose richness might surprise many, is a good thing.
For a complete list of the initial inductees to the Athletics Hall of Fame, see Roar, Lion, Roar.
| | | | | | | |
| --- | --- | --- | --- | --- | --- | --- |
| | | || | | || | | |


CCT Home


This Issue


Previous Issue

CCT Masthead