| | | | | | | |
| --- | --- | --- | --- | --- | --- | --- |
| | | || | | || | | |
ALUMNI UPDATES
Robert Ryang '02's Stanley Cup
Though it doesn't explicitly resemble Cinderella's tale, and in fact the ending to the story has yet to be written, Robert Ryang '02's success is anything but ordinary, maybe even worthy of the big screen. Ryang, a young film editor, won the Association of Independent Creative Editors (AICE) 2005 Trailer Park competition, which has led to much attention from fans he never knew he had as well as interest from movie studios in his creative ideas.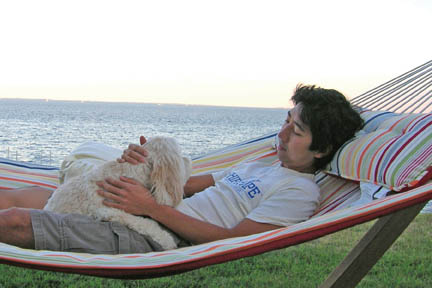 MOLLY ABRAMS '03 BARNARD

A movie fanatic for most of his life growing up in Camarillo, Calif., midway between Los Angeles and Santa Barbara, Ryang decided to attend Columbia for its diversity of educational opportunities and the character of the institution. He had an interest in film as a career when he entered the College in 1998, though he also considered a future in forensic psychology. While nurturing both interests as an undergraduate, Ryang also was a disc jockey for Barnard College radio (WBAR); drew comics for Spectator; did film projects, one of which was played on loop on CTV; and was a mentor in Harlem.
After graduation, Ryang secured a job at PS260, a film company that specializes in commercial post-production, and climbed the ladder in six months from runner to editing small projects. Recently, he cut a New York Knicks commercial shot by Spike Lee. Ryang had some editing experience from college but taught himself to use Apple's Final Cut editing software; he has edited friends' videos as well as his own.
The opportunity to enter AICE's competition proved to be fortuitous. The Trailer Park competition was developed to publicize AICE as a national organization that serves the needs of its member companies. The challenge of the competition was to edit a trailer for a classic film, but in a different genre. Ryang had seven films to choose from: Red River, Some Like It Hot, Titanic, West Side Story, Supersize Me, The Parent Trap and The Shining, which he liked at first and chose after much brainstorming.
"I immediately had the image of Jack Nicholson and the sound of Peter Gabriel's music in my mind," Ryang says. "However, when I sat down to watch the movie, I wasn't sure that I could pull off a feel-good trailer well; the kid, Danny, never smiles. I then considered making Red River into a homosexual romance or The Parent Trap into an action movie à la Double Impact (the one with two Jean Claude Van Dammes). I wanted to use The Shining, though, so I took a second look and was able to create a new story by viewing the images independent of their context."
The contest shows to what extent editing has an impact on filmmaking. Ryang was able to take a well-known film and completely change the context of its images. He received Avid Express Pro, a movie editing computer program, for his first-place finish. He also won "a cool mini trailer that I get to keep for the year, just like the Stanley Cup."
Ryang's movie trailer received public attention when a friend, Dustin Stephens, put it on his blog and it received many hits. Ryang says he was shocked to win AICE's competition, but the mini-movie was a favorite among the many fans who came to know it. Soon after winning the contest, Ryang received calls from movie producers and studios interested in his ideas, and he is working on new material for the Independent Spirit Awards show. "I'm refining my reel and written work so that I have something to send them, before minute 15 passes," he notes of his sudden fling with fame.
Ryang hopes his "Stanley Cup" is only the beginning. Though he is not sure of the path his life will take, winning AICE's contest has helped to steer him in a direction. "I'm only 25," says Ryang, "so I hope I haven't achieved my professional goals yet. Then I wouldn't have anything to look forward to."
Roy Cureton '08
| | | | | | | |
| --- | --- | --- | --- | --- | --- | --- |
| | | || | | || | | |


CCT Home


This Issue


Previous Issue

CCT Masthead