| | | | | | | |
| --- | --- | --- | --- | --- | --- | --- |
| | | || | | || | | |
ALUMNI UPDATES
David Gawarecki '75 and His Lament for Henry
By Randy Nichols '75
David Gawarecki '75 submitted a poem last fall to a My Columbia competition, the prize for which was a copy of Allen Ginsberg '48's Howl. Gawarecki's entry, Scowl — A Lament for Henry, was inspired by watching attorney friends slowly work themselves to death. On October 14, Gawarecki read Scowl at "Howl at The West End," one of this year's Homecoming events.
The lamented Henry is Gawarecki's late friend, Henry Winters '75. Winters "literally worked himself into the grave," says Gawarecki, a writer and poet. "He spent years putting in obscene hours at major law firms and died a few weeks short of his 50th birthday."
Three decades after graduation, Gawarecki's memories of Winters and their relationship still run deep. "Henry and I spent two weeks living out of the back seat of a Plymouth Valiant while going to and from Miami during winter 1973," Gawarecki recalls. "He was a short, dowdy, college intellectual who incomprehensibly ended up in law school. I was, at the risk of sounding a little full of myself, a campus pretty boy who immersed himself in the life of the mind only after leaving the University. Our relationship, in that sense, was very Ginsberg/Kerouac [Jack '44], at least in intellectual type and travel arrangements."
Gawarecki remains haunted by moments spent standing over Winters' then-unmarked grave. The day before, the coroner who had supervised Winters' autopsy told Gawarecki the cause of death was acute hypertensive arterial sclerosis complicated by diabetes, an end at odds with the laconic and wry Winters he had known at Columbia but not inconsistent with the stressed-out attorney he had known in later life.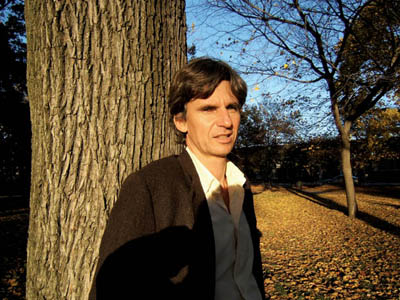 PHOTO: MARTHA HAYES

"Henry was brilliant," Gawarecki recalls, "a philosophy major who'd schedule courses in blank verse and private tutorials in obscure subjects with Professor Karl-Ludwig Selig. But there was a humanity to him. In a move likened to professional suicide by colleagues, Henry took a prolonged leave to spend time with his former roommate, Gary Gale '75, who was dying from a brain tumor. I'm sure it compromised his position at that firm, but that's just the way Henry was."
An English and comparative literature major at the College who dabbled in the fine arts, Gawarecki recalls Columbia in the early '70s as "a series of contradictions in a self-contradictory world, an odd collection of counterculturalists, conformists, pre-meds, poets, preppies, ethnics, a scad of the politically and religiously orthodox of various persuasions, nihilists and no-accounts incongruously being called by last names they at times barely recognized while parsing through the classics of western thought."
"I was a scholarship student from an industrial town in central New York," Gawarecki notes. "In high school, I was barely challenged to get good grades to say nothing of engaging in analytic thought, so Columbia was an eye-opener. I was initially scared to death. But the experience remolded me in a fashion that I had never foreseen. I emerged humbled, scarred, but equipped with the beginnings of a disciplined mind."
Gawarecki lists "Arthur Danto and his wonderfully facile mind; Margaret Mead; Kenneth Koch, who put me through poetry imitations thus teaching me the raw mechanics of the art; and Stefan Sharff, with whom I never studied but proved a lifelong friend" as influential professors. But, "looking back, it wasn't the brilliant and showy but the less obvious doing the least glorious of work to whom I owe most. Anita Parzenczewski (Freshman Seminar) made me a writer. She fought with me until I mastered the concept of the paragraph. That I was a frustrated teenager in over my head and willing to call it quits only fueled her further. She was unrelenting — I stayed and graduated on time because I was afraid to contradict her faith in me."
After graduation, Gawarecki spent three years studying stone carving, a talent picked up at Columbia under Minoru Niizuma, at the Art Students League. He returned to Columbia and earned an M.I.A. degree from SIPA in 1991.
Gawarecki started writing fiction seriously about 12 years ago, after earlier forays into freelance journalism in the '80s. He has an unpublished novel, tentatively titled Virgin Land, a dark view of the spiritual isolation he views as so much a part of American identity.
Gawarecki and his partner, Martha Hayes, associate professor of English at Gateway Community College, live in New Haven, Conn. They met in Krakow, Poland, in summer 2005, where Gawarecki was taking a TESOL certification course. Gawarecki has a 17-year-old son, John, a student at NYC's Stuyvesant H.S. and an aspiring writer, from a previous marriage.
Gawarecki noted "the seeming appropriateness that my work would be noticed at the place that helped mold me into something hardly recognizable from the working class kid who wandered into Morningside Heights 34 years ago … The intellectual life at Columbia was phenomenal and while the institution is largely responsible, it was the people I remember most. Many still are close friends. Some impacted the way I viewed the world, then moved on. Others, like Henry, still cast long shadows, a sad reminder that the richness of an institution is an insufficient shield against the harshness and emptiness that can be American life."
| | | | | | | |
| --- | --- | --- | --- | --- | --- | --- |
| | | || | | || | | |


CCT Home


This Issue


Previous Issue

CCT Masthead