| | | | | | | |
| --- | --- | --- | --- | --- | --- | --- |
| | | || | | || | | |
ALUMNI UPDATES
Jaye Pace '00 and Reality's Scholars
By Rammy Park '04
Jaye Pace '00 thinks everyone should have the opportunity to go to college for free, saying that her Columbia experience was marred only by her struggles to pay for school on her own. With this in mind, she ventured into reality television to champion higher education and financial aid, creating The Scholar.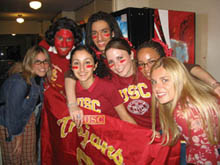 Jaye Pace '00 (left) and her friend and collaborator on
The Scholar
, Shannon Meairs (right), join members of the winning red team after a spirit challenge in which the teams had to rally as many Southern Cal students as they could to a sports event, as well as perform a school spirit routine.

Broadcast in six episodes on ABC last summer, The Scholar helped 10 promising high school seniors from economically disadvantaged backgrounds obtain the financial support they needed to attend leading colleges to which they had been accepted. Students competed in team challenges and head-to-head academic quizzes and underwent one-on-one interviews in hopes of winning a full four-year scholarship, donated by the Broad Foundation, as well as lesser scholarship prizes each episode.
The Scholar had multiple Columbia connections, with Pace as co-creator and undergraduate admissions officers Shawn Abbott and Peter Johnson as two of the three judges who rated competitors' performances in each show. In addition, two of the scholars, Amari Hammond and Max Caraballo, are enrolled in the Class of 2009.
Both admissions officers were eager to participate. "Jaye was the employer, and Peter and I were the employees," says Abbott. "It was great to see the respect that such prominent names in the television industry … have for Jaye and her work."
The original idea, however, wasn't for a reality show. Pace likens aspects of the college admissions process to "a song and dance," so she wrote a musical, Acceptance, about a student trying to get into college. In 2004, Broadway producer Elizabeth Williams read Acceptance and asked Pace to collaborate on a reality TV show instead.
Pace, who had worked in Columbia's admissions office as a student and after graduation, recruited a friend, Shannon Meairs, former assistant director of admissions at Pepperdine, to work on the show. Williams, meanwhile, enlisted the support of Joan Stein and Steve Martin, who in turn approached Carsey-Werner, the television production team behind 3rd Rock from the Sun, That '70s Show and The Real World. The idea was successfully pitched to ABC in fall 2004.
"To find a way to reward some bright, accomplished, needy student, as Jaye had been when she applied to Columbia, was a great idea for a 'reality-based' show," Johnson says.
Pace was 9 when her parents divorced, and at 15 she moved with her mother and younger sister from California to Bothell, Wash., a Seattle suburb. Despite working 20 hours a week, Pace excelled at Bothell High. "I learned a lot from my mother's mistakes, the main thing being how important it was to have an education," says Pace, whose mother didn't graduate from high school. "One of the things she always talked about regretting was that she never had the chance to figure out what she wanted out of life beyond getting married and having kids."
A Washington Scholar, Pace passed up a full ride to a state school to attend the College, where she double-majored in English and French. She especially enjoyed classes with Professors Edward Mendelsohn and the late Edward Said and took every opportunity to interact with faculty and fellow students. "We're talking late-night conversations on Low Steps, always contributing to class discussions even if I wasn't sure what to say … I was that girl."
While working in admissions, Pace drew upon her experiences to create a recruitment video for students who didn't have the resources to visit campus. Eric Furda, v.p. of alumni relations, who headed undergraduate admissions for nine years, describes Pace as "incredibly effective as a recruiter, both at Columbia and on the road. What strikes you about Jaye is how she epitomizes energy and enthusiasm, not just for Columbia but for life."
One person Pace recruited for Columbia, albeit unintentionally, was Hammond, who says meeting Pace changed her life. She was admitted by Harvard under non-binding early action, but after participating in The Scholar, she changed her mind. "If I wanted a school with an amazing reputation, tons of resources and a great city, there was really only one choice," she says. She plans to study political science and says she'd like to intern for Sen. Barack Obama '83 (D-Ill.).
Caraballo says Columbia "was my first choice before entering the show … paying for tuition was the only thing that would stop me." Although he did not win the grand prize, he won enough to enable him to attend the College.
The show took place on USC's campus. Despite the occasional moment of overwrought reality TV drama, The Scholar proved to be heartfelt and intelligent. Though it was generally well-received by critics, The Scholar did not earn high ratings and is not scheduled to return for a second season. "The thing that can't be quantified," Pace says, undaunted, "is how people's lives and hopes and dreams were changed by this show."
Following The Scholar, Pace wrote an article about getting into college for the November 2005 issue of Seventeen. She contributes a weekly college advice column to www.seventeen.com and is working on an interactive workbook, Guide and Seek, that targets students who don't have access to quality college counseling. There also are plans to stage her musical, Acceptance, this year in Seattle. Down the road, she hopes to be able to establish a scholarship foundation that will pay the way for needy students.
But there is no question what she'll be doing in four years: "Flying around the country attending the graduations of each of the Scholars!"
---
Rammy Park '04 divides her time between freelance writing and working for the Associated Press.
| | | | | | | |
| --- | --- | --- | --- | --- | --- | --- |
| | | || | | || | | |