| | | | | | | |
| --- | --- | --- | --- | --- | --- | --- |
| | | || | | || | | |
FEATURES
John Brecher '73
Gives You Permission To Buy
Cheap Wine
By Justine Blau '91 Arts
John Brecher '73 has one of the classiest jobs in the world: He and his wife, Dorothy Gaiter, review wine for their weekly Wall Street Journal column, "Tastings."
Brecher's palate wasn't always so sophisticated. When asked about his Columbia memories, he rhapsodizes about 85-cent meatball heroes from Ta-Kome — a former deli on the corner of Broadway and 115th Street — that were a staple of his diet when he was a student.
"My family didn't have much money, and with the $75 check my parents sent me every two weeks, I bought a Ta-Kome meatball hero pretty much every night for four years," Brecher admits. "In retrospect, I realize that it was pretty gross, but Ta-Kome always will be close to my heart." Brecher's wine of choice when he was in college? Mateus, as he says in the memoir, Love by the Glass, co-written with Gaiter.
Brecher's refinement came in stages. He grew up mostly in Jacksonville, Fla., knowing he wanted to be a journalist from an early age. He started reading The Wall Street Journal when he was 7, thanks to a neighbor who subscribed.
Inspired by journalists who covered the civil rights movement, Brecher majored in English at Columbia. One class that jumpstarted his sophistication was "Renaissance Poetry," taught by Jeffrey Ford. "The course was required, and I just couldn't stand the idea of reading flowery, stupid poetry. But Ford read these poems with such incredible passion, and kind of parsed the language; it was a revelation. It was the first time that I realized what you could really do with language."
The class that made the biggest impression on Brecher was taught by Lou Cowan, former CBS president, at the Journalism School. Cowan invited famous people to talk to the class, including Captain Kangaroo (Bob Keeshan) and John Oates from The New York Times. "One day Cowan asked me to have coffee with him at his fabulous East Side penthouse," Brecher recalls. "And he said to me, 'Do you know why I have these people to class? Don't listen to what they're saying. Study how they're thinking.' It was the single most important thing that anyone ever said to me. And I carry that bit of advice with me to this day."
During his senior year, Brecher mysteriously received a book in the mail, The Signet Book of Wine by Alexis Bespaloff, which inspired him to try wines other than Mateus. Also during his senior year, Brecher, who describes himself as incredibly shy, served as editor-in-chief of Spectator. "I worked at the newspaper and didn't do much else. Journalism is a great profession for shy people because it forces you to get outside of yourself," he says. "If I were a regular person at a bar, I could never walk up to a woman and talk to her. But if I walk into a bar as a reporter, I don't have any problem asking, 'What do you think of x or y?' because it's not me."
The highlight of Brecher's College reporting was a story he wrote about sneaking into the School of International Affairs with his friend, Lou Venech '73. "When the SIA was being built," Brecher explains, "there were protests about it. And yet there were no security guards. So, Lou and I decided to test the security. In the middle of one night, we walked around the whole building and stole the building plans. And the next morning at 9 we were waiting at the University president's office, and we handed him the plans."
Venech was WKCR's general manager at the time, and recalls that President William McGill "wasn't pleased. But it was a good story for WKCR and security improved. The fact that a Harvard campus building had been bombed [the same night] confirmed our sense that there was cause for concern." Brecher headlined his story "Confessions of an Interloper: I Could Have Bombed SIA."
Immediately after college, Brecher took a job at the Miami Herald as South Dade bureau chief. On his first day there, he met Gaiter, also a new reporter. They hit it off immediately and worked at the Herald for seven years.
From the beginning of their relationship, the couple began collecting wine and belonged to wine tasting groups. They moved to New York in 1980, when Brecher was offered a job in Newsweek's foreign department. Gaiter was a "Week in Review" editor and later a Metro desk reporter at the Times. In 1984, the Miami Herald enticed them to return, offering Brecher the city editor position and Gaiter a job as an editorial writer with her own column.
In 1990, they returned to New York, wanting their daughters, Media (now 16) and Zoe (14), to grow up in New York so they would be "smart, streetwise, tough and cultured," and because in a diverse city, their interracial children wouldn't stand out. Brecher and Gaiter were hired at The Wall Street Journal, where Gaiter later became urban affairs editor and Brecher became Page One editor.
Joanne Lipman remembers when she was a Journal reporter that Brecher and Gaiter were the reigning wine experts. "John became the person everybody in the office would go to when having a dinner party. You would stop at John's desk on your way out, and ask, 'What bottle of wine should I have tonight?' "
When Lipman became founding editor of The Wall Street Journal "Weekend" section in 1998, she asked Brecher and Gaiter to write about wine. "The concept is that they are experts but they are not snobs," Lipman explains. "They were a hit from day one."
One of Brecher and Gaiter's early columns, suggesting that readers open a special bottle they had been saving for years, elicited more 1,000 letters. And, Lipman recalls, "They wrote a column about a Gallo wine that was unexpectedly excellent, and every bottle in the United States [was sold]. The winery wrote to us that it had to call in bottles from Europe. The influence was astonishing. … Everybody was walking into wine stores with that column in hand."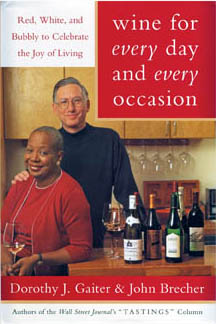 The Wall Street Journal Guide to Wine
and
Wine for Every Day and Every Occasion: Red, White, and Bubbly to Celebrate the Joy of Living
by John Brecher '73 and Dorothy J. Gaiter.

Brecher and Gaiter initially kept their day jobs and wrote about wine in their free time. After they appeared on Today and Martha Stewart, they were able to give up those day jobs and concentrate on reviewing wine for a living. They have since written two books in addition to their memoir — The Wall Street Journal Guide to Wine and Wine for Every Day and Every Occasion: Red, White, and Bubbly to Celebrate the Joy of Living.
It was only after Brecher and Gaiter were established wine writers that they discovered, during dinner at Brecher's family home in Jacksonville, that it was his brother, Jim, who had sent him The Signet Book of Wine which started it all. When Jim Brecher was a law student, he saved money by subsisting on packaged beef Stroganoff, and with every two box tops, he earned a free wine book. He sent in dozens of box tops and mailed books to many friends and family members.
Brecher and Gaiter taste wines five nights a week at home as column research. "I pour out all the wine at the end of the night," Brecher says. "Dottie leaves the kitchen because, to this day, she can't stand to watch. We taste 6–10 bottles every night. Then we need to empty the bottles, take off the labels and move on."
Brecher says that this is a great time for wine drinkers because there are many fine wines available at reasonable prices. "The best bargains on the shelf are out of South Africa, Chile and Argentina. People are realizing that for $5.99, $6.99 or $7.99 you can drink a bottle of wine that's really pleasing."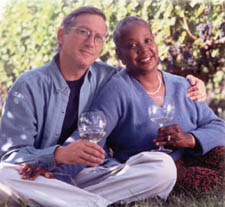 John Brecher '73 and his wife, Dorothy Gaiter, met as young reporters and parlayed their passion for wine into a successful career.

One column listed what the couple would put in a case if they were going to spend $100. Among what they would include: a Muscadet from France ("one of the best bargains on the shelf today"); a Beaujolais; a Cava from Spain ("you can have a sparkling wine for dinner and feel like a million bucks for $8"); and two bottles from Chile, a Merlot and a Cabernet Sauvignon.
While Brecher says that there's no reason to settle for bad wine for less than $20 or even less than $10, he adds that often there is a big difference between wines under $20 and wines over $20. "The truth is sometimes a wine costs $50 or $60 or $70 because the land, the grapes, the care, the oak and everything else requires a lot of money. You taste it and you say, 'Yup, that's worth every penny.' " For $35 or more, Brecher says that the best value wine is an American Pinot Noir from California or Oregon.
"John and Dottie care about the value for their money," Lipman says. "A $10 bottle of wine can be overpriced and a $60 bottle of wine can be a bargain. They understand wine the way 'real' people understand wine; they make it accessible."
Citing a July 20, 2005 Gallup poll, Brecher notes that for the first time, Americans say they drink more wine than beer on a regular basis. For the most part, he and Gaiter urge people to have fun with wine. "There's so much new and different stuff. Trust your own taste. You can find something that you love. And then find another."
---
Justine Blau '91 Arts was awarded a 2005 New York Foundation for the Arts fellowship in nonfiction writing.
| | | | | | | |
| --- | --- | --- | --- | --- | --- | --- |
| | | || | | || | | |