| | | | | | | |
| --- | --- | --- | --- | --- | --- | --- |
| | | || | | || | | |
ALUMNI UPDATES
The Measure of Success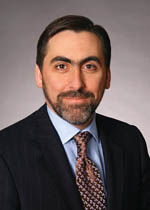 Christopher Tahbaz '86 finds pro bono work rewarding.

In 1982, when the College admitted its last all-male class, Christopher Tahbaz '86 was a small-town kid from Utah who had come to New York City looking for a change. There he would eventually graduate from a premier university, join a premier law firm and start a family. It was at that law firm, Debevoise & Plimpton (named best law firm in the country for two years by The American Lawyer magazine), that Tahbaz would embrace the pro bono work that is a highlight of his career.
Tahbaz joined Debevoise in 1994, specializing in complex commercial litigation, but his desire to make a difference motivated him to pursue pro bono efforts. According to the American Bar Association, the average lawyer should dedicate about 50 hours a year to pro bono cases, serving clients who are not able to afford legal services. Tahbaz dedicates about 200 hours a year to such work because he feels it is a great opportunity to help others and make a contribution to society.
Tahbaz serves as the co-chair of Debevoise's pro bono committee, encouraging the firm's lawyers to participate in pro bono work. Outside of the firm, Tahbaz serves on the Board of Directors of New York Lawyers for the Public Interest, which he has done since June 2000. He also is a former member of the Pro Bono and Legal Services Committee of the Association of the Bar of the City of New York.
A highlight of Tahbaz's pro bono career has been his work with the Urban Justice Center, which provides legal services to poor New Yorkers. He helped the group to mount a 1997 effort to make changes to New York's penal system, primarily regarding care for mentally ill inmates after they are released. The effort evolved into the landmark case Brad H. v. City of New York, which Tahbaz filed in 1999 and saw settled in 2003 in a decision that he describes as "the best moment in my pro bono career." The terms of the settlement, which include continued mental health treatment and arranged benefits for mentally ill inmates following release, are being implemented citywide across a five-year period, monitored by Debevoise lawyers.
Tahbaz was an English major at Columbia, wrote for Spectator, and later studied at Cambridge University. He met his wife, Leah, in 1988 through friend Mark Cohan and enrolled in the Law School, from which he received his J.D in 1990. While in law school, he was a Stone Scholar and an articles editor for the Law Review.
It is his family, however, that brings Tahbaz the most happiness. He married Leah in 1992, and their first son, Nathan, was born in 1997. Nora followed four years later, then twins Daniel and Elliot, now 3.
Now, nearly two decades since his graduation, Tahbaz has achieved professional and personal satisfaction and chooses to dedicate much of his time to helping those in need of assistance.
"Success," says Tahbaz, "is feeling like you accomplish something every day," and helping people is his way to feel a sense of accomplishment.
Roy Cureton '08
| | | | | | | |
| --- | --- | --- | --- | --- | --- | --- |
| | | || | | || | | |


CCT Home


This Issue


Previous Issue

CCT Masthead