| | | | | | | |
| --- | --- | --- | --- | --- | --- | --- |
| | | || | | || | | |
FEATURES
Serendipity and Success
Photos: Eileen Barroso
On November 17, Richard E. Witten '75 received the Alexander Hamilton Medal for distinguished service and accomplishment from the Columbia College Alumni Association; it is the highest honor the College bestows. Witten is a vice-chairman of the University Board of Trustees, chair of the Trustees' Committee on Alumni Relations and Development, a member of the board of the Columbia University Investment Management Company and former chair of the Columbia College Board of Visitors. In accepting the Hamilton Medal, Witten spoke of his love for the College, the impact it has had on his life, the part serendipity has played in his success and how the College teaches its students to take advantage of opportunities as they arise.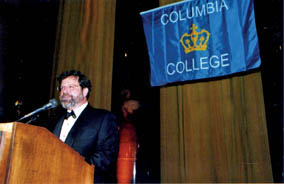 That I might have even been considered for the Hamilton Award would have been honor enough. To actually be a recipient and as such to be recognized by this wonderful institution that I admire so deeply and love so dearly is more than I could have imagined. This recognition is particularly gratifying in that it coincides with my dear friend Austin Quigley's 10th anniversary as dean of Columbia College, a period of unprecedented accomplishment in the 250-year history of this storied institution.
As I struggled with putting together the words to express my gratitude, I began to think about the confluence of events that led me to this place. And the more I thought about it, the more it became abundantly clear that serendipity has played an outsized role in the most important stages of my life.

For the past 15 years, my relationship with Columbia has been characterized by admiration and respect. The more involved I got, the more I recognized the character of this institution and the unique value it provides its students.

It all started with Columbia. I hadn't even applied to the College when I was admitted in May 1971. That's because I was sure I was getting into Amherst. My high school principal told me so, and I was so certain of admittance that I only applied to one other school the previous fall.
When my Amherst rejection letter came, I was crestfallen. The thought of spending my college years in the frozen, windblown cornfields of the great Midwest, far away from my friends and family — and good deli — sent me into a panic.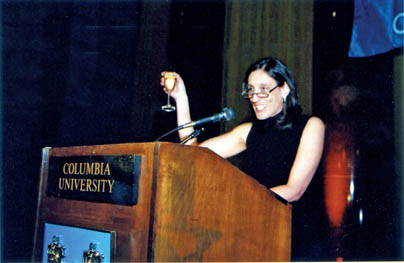 Trustee and dinner chair Esta Stecher, Witten's collegaue at Goldman Sachs, offered a toast.

Luckily, at that time, Columbia was a complete mess. The student riots of 1968 and the New York City recession wreaked havoc on the quantity of undergraduate applications to the College. My sister, Marsha, who was a junior at Barnard, brilliantly suggested that I call Hamilton Hall and see if there might be a chance to talk my way in. Desperate, I spoke with an admissions officer, and, 45 minutes later, got a verbal offer, subject to receipt of my transcript and SAT scores. To my best recollection, I neither filled out an application nor wrote an essay.
My second round with Lady Luck yielded even greater rewards. In the summer of 1975, I moved to Massachusetts to attend law school along with my two College roommates. We found a three-bedroom apartment on the top floor of a multi-family house in Brighton, a short commute to Cambridge. There were some good and even more not-so-good things about this opportunity, but we unanimously decided that one factor overwhelmed all others and led us to sign the lease on the spot. The landlord had told us that the first floor apartment had just been rented by three young women, also recently graduated from college.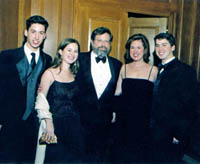 Witten is joined by his wife, Lisa, and children, Jeffrey (left, Class of 2010), Annie and Alex.

And that's how I met Lisa. We were married two years later. That was 30 years ago, and our chance liaison blossomed into a loving, supportive partnership and three wonderful, brilliant children — Annie, Alex and Jeffrey — of whom I'm obnoxiously proud.
From the very beginning, the road to Goldman Sachs was paved with luck, as well. I was in my third, tortured year as an associate in a midtown law firm. Not a day went by where I didn't struggle to find a way out of the long hours, relatively low pay and boredom of the practice of law. This was 1978, a time when inflation was rampant, gold was $700 an ounce, and real assets were the hottest field around. One day, I took a phone call from a headhunter with a refreshing line: Would I be interested in working for J. Aron and Company, a commodities trading firm on Wall Street?
I jumped through the phone and spent the next several months interviewing and finally getting an offer that spring.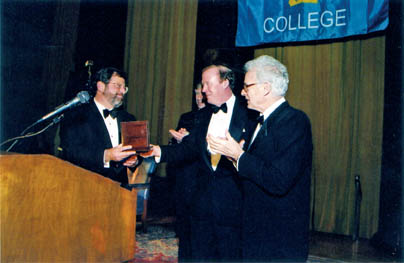 Witten accepts the Alexander Hamilton medal from Dean Austin Quigley as Alumni Association President Bob Berne '60 applauds.

J. Aron was acquired by Goldman Sachs almost nine months later — talk about luck!
A few months into the job, I arranged a thank-you dinner with the headhunter who had placed me. I asked her why she called me, out of the thousands of more qualified candidates, for what was one of the hottest opportunities around.
She gave it to me straight. Her recruiting technique was to call everyone on a list she had compiled of law school graduates working in New York with three years of experience. This time, she said, for a change, she'd start with the end of the alphabet, and I was her first call. My best friend and law school classmate, Lee Wasserman, can attest to this fact, having heard from her only a few minutes after me.
It would have taken a lot of imagination before 1990 to conjure up the image of me standing here today. I was, to put it mildly, an ambivalent College alumnus following my graduation in 1975. For some reason that I cannot recollect today, I signed up for my 15th reunion and dragged Lisa, ever the good sport, to the Friday night dinner.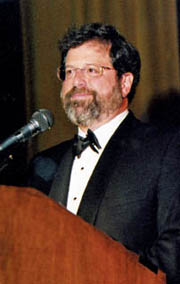 Witten said he was especially honored to accept the Hamilton Medal on "Austin Quigley's 10th anniversary as dean of the College, a period of unprecedented accomplishment."

I guess I should have been a bit wary when I was told our dinner was in the lobby of Furnald Hall, then a run-down upperclassman dorm not known in my day at Columbia as a spot where one would voluntarily gather for a social evening. As Lisa and I entered the dark — some might call it gloomy — room, we saw only two tables set for dinner. Indeed, only 18 people came that night, including classmates, their spouses or guests, and Columbia administrators.
I surprised myself by getting upset, and actually angry, that so few of the Class of '75 showed up, even though this was the first and only non-business related Columbia event I'd been to in 15 years. I was fortunate to be seated next to Roger Lehecka '67, who was then dean of students. Roger made me even more uncomfortable as he explained how spectacularly well the College was doing and how wonderfully receptive and enthusiastic the students of the late '80s were.
While I had my gripes with college while a student — who went to school in that era and didn't? — I was thoroughly aware that the value of my Columbia College education increased geometrically as I matured. My ability to work through complex situations was directly a result of the thought processes the Core Curriculum forces its students to employ from the first day they step onto this campus.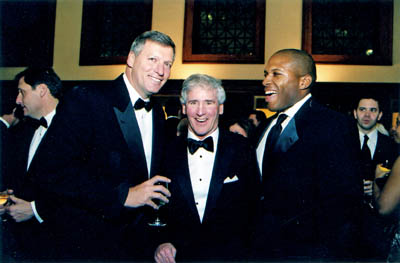 Chairman of the Board of Trustees Bill Campbell '62, one of the dinner chairs (center), is joined by Richard Ruzika '81 (left) and Rory Wilfork '97.

My capacity to engage with people all over the world with strikingly different backgrounds than my own stemmed, I believe, from the breadth of disciplines and approaches I was exposed to in my coursework at Columbia, and being a student in the most cosmopolitan place on earth.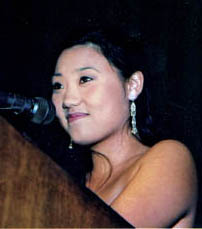 Michelle Oh '06, president of the Columbia College Council, was one of several dozen students who attended the dinner.

For the past 15 years, my relationship with Columbia has been characterized by admiration and respect. The more involved I got, the more I recognized the character of this institution and the unique value it provides its students. I was privileged — and lucky — to develop close working relationships with trustees, presidents, deans, administrators and student and alumni leaders who carry on, and improve upon, the College's great traditions. It seems to me that Columbia has never been stronger and in more capable hands.
Not surprisingly, I'm a big fan of luck. Not the kind of luck that Jean Cocteau was referring to when he quipped, "We must believe in luck. For how else can we explain the success of those we don't like?"
Rather, I'm a believer that luck is really manipulating fate, and is a skill that can be learned.
I think that's why I respect Columbia so much, because I believe it teaches luck — or more accurately put, how to recognize luck in its earliest stages, how to put oneself in a position to attract fortunate opportunities and how to take advantage of them when they arise.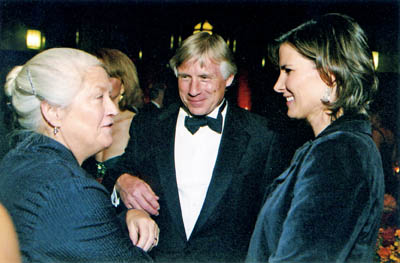 President Lee C. Bollinger and his wife, Jean Magnano Bollinger (left) visit with ABC newswoman Claire Shipman '86.

The Core Curriculum, and the entire College experience, is about exploring everything we know from as many different angles as we can. It's about questioning and probing, about being intellectually restless and provocative.
We're taught not to make assumptions — and that the real value of solving a problem is as much in the process of learning as in the solution itself.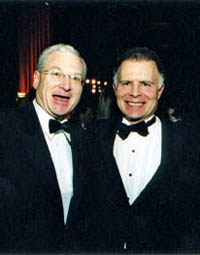 Classmates and trustees Phil Milstein '71 (left) and Mark Kingdon '71 were two of the dinner chairs.

Our Columbia education — which importantly includes living, studying and growing up in this amazing city — pushes us to take risks, spot opportunities and make judgments because it teaches us to think, challenge and analyze the situation at hand. It releases us from the pressure to make premature decisions, because we know that with more time comes more knowledge, and more luck. As Ralph Waldo Emerson put it: "Good luck is another name for tenacity of purpose."
In closing, please allow me to thank you, all, for being here this evening to celebrate with me two important events: the magic of a Columbia College education and the great fortune it has brought upon its graduates, and the milestone birthday of my life's companion, Lisa. I am, indeed, a very lucky man.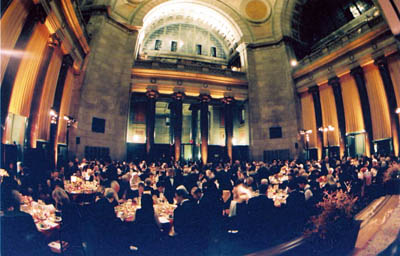 | | | | | | | |
| --- | --- | --- | --- | --- | --- | --- |
| | | || | | || | | |