| | | | | | | |
| --- | --- | --- | --- | --- | --- | --- |
| | | || | | || | | |
ALUMNI UPDATES
Bringing Medical Care
to Katrina Survivors
By Sarah Katz '97
When Hurricane Katrina struck New Orleans on August 29, Dr. Rebecca (Meyers) Hutchings '97 stayed put. As thousands fled the flood waters, Hutchings and her husband, Dr. John Hutchings, decided to offer much-needed medical care to survivors.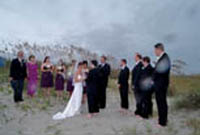 PHOTO: VAN MILLER

On the day Katrina arrived in the Big Easy, Hutchings was at work as a pediatric resident at Louisiana State University's Charity Hospital. She went home to board up her house, and she and John checked into a hotel. The next day they surveyed the damage to their home: their house was missing a piece of the roof and a ceiling had caved in. There was no electricity or gas, so they returned to the hotel.
And then the levees broke. Hutchings says she "returned to Charity Hospital, and it was waist-high in water." Though the couple stayed with friends in South Carolina for a few days, they were determined to assist with relief efforts and soon returned to Luling, La., about a half-hour west of New Orleans.
Offered shelter by members of a nearby church, the couple began to volunteer. Walking into the federally run community outpatient clinic at the local hospital, Hutchings offered her services. The clinic, which usually sees 50 patients a day, was treating 500 patients a day. She assisted with some adults as well as many children, recalling that many patients were "kids with garden-variety illnesses, like colds or stomach bugs. But with most of the city's pediatricians evacuated or displaced, most families could not access their regular providers."
Working out of the same clinic, her husband, a psychiatrist, assisted with mental health care. As psychiatrists had been deemed "non-essential personnel," most had been evacuated. John Hutchings helped psychiatric patients who could not see their regular providers as well as survivors who suffered from post-traumatic stress.
The two also traveled to Baton Rouge to volunteer their help to evacuees in shelters there. From refilling prescriptions to evaluating whether patients needed hospital care, Hutchings dealt with a wide range of medical needs in the hurricane's aftermath.
This was not how Hutchings had expected to spend her fall. Her wedding had been planned for October 7 in New Orleans. Unable to bring their guests to an evacuated city, the couple gathered their closest friends and family and got married on the beach in Charleston, S.C., in the rain during Tropical Storm Tammy. Hutchings calls it "fitting, as this hurricane season has disrupted so much."
A graduate of NYU Medical School, Hutchings completed her residency in emergency medicine last June, then began a second residency in pediatrics while accepting a faculty position at LSU. Her teaching is on hold, as the medical schools in New Orleans have not reopened. Still, the couple returned to the city after their wedding, where Hutchings has been working at a private hospital affiliated with Tulane.
With her hospital still closed, Hutchings volunteers full-time, as well as once a week with a mobile clinic that provides walk-in pediatric care for children whose pediatricians are not available. She acknowledged in November that "New Orleans is kind of an odd place right now. There is still no power or gas, and only 20 restaurants are open right now. Everyone needs to eat out since they cannot cook at home."
The couple has moved back into their house, and Hutchings is optimistic about the future of New Orleans and its medical community. "New Orleans is far from normal, but we are glad to be taking part in the renewal. Times are rough, but our spirits are high." She reports that many people are returning and rebuilding their homes. And as the city regains its population and its medical needs increase, she and her husband will continue to help rebuild the medical infrastructure.
| | | | | | | |
| --- | --- | --- | --- | --- | --- | --- |
| | | || | | || | | |