| | | | | | | |
| --- | --- | --- | --- | --- | --- | --- |
| | | || | | || | | |
ALUMNI UPDATES
Ariana Ghez '03 Says Music Is Her Core
By Amanda Erickson '08
Not many 9-year-olds wake up one morning and decide to learn to play one of the most complicated wind instruments in an orchestra.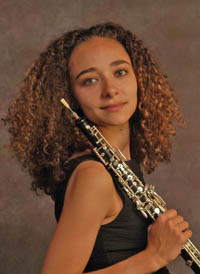 The combined Columbia-Juilliard program enabled Ariana Ghez '03 to pursue her passion for music and obtain a first-class liberal arts education.
PHOTO: ROCHESTER PHILHARMONIC ORCHESTRA

But Ariana Ghez '03 wasn't a normal 9-year-old. By the time she was in fourth grade, she already had mastered the harpsichord, fallen in love with Baroque music — a passion of her father, Claude Ghez, who does neuropsychology research at Columbia — and studied music every Saturday at the Manhattan School of Music pre-college program. She was ready for a new challenge. "One day I decided to learn to play the oboe," she says. "I really have no idea why."
Ghez has yet to put down the instrument she picked up on a whim 16 years ago. She studied the oboe throughout college, performing in several orchestras while majoring in English. Last fall, Ghez was chosen to perform full-time as principal oboist for the top-rated Rochester Philharmonic Orchestra, beating out 40 other, mostly more-experienced, performers for the job. At 25, she is one of the youngest players in the group.
For Ghez, performing in Rochester is just one more opportunity for her to tweak her craft. "I am with an exceptional group of musicians," she says. "My goal is to improve as a player."
Ghez began her college career as a full-time Juilliard student, but transferred to the combined Columbia-Juilliard program in her second year. She chose Columbia, she says, because it gave her the opportunity to study music at Juilliard while pursuing a first-rate academic program. "I really liked the music program [at Juilliard], but I wasn't satisfied with the academic curriculum," she explains. "I knew I wanted a strong liberal arts education, which I could get at Columbia."
Among her favorite classes were Contemporary Civilization and Literature Humanities, which she describes as "amazing classes taught by great professors." She particularly enjoyed her Lit Hum class with Valentina Izmirlieva, a Slavics professor with whom she shared a passion for music. "She was a former pianist … on track to be a concert-level performer," Ghez says. "We really connected over that."
Ghez's professors have high praise for her, as well. Elaine Sisman, former head of Columbia's music department, says she found Ghez "smart, talented and delightful."
Pursuing her degree, studying music theory, taking music lessons and performing in the Juilliard orchestra kept Ghez busy as an undergraduate. "I didn't sleep a lot," she says, "but I enjoyed both dimensions of life. I always knew I wanted to be a musician, but going to classes and doing my academic work balanced my musical endeavors."
After graduating, Ghez pursued her master's at Temple. While there, she played with the Haddonfield Symphony in Philadelphia and was able to "really put in all the time I didn't have while at Columbia."
After graduating from Temple last May, Ghez spent the summer performing with the Santa Fe Opera in New Mexico. "It gave me a really good preview of what life is like [in an orchestra]," she said.
Ghez is not alone in her dual commitment to academics and music. Music department chair Joseph Dubiel says about 10 Columbia students currently participate in the joint program. "The main reason to participate would be the wish to study with a particular teacher at Juilliard while retaining access to a first-class liberal arts education at Columbia," Dubiel notes.
Students who participate may take instrument, vocal or dance classes at Juilliard during their four years at Columbia. Another option is to participate in a dual degree program at the schools, graduating in five years with a B.A. from Columbia and an M.A. in music from Juilliard.
Students who choose the program, Dubiel says, share one thing: a passion for musical performance.
Ghez is no exception. When asked what she would be doing if she wasn't performing, she says she can't think of an answer. "Music is a central part of my life," she says. "I couldn't imagine living without it being the centerpiece of my existence and endeavors."
---
Amanda Erickson '08 is interested in studying urban studies and human rights.
| | | | | | | |
| --- | --- | --- | --- | --- | --- | --- |
| | | || | | || | | |