| | | | | | | |
| --- | --- | --- | --- | --- | --- | --- |
| | | || | | || | | |
AROUND THE QUADS
In Memoriam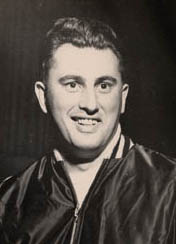 PHOTO: Courtesy Columbia Athletics Communications

Lucio "Lou" Rossini, head basketball coach from 1951–58, died on October 24 in his home in Sewell, N.J.; he was 84. Rossini suffered from Alzheimer's disease and was under hospice care at the time of his death.
During his first year as Lions head coach, Rossini led the team to the NCAA tournament with a 21–0 record. He compiled a 117–71 coaching record with the Lions and ranks second behind Jack Rohan '53 in career victories.
Rossini grew up in the Bronx and entered St. John's in 1940 before serving in World War II in the Army Air Forces. When he was discharged, Rossini entered Teachers College as an undergraduate and joined the basketball team for the 1945–46 season, averaging 12.3 points a game. He graduated in 1947 with a B.S. in physical education.
Rossini was assistant coach and freshman coach when, in 1950–51, head coach Gordon Ridings suffered a heart attack before the first game. Rossini was named acting head coach at the age of 29 and led the Lions to an undefeated season and the NCAA tournament.
Rossini also coached at NYU and St. Francis, leading NYU to the Final Four in 1960. He coached Puerto Rico in the 1964 and 1968 Olympics, and Puerto Rico and Brazil to medals in the Pan American Games.
He is survived by his wife, Adelia; sons, Ronald and Gregory; and daughter, Beth.
Roy Cureton '08
| | | | | | | |
| --- | --- | --- | --- | --- | --- | --- |
| | | || | | || | | |