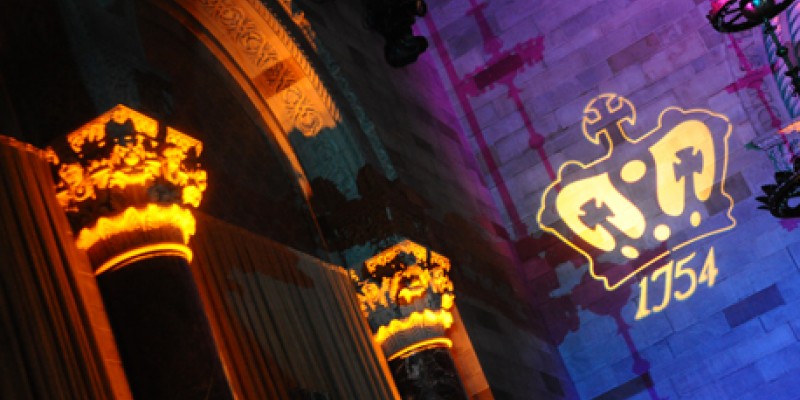 John Jay Awards Dinner
The John Jay Award honors a member of the Columbia College family for distinguished professional achievement. Proceeds from the annual John Jay Awards Dinner, at which the awards are presented, benefit the John Jay National Scholars Program.
The John Jay Honorees
On March 6, 2013, four accomplished alumni were presented with a John Jay Award for distinguished professional achievement at the John Jay Awards Dinner. Chair of the University Trustees William V. Campbell  '62, '64 TC welcomed the guests as did Columbia College Alumni Association President Kyra Tirana Barry '87. Also addressing the guests were John Jay Scholar Wilfred Chan '13, President Lee C. Bollinger (via video), Dean James J. Valentini and the honorees.
This year's honorees are Thomas Cornacchia '85; Katori Hall '03; Mike Schmidtberger '82, '85L; and George Yancopoulos M.D., Ph.D. '80, '86 GSAS, '87 P&S.
Cornacchia is a managing director and head of sales for Fixed Income, Currencies and Commodities in the Americas at Goldman Sachs and a member of the Columbia College Board of Visitors. He was a four-year letter winner for Columbia's heavyweight rowing program.
Hall is an award-winning playwright and performer. She has received acclaim for her works in London and New York and her play, The Mountaintop, an account of the night before Martin Luther King Jr.'s assassination, won "Best New Play" at the Oliver Awards, Britain's equivalent to Broadway's Tony Award. Hall is an artist in residence at The Pershing Square Signature Theatre in New York. At Columbia, she majored in African-American Studies and studied creative writing.
Schmidtberger is a partner at Sidley Austin and the global co-head of the Investment Funds, Advisers and Derivatives group at the firm. While in law school, he was editor-in-chief of the Columbia Human Rights Law Review. He is a former member of the Columbia College Alumni Association Board of Directors.
Yancopoulos is president of Research Laboratories and chief scientific officer at Regeneron Pharmaceuticals. He has a distinguished record of scientific achievement and is an author of a substantial number of publications, and is a member of the National Academy of Sciences.
The John Jay National Scholars Program
The John Jay National Scholars Program is an award program designed to honor the most outstanding first-year students entering Columbia College. The John Jay Scholars distinguish themselves through the originality and independence of their thinking and their rich and varied record of accomplishments.
This special academic enhancement program at Columbia is designed to promote three goals: intellectual growth, leadership development and global awareness. It thus extends and enhances previous academic and extracurricular experiences. Students are motivated to reach beyond their niches to learn that they can change society, and in fact have a responsibility to do so.
The program is centered around panels, discussions and presentations by leading professors, professionals and individuals from a variety of fields who serve as exemplars of commitment, creativity and courage.
Contact
For more information on the dinner, contact Robin V. Del Giorno, associate director, events and programs: 
robinv@columbia.edu
or 212-851-7399.