On January 31, over 75 students attended a Spring Kickoff event hosted by the Odyssey Mentoring Program, the Columbia College dynamic online mentoring program that has more than 1,000 alumni and student users. This exciting event included mingling and networking with nine alumni whose careers range from from chef to investment adviser to surgeon, along with roundtable discussions on topics such as how to navigate career choices as a first-generation student and perspectives on entrepreneurship.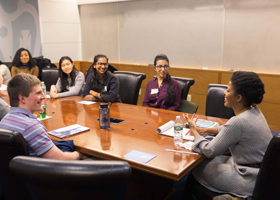 The following alumni were featured:
Shari Hyman CC'88 | VP, World Trade Center at Westfield
Adriana Villavicencio CC'00 | deputy director, Research Alliance for New York City Schools
Scott Koonin CC'02 | investment adviser, Goldman Sachs
Eric Phillipps CC'02 | principal, Connorex-Lucinda
Dr. Yael Halaas CC'92 | plastic surgeon, private practice
Raji Kalra CC'97 | CFO and CAO, The David Lynch Foundation
Jeremy Constancio CC'10 | regulatory compliance fellow, NYC Department of Housing Preservation and Development
Claire Theobald CC'88 | co-founder/co-owner, Beatrix New York
Klancy Miller CC'96 | writer and pastry chef
Zack Susel CC'11 | VP, The D.E. Shaw Group
Meredith Kirk CC'12 | director of collections development, Art Agency Partners
See photos here!
There are many students ready to meet alumni like you. Sign up for the Odyssey Mentoring Program today. Creating an online profile takes just five minutes!