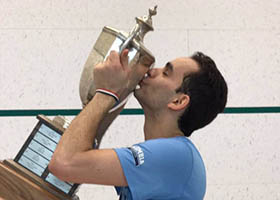 Athletics has recently experienced a series of noteworthy successes in squash, fencing, diving and soccer.

Osama Khalifa CC'18 won the College Squash Association individual championship in early March, making him the first national champion from Columbia. His impressive season garnered a result of 15-1. His loss came against Harvard's Saadeldin Aboudaish, whom Khalifa avenged his loss to at team nationals.
Columbia Fencing finished third at the NCAA Championships, behind Notre Dame and Ohio State at the Indiana State Fairgrounds at the end of March. In other fencing news, the Lions who traveled to Plovdiv, Bulgaria for the Junior World Championships (Iman Blow CC'19, Sam Moelis CC'20, Andrew Doddo CC'20 and Calvin Liang CC'19) returned with one gold, one silver, and two bronze medals to their name.
The reigning Ivy League diving champion, Jayden Pantel CC'18, capped a phenomenal season with a pair of finishes in the three-meet and platform dive of the 2017 NCAA Men's Swimming and Diving Championships at the end of March. "By qualifying for the NCAA Championships we were given the opportunity to compete with the best athletes in the world, including several World and Olympic medalists," Head Diving Coach Scott Donie said.
New York Red Bulls II has signed defender Andrew Tinari CC'17 to a contract, pending league and federation approval. Tinari played four years of soccer with Columbia in a total of 62 games, including 56 starts, and tallied nine goals and 10 assists in his college career. As a senior, Tinari earned first-team All Ivy League honors, starting in 15 of the 16 games played.