On a glorious sunny day the 1,026 members of the Class of 2014 joined the ranks of alumni on Class Day, May 20, 2014. Family members and guests gathered under tents on the South Lawn to honor and celebrate their loved ones.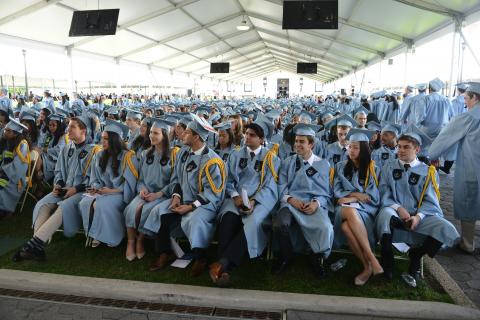 The audience heard from salutatorian Samuel Walker CC'14; Class Day speaker Dan Futterman CC'89; and Dean James J. Valentini, who made an exceptional case for the importance of punctuation. President Lee C. Bollinger gave brief remarks that highlighted the scholarly temperament emphasizing the importance of maintaining respect for truth, understanding all competing perspectives and actively entertaining doubt and skepticism.
Futterman addressed the newest alumni and offered this advice: "You may, sitting out there, have a very good idea of how your life is going to unfold. Don't. Don't spend your next years with blinders on. In declaring the one path that you will follow single-mindedly, pursuing the one thing that you have prematurely decided is your true passion. Take the blinders off. Look at all the paths available to you."
Valentini expressed his hope that alumni will contribute to the lives of others and continue their connection with the College. And, more specifically, he extended an invitation for our newest alumni to continue their intellectual experience, act as promoters of career development, to build a proud community that celebrates the accomplishment of our best and to provide opportunities for service.
Kyra Tirana Barry CC'87, president of the Columbia College Alumni Association, also spoke eloquently of the importance of maintaining the alumni connection and then presented three alumni awards to:
Alumni Prize Conan Michael Cassidy CC'14
Robert Lincoln Carey Memorial Prize Jordan Andrew Lebovic CC'14
Alumni Association Achievement Award Samantha Leigh Goldfarb CC'14
And, Senior Fund Chair, William Arthur Maxfield, was on hand to present the class gift, the second largest to date.