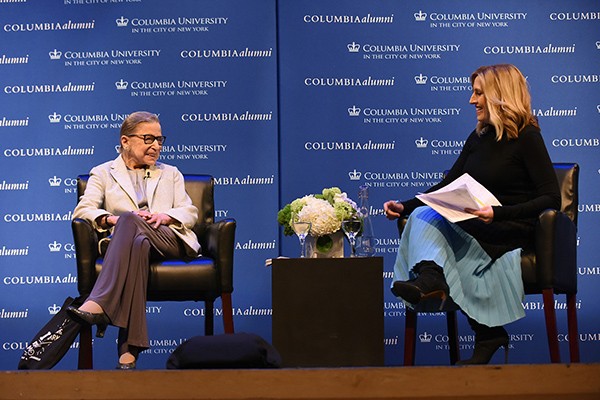 Photograph: Diane Bondareff/Columbia Alumni Association
Last Sunday, CNN Newsroom anchor Poppy Harlow CC'05 interviewed Supreme Court Associate Justice Ruth Bader Ginsburg LAW'59 on campus in front of a sold-out crowd in Alfred Lerner Hall's Roone Arledge Auditorium. More than 2,000 other viewers tuned into the livestream, highlights of which were broadcast on CNN and shared on Time.com.
Just five days prior to the event, Harlow gave birth to her son, Luca. Alumnae and students roared as Ginsburg walked on stage to Duran Duran's "Notorious," a nod to The New York Times best-selling book Notorious RBG: The Life and Times of Ruth Bader Ginsburg, by Shana Knizhnik CC'10 and Irin Carmon.
The discussion included Ginsburg's upbringing and career, as well as the #MeToo movement, the role of sexism in the 2016 presidential campaign, the First Amendment and working on the Supreme Court with her fellow justices, including Neil Gorsuch CC'88.
The conversation closed out Columbia's first university-wide women's conference, She Opened the Door, held February 9–11 and featuring panels from faculty and alumnae, including the College alumnae listed below. The conference was an effort of alumnae across all eighteen schools and was overseen by the Columbia Alumni Association.
---
Anna Brockway CC'92
Leslie Gittess Brodsky CC'88
Alyssa Cannizzaro CC'15
Lisa Carnoy CC'89
Laura Ciokowski CC'88
Abigail Black Elbaum CC'92, BUS'94
Elizabeth Ferdon CC'05
Roxana Geffen CC'95
Alexis Donnelly Glick CC'94
Valerie Purdie Greenaway CC'93
Ellen Gustafson CC'02
Marvellous Iheukwumere CC'14
Danielle Lee CC'97, BUS'04
Christina Macchiarola CC'10, SOA'13
Donna MacPhee CC'89
Danielle Maged CC'89, BUS'97
Julie Jacobs Menin CC'89
Rita Pietropinto-Kitt CC'93, SOA'96
Teresa Saputo-Crerend CC'87, BUS'92
Claire Shipman CC'86, SIPA'94
See more: