Columbia College alumni and friends gathered on Broadway on November 5 for a night at one of this season's biggest shows, a revival of Terrence McNally CC'60's It's Only a Play. McNally began his theatrical work early, majoring in English at the College and participating in the 66th Varsity Show, one of Columbia's oldest theatrical traditions.
Scott Yagoda CC '86, LAW '92 hosted a pre-show reception with hors d'oeuvres and drinks so alumni could mingle and reconnect. Yagoda says he wants to get more alumni involved in the theater scene in New York, noting that "Columbia is a great academic institution that is also in New York City – we should take advantage of the arts." He added that thanks to the Core, College graduates have a deep background in literature and art and that experiencing theater in the city is a great way for alumni to relive some of their Core experiences. Roughly 40 alumni came to the event, bringing friends and family to build a crowd of 100 theater-loving Lions and guests.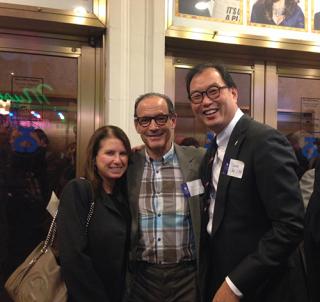 The reception gave old friends the chance to catch up before the show; Cristina Bonaldes CC'97 says she has a lot of College friends in New York and New Jersey, so coming to the city for alumni events is "a great way to stay connected," adding that the show's famous cast and McNally's reputation as a playwright were extra draws. Katherine Howitt CC'13 remarked that McNally was the speaker at her graduation last year, so she jumped at the chance to see his work in person. The event was a family affair for Howitt as her father, Ken Howitt CC'76, was also in attendance and equally excited to see the show.
It's Only a Play tells the story of a playwright, director, producer, actors and a theater critic on the opening night of the playwright's newest show, as the group anxiously awaits the reviews. Originally produced in 1982 and opening Off-Broadway in 1986, the 2014 revival brings together big-name actors with Nathan Lane, Matthew Broderick, Megan Mullally, Stockard Channing, F. Murray Abraham and Rupert Grint filling out the star-studded cast.
This was the second McNally-focused alumni event of the year; this summer Yagoda and the Columbia College Alumni Association organized a talk-back with the prolific playwright after a showing of his work Mothers and Sons.