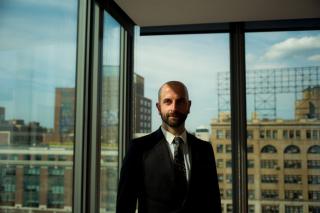 Dr. Demetre Daskalakis CC'95 is taking on one of the great challenges of our generation. The newly appointed assistant health commissioner of the Bureau of H.I.V./AIDS Prevention and Control is combining his medical know-how with his on-the-street approach to heath crises to transform how New York handles H.I.V/AIDS issues.
Daskalakis is known for his innovative approach to healthcare, putting convention aside and going into the community rather than waiting for people to come to him. The doctor spends evenings at gay clubs to provide late night H.I.V. and Hepatitis C screenings, increasing awareness of health issues in a non-threatening environment. He is credited with helping to curb a meningitis outbreak in 2013 among gay and bisexual men thanks to his approach of providing vaccines at clubs and bathhouses around the city, making healthcare accessible and easy for at-risk populations. In his new role as assistant health commissioner, Daskalakis tells The New York Times that he plans to focus on using social media to reach gay and bisexual men who primarily find partners via the Internet, promote the use of pre-exposure, preventative drugs like Truvada and provide more outreach for members of minority communities who have sex with men but don't identify as gay or bisexual for cultural or social reason.
In multiple interviews, Daskalakis (who did his pre-med degree in Biological Sciences at the College) cites an event at Columbia as formative to his decision to focus his medical studies on H.I.V./AIDS. During his senior year, Daskalakis was involved in a project to display of a patch from The NAMES Project Foundation's AIDS Memorial Quilt on campus in order to raise AIDS awareness. That experience spurred him to focus his medical studies on infectious diseases, eventually becoming medical director of ambulatory H.I.V. services at Mount Sinai. With his appointment to assistant health commissioner of the Bureau of H.I.V./AIDS Prevention and Control, this doctor is ready to bring change and awareness to the city.
(Photo via Todd Heisler for The New York Times)