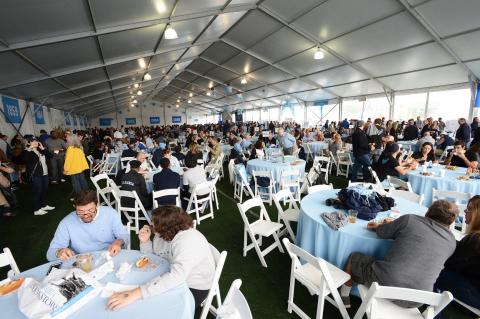 On Saturday, October 25, the Columbia Lions take on Dartmouth's Big Green at Baker Athletics Complex. Join the Columbia College Alumni Association as we gather classmates, families and friends together to celebrate, at the pre-game Picnic under the Big Tent.
The picnic begins at 11:00 a.m. with a gourmet barbecue. Picnic tickets include an all-you-eat lunch, soft drinks and admittance to the Carnival, with beer, wine and cocktails available at the cash bar. Don't miss the Homecoming Carnival, which features family-friendly activities that will put a smile on the faces of kids of all ages. Explore face-painting, balloon making, magic and interactive activities with prizes. Picnic tickets are $20 for adults and $10 for children under the age of 12, if purchased online by Friday, October 17.
Columbia College Young Alumni (Classes 2004–2014) will be tailgating under the Big Tent starting at 11:00 a.m. The first 75 young alumni to arrive at the tailgate will receive a complimentary game ticket and drink.
---
Picnic Under the Big Tent (Family and Friends are Welcome. Picnic includes a barbecue buffet lunch.)
11:00 a.m.–1:30 p.m.
Homecoming Carnival
11:00 a.m.–3:00 p.m.
Buy tickets online now!
---
Game Time
1:30 p.m
To purchase football tickets, which are separate from picnic tickets, call Columbia University Athletics: 888-LIONS-11 or purchase online.
---
Getting There
Baker Athletics Complex
533 W. 218th St. (west of Broadway)
New York, NY 10034
Take the 1 train to 215th Street
Take the A train to Inwood – 207th Street
Columbia University Athletics will sponsor complimentary shuttle buses from the Morningside Heights campus at 116th Street to and from Baker Athletics Complex beginning at 11 a.m. Buses will return to campus immediately following the game.
Preferred Parking
Parking is available only to those individuals making qualifying gifts to Columbia Football. Single-game parking is not available and street parking is limited.