Class Day and Commencement have come and gone, and Columbia's newest alumni are already making their mark on the world. From New York City to Kenya, the class of 2014 are taking what they've learned at the College and applying it outside the Morningside gates. Read below to see what two recent grads are up to: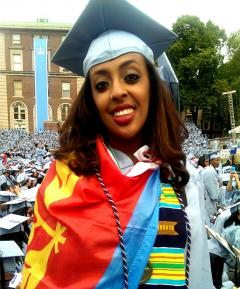 Shamm Petros '14 knows that Columbia is bigger than Morningside Heights. Petros studied abroad in Oman, Jordan and Egypt during her time at alma mater, taking advantage of Columbia's global reach to further her studies. The recipient of an Ella Lyman Cabot Trust, Petros is now turning her student experiences into post-graduation work, as she plans to use the money from the trust to fund her move to Kenya at the end of the summer, where she will work with East African refugees. The Cabot Trust provides grants to individuals with projects that will have a positive impact on the world; Petros plans to help refugees in Kenya through a writing workshop that will allow them to tell their stories in their own words.
A sustainable development major, Petros says that one of her most meaningful experiences at Columbia has been her Capstone Workshop (a course for seniors in the sustainable development program that focuses on finding solutions to specific development problems). Petros led a team of students in a partnership with West Point that focused on agricultural development in East Africa. Petros says the experience was a great example of the hands-on learning opportunities that are offered at Columbia. "I did things I didn't think I'd get to do as a student," she explains. The fact that Columbia provided much more than just rote education is important to Petros. For her, she says, being a Columbian is about getting to choose one's own path. "At the College we learn to be more critical of the world, to ask questions and not blindly follow others," she says. "We are responsible for ourselves."
Petros spent much of her time at Columbia involved with activities dedicated to social justice and civic responsibility. As a senior, Petros received a King's Crown Leadership Excellence Award in Civic Responsibility for her dedication to civic engagement and global citizenship; she also received a graduation cord from the Office of Multicultural Affairs to recognize her work within the office. Petros' advice for incoming freshmen can be easily summed up: "Take advantage of Columbia!" She says that Columbia has so many resources that have helped her make her undergraduate experience everything she wanted it to be, and that students shouldn't be afraid to explore all that the school has to offer.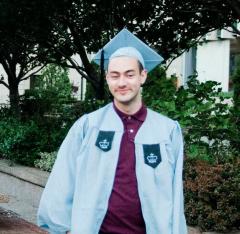 Nick Parker '14 was drawn to Columbia for the combination of the great educational opportunities on campus and the exciting city life of New York just outside the gates. The writing major turned those opportunities into hit Morningside Heights musicals, writing the lyrics for both the 119th and 120th Varsity Shows. Parker plans to stay in New York after graduation to work with his writing partner, Solomon Hoffman '14 (who composed the musical scores for both Varsity Shows), to create the next great American musical.
As a two-time Varsity Show veteran, Parker says that his experiences with the show are among his most cherished Columbia memories. He describes the opening night of the 120th Varsity Show as "a very magical, uniting moment" when, at the end of the show, the entire Roone Arledge Auditorium audience got to its feet and attendees put their hands on their hearts as the Columbia Fight Song played.
Parker says that Columbia taught lessons both inside and outside the classroom. As the professors of the Creative Writing Department pushed him to take risks with his work, he also learned from the examples set by his fellow Columbians. Parker credits his fellow Varsity Show players and production members as being part of an "awesome" community saying, "They came to Columbia for what makes Columbia, Columbia — that combination of creativity and brains and a sense of adventure and risk-taking." He advises incoming freshmen to reach out to their classmates, saying: "As a freshman, coming to Columbia is an intimidating experience. […] You can bump up against people who can make you feel a little insecure about yourself, but what is valuable to learn and to know going in is that you don't have to impress these people. What you want to do is learn from them. That's why they're here and why you're here, because everyone has something to bring to the table."
Parker, who graduated magna cum laude, defines a Columbian as someone who can strike a balance in life, being a master of his or her chosen field while still enjoying all that the city and the world at large have to offer. Parker and Petros are ready to find that balance as graduates of the Class of 2014.