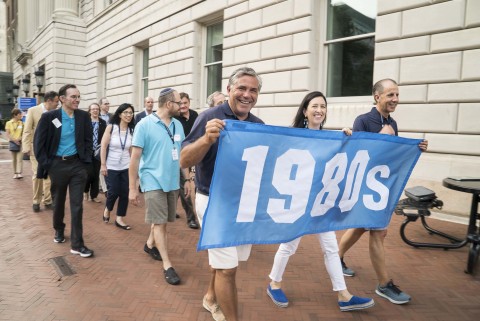 Photograph: Barbara Alper
On August 27, approximately 1,275 new Columbia College students arrived on campus to begin their Columbia journey at the 2017 New Student Orientation Program. The weeklong program kicked off on Low Plaza at Convocation, where alumni across the decades joined President Lee C. Bollinger, Dean James J. Valentini, Columbia College Alumni Association (CCAA) chair Doug Wolf CC'88, and current College students and faculty in an evening ceremony, which was followed by mingling with alumni at The Heights Bar and Grill.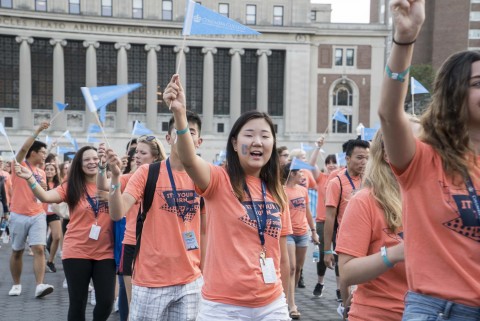 Photograph: Barbara Alper
"Here at Columbia," said Valentini in his welcome speech, "you will encounter many situations from which you can learn a lot, but only if you do not assess or interpret those situations with preconceptions, assumptions and presumptions." (More on Convocation 2017)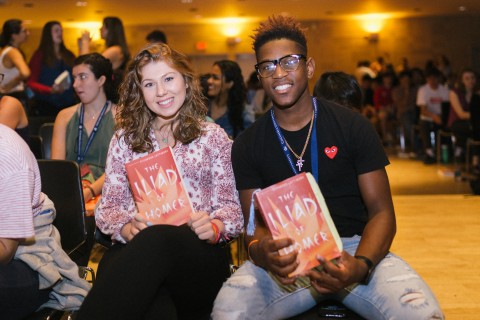 The following morning, the new students gathered in Alfred Lerner Hall for their first Lit Hum class at the Columbia College assembly, complete with their own copies of Homer's The Iliad, a gift from the CCAA. Later that evening, they were treated to Class Act, a performance about Columbia traditions that featured student performers from the Varsity Show and more. (Photograph: Michael Edmonson CC'20)
After the performance, the Class of 2021 poured out onto Broadway, where they were greeted by hundreds of cheering staff members, alumni and current students, who guided them up Broadway and on to College Walk — marking their first official march together "through the Gates" as College students. (Photos and video) Columbia College Young Alumni had hosted a small get-together beforehand at Arts and Crafts, a beer parlor near West 116th Street and Amsterdam Avenue that opened last year.
For the rest of orientation week, and into Labor Day Weekend, the new students had the opportunity to watch an outdoor screening of the 1984 film Ghostbusters (which includes scenes filmed on Columbia's campus) followed by a glowing dance party on the Low Steps, take a trip to Yankee Stadium to watch the New York Yankees play against the Boston Red Sox, attend advising sessions, community-building activities and more.