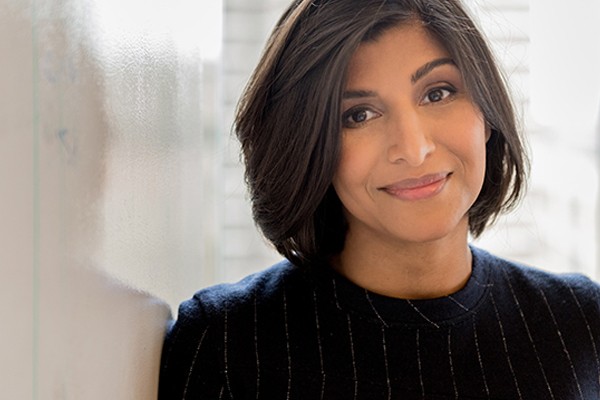 On May 16, Columbia will confer the University Medal for Excellence upon Shazi Visram CC'99, BUS'04 at Commencement. The founder and CEO of the multi-million-dollar organic food brand Happy Family, the "chief mom" has had notable success in creating a company that gives back to the community
Things weren't always so prosperous for the ambitious entrepreneur. A child of immigrants, Visram was poor most of her childhood. The family moved to Alabama, where Visram's parents purchased a motel, eventually growing the investment into several motels and other successful ventures.
In a 2016 interview with Success magazine, Visram described how her parents' strength and determination had an impact on her. "Being their own bosses and owning their own businesses was my parents' biggest point of stress, but also pride," she says in the article. "I grew up thinking it was almost shameful to work for someone else. I could see that if you wanted to build something, you could — and you should — build it yourself."
And build something she did. Visram left Alabama for New York City after being accepted at the College, choosing to study the visual arts and history. During her undergraduate career, she spent her time making art in Prentis Hall, and was a part of the first team to lead the Columbia Outdoor Biking Orientation Program. She eventually attended the Business School's M.B.A program, where she studied management and entrepreneurship. While in grad school, Visram's friend told her about a difficulty many new mothers face: having time to make their own healthful baby food. With a lack of healthful options in the baby food aisle, Visram saw an opportunity, and thus, Happy Family was born in 2006 as Happy Baby. The organic food comes in a ready-to-go, spoonless pouch that was inspired by European packaging. Visram turned the revolutionary products into a socially-responsible movement by addressing heath issues in children's nutrition, with company donations contributing to efforts that address child hunger both in the United States and around the world. One of the fastest-growing companies in the country, Happy Family has expanded to include products for expectant mothers, toddlers and older children.
Visram's work has garnered both her and her company numerous awards, including Ernst & Young's Entrepreneur of the Year for New York, a nomination from Babble as one of the "Moms Who Are Changing The World," Target's Vendor of the Year, the Inner City Award from the Initiative for a Competitive Inner City. Visram comments on her commitment to creating a healthier world on the company website: "When I launched Happy Family on Mother's Day, 2006, I set out to change the world. While I may not be doing this, I am certain that I am feeding the generation that will. As I continue to build Happy Family and my own family, I've never lost sight of that mission." In 2013, Visram's mission earned her an invitation to the White House, where President Barack Obama CC'83 named her "a rockstar of the new economy and a leader we can all emulate."
Although Visram recently stepped down as CEO, she remains a vital part of the company. "It has been a literal dream come true to have an idea, create a brand, and grow Happy Family to what it is today," she said in the December 2017 press release. "I also believe Happy has a very bright future and is well positioned for continued generations of success." Visram will now be "chairmom of the board and chief visionary."
Learn more about Visram in CCT's Catching Up With Shazi Visram '99, BUS'04.