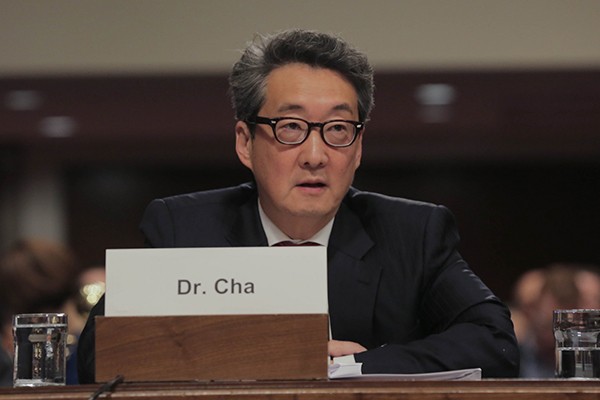 Photograph: Center for Strategic & International Studies
On August 8, 2017, Victor Cha CC'83, SIPA'88, GSAS'94 responded in The New York Times to President Trump's warning to North Korea, by saying that it sounded like "a message of deterrence, which is important now to avoid any miscalculation" and that if Pyongyang ever used nuclear weapons, President Bill Clinton once said, "it would be the end of their country."
By many in the international community, Cha, an economics major at the College, is considered to be a leading expert on the Korean peninsula and has testified before Congress on Asian security issues. From 2004 to 2007, he served as the Asian affairs director on President George W. Bush's National Security Council, where he was also the deputy head of delegation for the United States at the Six-Party Talks in Beijing and received two Outstanding Service Commendations. Since 2009 Cha has held the positions of senior adviser and Korea chair at the Center for Strategic & International Studies (CSIS), a bipartisan, nonprofit policy research organization based in Washington, D.C.
Following North Korea's missile test on July 4, 2017, Cha co-authored a response in The Washington Post with Jake Sullivan, national security adviser to Vice President Joe Biden and director of policy planning in the Obama administration, urging Chinese action. "It's not enough to ask China to pressure Pyongyang to set up a U.S.-North Korea negotiation," they argue. "China has to be a central part of the negotiation, too. China, rather than the United States, should be paying for North Korea to halt and roll back its nuclear and missile programs."
Author of five books on Asian security, including The Impossible State: North Korea, Past and Future (2012) and most recently Powerplay: Origins of the American Alliance System in Asia (2016), Cha has been a guest analyst for CNN, ABC's Nightline, CBS Morning Show, Fox News, NPR and more. He is also the director of Asian studies and holds the D.S. Song Chair in the Department of Government and School of Foreign Service at Georgetown University.
Within the CSIS, Cha leads the Beyond Parallel, an analytical project devoted to delivering greater clarity and understanding to policymakers, strategists and opinion leaders about Korean unification. Recently the group conducted a "micro-survey" among current residents in North Korea, which revealed that exploding markets may be "helping North Koreans become more independent of [Kim Jong Un's] regime."
See also: Cha's interview with VICE news and his talk, "North Korea's Future—And What it Means for China and America" from the University of Chicago.