CLASS NOTES
Everett Weinberger
50 West 70th Street
Apt. 3B
New York, N.Y. 10023
everett.weinberger@db.com
Last issue's plea for more news produced an excellent response. Ken Stuzin was a particularly good source. He lives in Baltimore with his wife, Anne, and their two kids, Maddie and Devon. After B-school at Columbia, Ken spent 11 years at J.P. Morgan, formed his own money management firm and is now a partner at Brown Investment Advisory. Ken stays very involved with Columbia - he interviews applicants and even attends one football game a year. Ken provided a number of updates, sprinkled through the column.
It's interesting that many in our class have made their way to the Golden State (trivia: did you know that California's state motto is "Eureka?"). Ben Field is living in San Jose with his wife, Nancy, and their two children, Abraham and Naomi. Ben's a deputy district attorney there, where he prosecutes murders and sex crimes. Just to make us all feel like under-achievers, Ben's managed on the side to recently finish his Ph.D. dissertation in American legal history at Berkeley.
Tony Cresap studied environmental law at Wisconsin and is now the attorney to the planning commission and development department of the city of Fresno, Calif. He tackles many hot land-use issues amid the explosive growth there. In his spare time, he's slowly restoring a 1918 Craftsman bungalow in the Tower District. He also enjoys being 90 minutes away from Yosemite and Kings Canyon national parks, where he goes hiking with his black German Shepherd, Ginger. Tony encourages classmates who travel through the Yosemite area to look him up for a guided tour. Mike Gilligan is living in L.A. where he manages the Douglas (as in Kirk and Michael) Family Foundation, which helps fund inner city land-use projects. Mike's career progression was: Peace Corps to fundraising at Columbia to Teach for America to Sylvan Learning to the Douglases. He and his wife just welcomed a baby daughter. John Kirkland, who got his law degree at UCLA, is a partner in the L.A. office of Brown Raysman Millstein Felder & Steiner, doing corporate and venture capital work for Internet and tech companies. Kevin Quinn recently moved to Menlo Park to run Goldman Sachs's tech group. He and his wife have two boys and a girl.
Will Cheek has had a busy year, marrying Vanderbilt law school classmate Kathryn Barnett, moving to a historic home in Hillsboro Village in Nashville, becoming principal in the law firm Lassiter, Tidwell & Hildebrand, and recently being named one of Business Nashville's "40 Under 40" list of prominent young business people. Will practices business, real estate and bankruptcy law, and specializes in alcoholic beverage licensing. Dan Chenok is doing well in Bethesda, Md. with wife, Jill '87, and daughters, Hannah and Ava. He's head of the OMB's information policy and technology branch, which handles federal policy and budget issues around IT, computer security and e-commerce.
In foreign news, Steve Stuart and his wife, Katrina, just moved to Tokyo with Ripplewood Holdings as part of the team managing their recent investment in Long Term Credit Bank of Japan. When we last checked in with Steve Trevor, he was living in Hong Kong with wife, Ronnie. After nearly five years there, they moved last year to London, where he focuses on principal investing for Goldman Sachs. Steve and Ronnie have a 9-month-old son, Jackson Smith, who joins their busy household, which also includes two cats and two dogs.
Tanmoy Mukherjee lives in New Jersey with his wife and four kids. He's a doctor at Mt. Sinai where he specializes in infertility and reproductive surgery. Tanmoy let us know that Kornylo Chorny is doing well as a radiologist at Harvard, and that Michael Caldwell continues as health commissioner of Dutchess County, N.Y., where he lives with his wife and two children.
You might want to know how we did with "The List," the 10 classmates selected randomly in each column in order to get news on those who are less likely to come forward. We had a 10 percent hit rate from last issue, not bad in direct mail circles. Our sole respondent was Steve Cohen, who wrote in to let us know that he's spent the last 14 years in and out of federal prison on what he wants everyone to know are completely bogus charges related to the use of the postal system (just to be clear - Steve is joking). Other than that, he returned to Columbia in 1988 to attend film school and received an MFA from the School of the Arts. He worked in L.A. as a studio executive before returning to screenwriting and directing. He currently lives in N.Y., where he screenwrites, though his real joy is a documentary he's writing and directing on Metropolis, Ill., the town where he's from. He's also enjoying his work as an adjunct assistant professor of screenwriting at Columbia's Film Division.
Here is the next installment of The List (why do I feel like Regis?): Bobby Strack, Lance Bonneau, Robert De Vivo, Naveed Khan, Howard Nelson, Marshall Wright, Joel Berg, Edward Daw, Seilai Khoo and Melissa McRaney. Anyone can feel free to update me on these people (as well as previous List members).
Robert V. Wolf
206 West 99th Street
Apt. 3A
New York, N.Y. 10025
rvwolf@compuserve.com
Cathy Webster mentioned Lee Ilan in the summer column, which prompted Lee herself to drop me a line "to set the record straight." Lee writes: "I do indeed love my job. I've been a senior environmental planner for the N.Y.C. Mayor's Office of Environmental Coordination for a year and a half, and I haven't had a day on which I wished I was doing anything else. I work on an interesting variety of environmental review and brownfields projects and have the pleasure of collaborating with a small group of great people, including Daniel Avery '90 (who I am "outing" here in the Webster tradition).
"And in the our-identity-is-more-than-our-job mode, I'm also singing in a symphonic chorus (we're looking for more members), directing the New York Center for Kripalu Yoga & Health, improving my tango technique, and planning my next bicycle vacation to the Finger Lakes upstate. Last October, I took the bike out to the West Coast and planned and rode a 350-mile loop around San Francisco, visiting my brother and friends such as Michael Marubio and his wife, Kristine, who live in the cutest house in Oakland. It was a great trip, and I'm happy to share my route with anyone interested!"
George Gianfrancisco
c/o Columbia College Today
475 Riverside Drive, Suite 917
New York, N.Y. 10115
cct@columbia.edu
There is something about this time of year that makes me feel different. I feel it in my fingertips. When the wind bites you just enough to let you know that far worse is right around the corner, so smoke 'em if ya got 'em. The colors of the trees, the anticipation of classes, the smell of the air, football. It must have something to do with life and death, regeneration, carrying on, getting by.
Which brings me to the happy news of Dr. Cornelia Gallo, who proudly announces the birth of her daughter, Madeline. She and her husband, Peter, now have a full house up in Westport, Conn.
Also, Dr. Kari Fraser married Frank McGill last year and they are at the one-year mark with happy tidings to everyone from Boulder, Colo.
Elizabeth King recently wed Philip Humphrey. Liz is still working at AP Broadcast Technology in Wilmington, N.C., on their new ENPS software. Incidentally, she and Philip have known each other since they were 4 years old.
I was pleasantly surprised recently by unsolicited telephone calls from two of my former Lion teammates: Mike Lavelle (the Cleveland Comet) and Paul "Flipper" San Filippo. The Comet has been living blissfully in Arizona with his wife, Maura, and a smashingly beautiful daughter named Emma who is irrefutable proof of the strength of her mother's gene pool. The clan is moving back to their Ohio homeland, settling in Columbus due to The Comet's current work assignment as a systems analyst for Anderson. Flipper called in from Naples, Fla., where he is building a house and has hung out his own shingle. His growing law firm seems to be gobbling up as much business as is humanly possible and he and his wife, Julie, are looking forward to starting a family ASAP. Of special interest to ex-Lion gridders, Flip told me that our old d-back coach, Gene Rochette, coaches HS football in Naples and jogs past his house every morning reminding him that he's too short and slow to play man coverage.
Speaking of guys who are too short and slow to play football, I think we should all remember to support the Lions this upcoming season, which could finally be that one golden slice that we've all been waiting for.
Amy Perkel
212 Concord Drive
Menlo Park, Calif. 94025
amyperkel@yahoo.com
Congratulations to Kate Movius and husband, Hugh O'Donovan, on the birth of their first child, a boy born in July. Kate and Hugh moved to Los Angeles five years ago to pursue the acting "thang." Of late, Kate has been doing voiceover spots for Rugrats, the hugely popular Nickelodeon animation program for children starring Tommy Pickles and his pals. Kate also is involved with the Rugrats in Paris movie, to be released in November, and accompanying CD. On the CD, Kate is playing the evil female character, Cocoa LaBouche, which is being played by Susan Sarandon in the movie version. Kate became involved in voiceovers while working at the Klasky Csupo animation studio as production administrator for the Rugrats' movie sequel. This is the same studio behind Duck Man and the original Simpsons. In the works may be more voiceovers for a number of web-based network shows. Kate informs us that there are a number of Internet network stations springing up such as AtomFilms and MediaTrip.com that produce one-and-a-half minute animations, similar to the South Park genre. Kate and Hugh swim in the same circles professionally; he is an audio engineer and musician who currently is engineering pieces for the Web.
Kate also keeps up with Joanne Ooi after reconnecting about two years ago. Joanne and her family, husband Guss Liem '88 and son Sam, flew in from Hong Kong for Kate's wedding. Joanne is CEO & Co-Founder of Style Trek (styletrek.com), "a hyper-edited shopping experience which concentrates on the best of the most interesting design resources from all over the world." Joanne has amassed an extensive amount of experience in the garment business prior to the launching of her current venture. Instead of pursuing a law career following graduation from the University of Pennsylvania Law School, she landed a plum fashion industry job - sales & marketing director, Asia, for Stephane Kélian, the renowned French shoe designer, but only after spending much time in the trenches of the Asian garment district.
After developing an extensive network of contacts with leading high-end Asian retailers, Joanne launched her own showroom, East From Seventh, securing exclusive distribution rights in Asia for, among many other edgy prestige brands, Daryl K, the CFDA-award-winning designer. As an extension of her wholesale distribution business, Joanne opened and operates two exclusive retail boutiques in Hong Kong. If that weren't enough, she recently acquired a U.S. showroom, Trek Lightly, in New York. StyleTrek, as noted on the website, "integrates all the strands of Joanne's passion, knowledge and experience under one roof, permitting her to impose a hip sensibility on her extensive array of sourcing contacts from around the globe." We thank Desi del Valle for putting us in touch with Kate, and indirectly Joanne. The former two were recently reunited by telephone. Kate discovered Desi's whereabouts over the Internet, and contacted her agent, Mitchell Talent in San Francisco.
From the East coast, Patricia (Ryan) Long and her husband, Shep '88, now live in Stamford, Conn., where Patty works. She started with SSB Citi Asset Management Group, the asset management arm of Citigroup. As technology strategist, she is charged with planning the systems infrastructure for this global organization. On the personal front, Patty and Shep welcomed Robert Thomas into their lives on August 26, 1999. The toddler, Patty notes, loves to "commando" crawl around the house. Shep is working for Arthur Andersen Consulting in the health and welfare consulting practices.
The baby news continues. Allison and Todd Thomason welcomed their first child to St. Louis on April 10. When asked for details on the baby, Todd assured us, "It's a human." Caroline Elizabeth came in at seven pounds and twenty inches. They're unsure of hair color as of yet - Todd reports that she's "bald like me right now." Todd continues as an investment banker for AG Edwards, where he is director of the healthcare group. Alison is taking the summer and fall off from academia, with plans to not only tend to Caroline, but also write a book on ancient Near Eastern ivories. Keep the news coming, folks. Best regards.
Dan Max
Shaw Pittman
1676 International Drive
McLean, Va. 22101
daniel.max@ shawpittman.com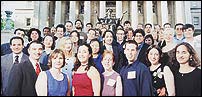 Class of 1990


Gemma Tarlach wrote in with the following: "After spending more than six years in the foreign service, including two in Moscow, I ditched government service (too much bureaucracy) and returned to my erstwhile vocation, music journalism. I did it mostly for the graft: the free CDs, concert tickets, chances to hang backstage with the likes of Metallica (or at least their roadies!), etc. I'm currently a pop music and pop culture reporter at the Milwaukee Journal Sentinel, which means I also get to cover fun stuff like professional wrestling, toys, the Internet, etc. It's a great job and even after two years here, I find I rarely if ever miss New York (except when I want a good slice of pizza) - something I never thought I'd say! I do get back to the city twice a year or so covering things like toy fair and the CMJ New Music Conference, and one of my first stops is always Ollie's. Although I spent four years on the archery team at Columbia, I've moved on to mastering... northern shao lin kung fu for quite awhile and find it's the perfect sport to know when one's job description includes spending time in the mosh pit at ozzfest every year. I just got back from vacation in Tunisia, which is one of the few Middle East/Maghreb countries I didn't get to see while working for the government." She also tried to sell me her condo in Falls Church, Va., but I'm not buying.
Please submit stuff for those of us who missed the recent 10-year reunion.
I am embarrassingly low on material.