CLASS NOTES
George Koplinka
75 Chelsea Road
White Plains, N.Y. 10603
desiah@aol.com
Next year, our 50th class reunion will offer some exciting activities. The proposed dates are September 7-9. The '51 reunion steering committee is planning this three-day weekend beginning Friday morning on the Columbia campus. The idea is to give everyone an opportunity to visit new facilities such as the Alfred Lerner Student Center and the Roone Arledge Auditorium and Cinema.
Following a class luncheon and an afternoon of lectures, sports activities and some free time, the reunion attendees will motor to Arden House by car or bus provided by the committee. After everyone settles in at this splendid conference center we will enjoy an informal cocktail hour and dinner with plenty of time in the evening to reminisce with classmates about the "old days." Saturday will be dedicated to lectures and seminars about significant topics planned by the program committee, a light luncheon, and an afternoon for exploring the Arden House area with its numerous recreational and sightseeing opportunities. The highlight of the evening will be a gala 50th reunion reception and banquet, attended by many Columbia dignitaries. Sunday morning is for relaxing, having a delicious breakfast, enjoying Arden House's hospitality and preparing for the trip home. Watch your mail for complete details that will be arriving soon, including confirmed times and dates for the weekend.
April 15 was Dean's Day at the College. If you have not participated in recent years, sign up next spring when the registration form arrives. The lectures are outstanding and Dean Quigley's comments about what is happening at the College are always enlightening. This year '51 was represented by Joe Ambrose, Dave Berman, Willard Block, Joe Brouillard, Ted Bihuniak, Gerry Evans, Bob Flynn, George Koplinka, Bob Snyder, Elliot Wales and Paul Wallace.
Class vice president Sam Haines is updating our mailing list of 343 addressable classmates. If you become aware of recently deceased classmates in your area, please pass this information on to Sam. He can be reached by phone at (201) 567-6116, or drop him a note at 87 Glenwood Road, Englewood, N.J. 07631. Sam also is compiling a list of "lost classmates" which will be sent to class members with a future mailing. Please help if you can locate a lost soul.
We inadvertently published an incorrect telephone number for contacting Frank Lewis, who is still practicing law in Phoenix. His correct office phone is (602) 254-6071. His home phone is (602) 840-5781.
Brian Wilkie wrote that having been "bitten by the Lionel Trilling bug" he went off to the University of Rochester and got an M.A. in English in '52. Thereafter followed two years in the Army Signal Corps and a Ph.D. from Wisconsin in '59. After teaching for four years at Dartmouth, he spent 22 years at Illinois before moving in 1985 to the University of Arkansas. He enjoys work immensely (along with the beautiful Ozarks) and has no intention of retiring. Brian has found time to publish three scholarly books and is working on a fourth. In addition he has co-edited, with James Hurt, a two-volume anthology entitled Literature of the Western World. To quote Brian, "I lucked out in getting Mark Van Doren for Humanities, and I'd like to think it shows." In 1957, he married Ann Allen Johnson of Winston-Salem, N.C. They have three grown sons.
Alan Wagner reports that "with age comes wisdom." Until last year he had never considered consultation-for-pay. Recently he discovered a demand for his knowledge of TV, film, cable and the Internet. Good for you, Alan! You can put your 50 years of experience to work without being on a staff, and nobody has to pay benefits. Can't beat that in retirement.
Here's an opportunity to keep in touch with Richard Bowe. He and his wife, Alice, purchased a "pied-a-terre" in Grammercy Park where they had lived for the better part of a decade some 35 years ago. To quote Dick, "We'd enjoy hearing from, and/or getting together with former classmates who may find themselves in the old neighborhood." Call the Bowes at (410) 208-9741 in Berlin, Md., to make arrangements ahead of time.
From time to time we get e-mail messages. Martin L. Katz, living in Puerto Rico, was looking for a classmate. Jay Lefer suspected that, from the way one of his messages got mangled, aliens from NYU must be writing this column. Sorry, Jay. We try to do our best but don't always succeed. Call it a senior moment! E-mail about the 50th reunion is always appreciated; any offer to be a committee volunteer will be appreciated and acknowledged promptly. Snail mail is good, too. Phone anytime: (914) 592-9023. Just keep in touch!
Robert Kandel
20 B Mechanic St.
Glen Cove, N.Y. 11542-1738
lednaker@aol.com
It never rains, but it pours... suddenly you are coming out of the woodwork. Good! Please have patience as I try to fit you all in. (But keep writing!)
Frank Flux has not retired from his antique business in Bath, England. I agree with Frank that Bath is a charming and easy-to-see city. He'd welcome visitors.
Jim Dempsey has retired after heading the Far East subsidiary of Air Products and Chemicals. Unfortunately, shortly after retiring, he lost his first wife of more than 35 years. He has since remarried, and he and Mary divide their time between Florida and Pennsylvania. When they have nothing better to do, they squeeze in a few trips abroad.
Fred Katz also has retired after teaching medicine for 20 years followed by 20 years in private practice. He and his wife, Charlotte, Barnard '55, have moved from Denver to the Minneapolis area to be closer to two of their three children and their families.
John Benfield has become emeritus professor at the University of California and has retired from his practice of thoracic surgery. His visiting professorships have given him and Joyce many opportunities to travel to Asia and Europe. He is now involved in a project of The Language of Science which traces the history of the language of science from ancient Greek and Latin, through the era when German ruled, to current times when English is undisputed king.
Richard Gardner is still active in the private practice of forensic psychiatry and teaches child psychiatry part time at P&S. Some 18 years ago he was the first person to describe the causes and treatment in Parental Alienation Syndrome (PAS) that arise almost exclusively in highly contested child-custody cases. A research foundation for PAS has been established in Washington, D.C. He has written extensively: 45 books and 150 articles.
Bob Landes is semi-retired (he still handles some general corporate law). He and his wife winter in Florida where he plays golf. He was elected to the fellows of the American Bar Foundation and is chairman of the senior lawyers committee of the N.Y. C. Bar Association.
Dick Wald has retired as senior vice president of ABC News and is now the Fred Friendly Professor of Media and Society at the School of Journalism. Professor Wald claims that he and Dave Braun were so impressed by George Bush's escapade that they went to sky-diving school. Boy, have I got a bridge to sell you!
Fred Becker has been honored by the establishment of an endowed chair in his name for Cancer Research at the M.D. Anderson Cancer Center, University of Texas.
Arnold Martin and his wife, Jean, and their "seven offspring" are still living in the San Diego area.
Evelyn and I attended the reception that Joe Di Palma and Joycelyn hosted at the Cooper-Hewitt in New York in April on the eve of their 30th wedding anniversary. Also present: Jim Santos and Rick (a.k.a. Dick) Tashjian and his wife.
Richard Kiltie is a retired math teacher living in Australia and is just beginning to get back in touch with Columbia via CCT.
Space does not permit me to give any addresses, but if you wish to communicate with someone mentioned, contact me and I will try to help. Please keep up the good work and write!
Lewis Robins
1221 Stratfield Road
Fairfield, Conn. 06432
LewRobins@aol.com
Denis M. Andreuzzi: Denis married Catherine in 1963. They have two daughters, one son and three grandchildren. After spending two years in the Army, Denis went on to earn a master's in finance from NYU. Armed with his degree in chemistry from Columbia plus his master's, he worked for Witco for 37 years, including serving as president and CEO for the last five years. Witco is a $2.5 billion business with 8,000 employees and 60 specialty chemical manufacturing plants. Without knowing it, over the years we've all used some of Denis' products such as baby oil and Kendall Motor Oil. Since retiring as CEO of Witco, Denis keeps busy as a financial and business consultant. He's also involved in raising funds for Catholic Charities in N.Y.C.
Klaus Bergman: Klaus married Barbara Redman, Barnard '53, in 1954. They have two children and five grandchildren. Klaus is another classmate who became president and CEO of a major American corporation, Allegheny Energy, retiring as president in 1996 and as CEO one year later. Allegheny provides electrical energy to industries and homes in five states. In retirement, Klaus is having a wonderful time playing tennis, golf, bridge and reading. He and Barbara also entry traveling around the world on cruise ships.
Joseph Cincotta: Joseph married Elaine Margaret in 1955. They have three sons and four grandchildren. Since 1970, he and Elaine have been living in Columbia, Md. Joseph worked as an analytical chemist on research and development projects. He's the author of at least four articles in the Journal of Analytical Chemistry. Having retired in 1995, Joseph is enjoying babysitting and playing with the grandchildren.
Darcy Gibson: The former president of Phi Kappa Psi married Barbara in 1957 after he graduated from the School of Architecture. They have three sons, one daughter, one grandchild and another on the way. Until 1995, Darcy ran his own architecture company which specialized in health-related facilities such as schools for the retired, community residences and halfway houses. Darcy is still active and currently designing additions to family homes in Rye, N.Y. On the phone, Darcy reports that he's quite proud of one of his sons who has become a writer and director, with a new film that was shown at the Sundance Festival. It is called Lush and is the story of a special golfer who is a drinker.
Thomas Haugh: After teaching biology for many years at Staples H.S. in Westport, Conn., Tom retired in 1991. He has two children, Heather and Burke. His wife, Patricia, was killed in an auto accident in 1988. Tom remarried in 1991, to Maureen Bradley. He still lives in Norwalk, Conn. but spends a great deal of time taking in the hay at his and Maureen's horse farm in Massachusetts. Tom reported that he's doing all the skiing he's ever wanted to do, playing lots of golf with Dick Auwarter and thoroughly enjoying retirement.
Charles Kadushin: Charles married Jhislaic Bolanger in 1982. He has two children. After receiving his Ph.D. in sociology from Columbia, Charles went on to teach for eight years at the University. Subsequently, he spent 11 years as professor of sociology and education at Teachers College. He is currently professor emeritus, sociology, at the Graduate Center of the City University of New York. He's also a Distinguished Scholar at Brandeis University, where he is a researcher at the Cohen Center for Modern Jewish Studies. Charles has written a number of books and reports that his favorite was published in 1974, American Intellectual Elite.
Ronald Landau: Ronald married Linda in 1963. They have two children and two grandchildren. He's published five papers on plasma physics and has been working for a number of years on improving the design of MRI machines, trying to make them smaller and less expensive. Ronald is still energetic and is quite proud of having participated in a 50-mile bike ride around New York City. He tries to ride at least 20 miles a week. Ronald reported that he's had two angioplasty procedures during the past few years and all is well. He's also had prostate cancer and has been successfully treated at Mt. Sinai Hospital in New York with radioactive seeding. Ronald asked me to tell everyone that the procedure has few side effects, and he'll be glad to talk to classmates about his experience.
Al Ward writes from Columbia, S.C. that more than 20 members of the 1951 and 1952 football teams met in Litchfield, S.C. for a reunion and some competitive golf and tennis.
Robert Wallace retired as chairman of the department of surgery at Georgetown University in 1995. Since 1998, he's been president of the Thoracic Surgery Foundation for Research and Education and also chairman of the scientific advisory committee of a foundation in Paris, France. He's also medical director of Sulzer Carbomedics, Inc., enjoying retirement and learning to play golf.
Irwin Kline and his wife are happily retired, traveling and visiting 11 grandchildren. They recently saw Al Jackman in California.
John Lustig sent the first e-mail message I've received thus far. He wrote he's been married to Anne for 46 years. They have five children, seven grandchildren and one on the way. They retired to Laguna Woods, Calif. about 10 years ago and have been enjoying retirement by traveling and visiting children and grandchildren. He spent more than 40 years working in the public library field and ended up as a director of community services and assistant general manager of Monrovia, Calif. Anne worked for doctors and ran a medical lab. John and Anne would love to hear from classmates.
Howard Falberg
13710 Paseo Bonita
Poway, Calif. 92064
WestmontGR@aol.com
Whenever a classmate of ours passes on, I feel bad. When it is someone I knew reasonably well, I feel particularly sad. On March 30, Dr. Henry Littlefield passed away in Pacific Grove, Calif., after a heroic battle with colon cancer. Many in our class will remember Hank as a member of our Varsity wrestling and football teams as well as a lead actor in our Bicentennial Varsity Show. He carried his interest in athletics and acting all of his life. Hank served as dean of students as well as wrestling and football coach at Amherst. For the last 24 years, Hank lived on the Monterey Peninsula, where he taught American history and served as headmaster at The York School and most recently taught at Robert Louis Stevenson School in Pebble Beach. Hank and Saul Turtletaub maintained a close relationship that began at Columbia. He will be missed.
John Brackett recently retired from the practice of pulmonary and critical care medicine but remains active with grandkids, travel, attempts at golf and rowing. John still competes around the world in masters' rowing regattas. If we ever had a contest to determine who in our class was in the best physical shape, it wouldn't surprise me if John won. Dick Werksman is now a senior anti-corruption advisor at the State Department as a result of the merger of USIA with State in October 1999. He received the distinguished honor award from USIA for his work in Latin America as well as the Aurora de America prize from the Public Ethics Foundation in Buenos Aires. Dick continues to arrange the speakers program for the Columbia College Alumni Club of Washington, D.C. which meets for lunch the last Tuesday of every month except for July and August. If you would like to attend, please call him at (202) 647-7304.
George Goldstein of White Plains, N.Y. is now semi-retired. George spent 16 years specializing in pediatric medicine and then gravitated to the pharmaceutical industry where he spent 25 years, most as corporate v.p. worldwide medical and regulatory affairs for Sterling Winthrop. During his career he was chair, pharmaceutical research and manufacturers association commission on drugs for rare disorders. He is now doing some pro bono work as well as enjoying the pleasure of being with his wife, Shirley, and three "great daughters."
Carol and I were in Ohio recently and had the pleasure of getting together with Jim Burger and his wife, Donna, as well as Brian Tansey and his wife, Amy. All look well and fulfilled.
In preparation for our own 50th reunion, I was able to be in New York for my high school's 50th. I was part of the Bronx Science contingent and saw Lee Abramson, Steve Barrett, Jack Blechner, Bob Burstein, Bernd Brecher, Stanley Fine, Steve Gilbert, Mel Goldstein, Al Fiellerstein, Les Levine (two of our judges), Len Moche (my roommate in Hartley Hall), Simeon Pollack, Al Weinfeld and Steve Winber. Also in attendance was a spouse, Joel Gerstl. I hope that they will all be able to be with us at our college 50th.
Remember, if you are interested in helping out in preparation for our 50th, please contact our President, Bernd Brecher, who can be reached via email at BrecherServices@aol.com. Please be well, enjoy life, contribute to the world we live in and keep in touch.
Gerald Sherwin
181 East 73rd Street
New York, N.Y. 10021
gsherwin@newyork.bozell.com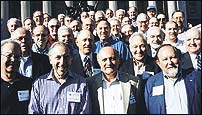 Class of 1955


What more can one say? It was a glorious weekend — Reunion 45. From the reception at Lerner Hall on Friday evening to our class speakers Saturday morning to lunch at the Terrace Restaurant mid-day to dinner at SIPA Saturday evening to dancing on Low Library steps to our final breakfast in the Low Rotunda Sunday morning, it was called the best reunion ever. Once again, our class had the highest number of attendees and classmates among all the reunion classes. Thanks go out to the Saturday morning speakers who spoke about everything we strive for: wisdom with Donald Kuspit, money/capitalism with Lew Mendelson and longevity with Jesse Roth.
Our guys even won the "battle of the singing groups" between the current-day Kingsmen and our fearsome songsters Marv Winell, Lew Mendelson, Stuart Kaback, Alan Pasternak, Aaron Preiser, Alfred Gollomp and Herb Gardner. After the Kingsmen finished their two-song serenade, the older group proceeded to "belt out" the "oldies but goodies" repertoire of Columbia melodies the younger bunch had never heard. The Saturday dinner closed with an emotional rendition of "Sans Souci."
Classmates came from near and not so near for the celebration and all agreed to come back for the 50th. Many who couldn't make it sent notes, e-mails and even called to express regrets. The West Coast was well represented — from Northern California: Bernie Kirtman, Bill Cohen, Alan Pasternak, and Ralph Tanner; from Southern California Jeff Broido and Ed Rodgers. Tom Chrystie made it from Wyoming. From the Southern parts of the country were: Atlantans Ed Francell (150 lb. football) and Ross Grumet (freshmen 'B' basketball); and Houston's Milt Finegold. Moving north toward the mid-Atlantic region were: Sven Johnson from Virginia, Jerry Plasse, who drove up from Maryland, and Les Trachtman and Lew Mendelson from our nation's capital. Representing Cleveland as he does so well was our John Jay Award winner, Jim Berick. From Pennsylvania and Delaware we saw Dave Stevens, who will be making a concerted effort to get all Sigma Chis to come to the next event, Joe Vales, who postponed two golf games to be with us, and Aaron Hamburger and Abbie Leban from Wilmington. Harold Kushner, author and lecturer of note, traveled down from Massachusetts for the weekend. The upstate contingent included Barry Pariser from Newburgh, Gordon Kaye from Albany and still going strong in Rochester, Beryl Nusbaum. Late Saturday night Stu Perlman arrived to say hello to classmates, those on the dance floor and those taking a "break." Stu was in New York from Chicago for a family function. The crew from Long Island included: Larry Balfus, Steve Bernstein (dancing the night away), Jim Gherardi (not dancing), Jules Rosenberg, Hal Rosenthal, Bob Hanson and Darenn Rathkopf (back on campus after many years). Making the trek from across the river in New Jersey were Bob Pearlman, Aaron Preiser, Marv Winell (whose voice started to sound like Jack Armstrong's after all the singing), the good professor Gerry Pomper, Dick Kuhn and Ferdie Setaro, Al Martz, Brooklyn Tech's own John Naley, and Messrs. Armstrong and Kaback. We had classmates from the suburb of Westchester: lawyers, doctors, and retired baseball players: Bill Epstein, who hosted the Kirtmans, Alan Sloate, Herb Cohen, Marty Dubner and Berish Strauch, and Jack Freeman and Ron McPhee who was giving interviews to Spectator all day Saturday and Sunday.
Finally, from New York (including Queens, Brooklyn, Bronx, Staten Island and Manhattan) were Friday night's bard, Bob Sparrow, ex-Spec board member George Gruen, more doctors and lawyers: Paul Frank, Ezra Levin, Don Laufer, Steve Rabin, Bob Loring, Ed Siegel, Allen Hyman and Jesse Roth, business people: Jim Phelan, Bob Brown and Alfred Gollomp, and in the more creative vein: Herb Gardner and Donald Kuspit.
The deep-felt emotion in seeing old friends and getting to know other classmates even better was evident throughout the weekend. People were so enthusiastic that plans were being made for mini-reunions between now and 2005. Some classmates stayed in dorms — some stayed in hotels. Some toured the campus and the neighborhood between meals. Very few went to work out in the gym — although some of the hardier souls thought about it.
All agreed Columbia looked in great shape — the green lawn on South Field, Lerner Hall, the upgraded Butler Library, the new dorm on Broadway, the lecture rooms (even Alma Mater could be seen smiling) — V&T and the West End and all the other terrific restaurants and stores on Broadway — now affectionately known as SOHA (South of Harlem). We heard many fine words from Dean Austin Quigley. Both Austin and President George Rupp joined our class at Saturday evening's reception.
As an aside, there was a get-together among the former editorial board of Spectator on Sunday afternoon. Besides Messrs. Pomper, Finegold and Gruen, Lee Townsend joined the group. Lee couldn't make the 45th, nor could other past board members, Bob Kushner or Ron Cowan, due to prior commitments.
We received a remarkable number of e-mails, notes and phone calls from classmates who couldn't be with their brethren June 2-4. There were no "dog ate the invitation" excuses. Our guys were in Paris, Italy, conducting family business, moving, resolving personal issues, going to graduations, etc. We know that we will be seeing Ivan Leigh, Anthony Viscusi, Charlie Sergis, Bob Banz, Stan Lubman, Don McDonough, Jerry Catuzzi, Bob Dillingham, Roger Stern, Tony Blandi, Lew Sternfels, George Stark, Harvey Solomon and Jack Stuppin in 2005, if not sooner.
Other news to report: We heard from Gary Berry in Northern California, who has retired after being in pediatric medical practice for over 35 years. The old Forest Hiller, Ted Baker is teaching at the Kennebunkport, Maine Middle School. He celebrated his 25th wedding anniversary last year in Hawaii. Ted has sent out a blanket invitation for classmates to visit him. One of our key speakers from the 40th (how long ago was that), Harry Scheiber, was recently elected honorary fellow of the American Society for Legal History in recognition of distinguished contributions to the field. Harry gave a special lecture in Taiwan a few months ago on the heels of that award.
Hardy souls of the stalwart Class of 1955. After basking in the glory of the 45th, it is never too early to start thinking about the 50th. For those who were just there, it was great seeing you all. For those who couldn't make it, you were missed. There's always next time. Stay well. Remember, the good guys keep winning. Love to all. Everywhere!!!