CLASS NOTES
Jim Shaw
139 North 22nd Street
Philadelphia, Pa. 19103
Come to the kickoff reunion planning meeting in September. For more information, contact Giorgio Zeolla of the alumni office at (212) 870-2744 or e-mail at gmz3@columbia.edu. Mark your calendars for June 1-3 for Reunion. CCT Editor Alex Sachare, a member of our class, tells me that that there is some consideration of also including Thursday, May 31 for our class. I would like to see as many of you as possible, not just for reunion's success, but for my enjoyment in renewing old friendships and making new friends.
Elliot Wolfe, former Lions basketball team captain, is a trial lawyer in Arizona, specializing in personal injury and wrongful death litigation. He was recently named one of the "Best Lawyers in America" for the 12th straight year.
Arthur Helton, a senior fellow at the Council on Foreign Relations, is co-author of Forced Displacement and Human Security in the Former Soviet Union: Law and Policy (Transnational Publishers, July 2000). It provides a detailed discussion of relevant national and international instruments, including laws and policies of all 15 of the countries that have emerged from the USSR, that may be invoked in cases of forced displacement, and offers procedures to promote the humane management of such migrations.
Vince Bonagura has been appointed director of the division of allergy and immunology of the North Shore-Long Island Jewish Health Network, and chief, division of allergy and immunology, at the Schneider Children's Hospital of Children's Health System.
The obituaries column in the last issue included Michael Bartolf, who died in October 1999 (I did not have that information, else I would have included it). A former head coach of the Lions lightweight football team, at the time of his death Mike was an insurance executive. We will miss him. Condolences to his twin brother Phil Bartolf, also a member of our class, who also lost his father, Joseph Bartolf '40, on December 30, 1999. At last reunion Vince Rigdon offered a prayer (which I found moving) to those classmates we have lost, and I am sure we will recognize them again this time.
Paul S. Appelbaum
100 Berkshire Road
Newton, Mass. 02160
pappel1@aol.com
"I just got back from Israel, where I spent a month teaching at Hebrew U. in Jerusalem," writes Gerard Lynch. "While I was there, I got word that my nomination to be a U.S. District Court Judge for the Southern District of N.Y. had been confirmed by the Senate. I expect to be sworn in around Labor Day. I hope to be able to continue teaching at Columbia." Best I can tell, Jerry is our first Federal Judge. Congratulations!
Best wishes are due also to Calvin Hudson, who has been appointed group senior vice president and director of property/ casualty claim for The Hartford. Since joining the insurer's Cleveland regional office in 1973, Calvin has risen through the ranks, completing Duke's executive MBA program along the way. In his new job, he will oversee 5500 employees who service $5.6 billion in premium business.
"Flames youth program still going strong," was the headline on a note I received from Gerard Papa, about the acclaimed program that he founded and runs. "Thank you to all alumni who helped rescue Flames since we lost our old church home two years ago. In the end, we got born again at N.Y.'s John Dewey High School, which has become 'home sweet home' to all 47 Flames basketball teams."
John Dawson was recently an invited speaker at the 11th International Conference on Cytochrome P450 (one of the body's key enzyme systems) in Sendai, Japan. While there, he also lectured at the universities in Himeji, Kyoto and Nagoya.
Two proud pops let us know where their sons will be this fall. Gary Szakmary's son, Kai, will enter the College's class of 2004, the third generation of Szakmarys to attend Columbia. Gary's father, Bruno, was a member of the class of 1946. And Jed Perl's son, Nathan Perl-Rosenthal, will be a freshman at Harvard. But Dad has the whole thing in perspective: "Could anything have been better than Columbia? I doubt it."
Barry Etra
326 McKinley Avenue
New Haven, Conn. 06515
BarryEtc@aol.com
Ahh, C.U. in September. What a Happening that was…
William Bratton is Samuel Tyler Professor of Law at the G.W. Law School. In other legalese, Mark Lubin has been practicing in San Francisco since graduating from Berkeley Law in '77. His firm, Stein & Lubin, has 21 attorneys; he comments that his two teenagers and his 8-year old are "equally difficult to manage." His closest friends in the Bay Area include two other members of '73, David Shapiro and Joe (Hy) Horowitz.
Erik Bergman has had a busy year; after many moons as TV critic and managing editor at TV Host magazine, and one shining stint as TV editor at USA Today, he has "settled in" as senior editor at Waggener Edstrom, the P.R. firm for Microsoft, Victoria's Secret and HomeGrocer.com, among others. He has reincarnated his soccer persona as a soccer dad and coach for his daughter's third grade team, and as a forward on a coed indoor team. He says hi to all from A.D.Phi; e-mail him at erikhbergman@aol.com.
Let us not forget that there is an upstate N.Y., as well; Steve Messner, his wife, Jill, and daughter, Alison, have been "enjoying" Albany winters for nigh onto 20 years. Steve has been elected chair of the sociology department at SUNY Albany. Steve Smith is up in Loudonville, N.Y., has increased his alumni involvement, and is "enjoying it tremendously." He ended his note with a plug to "pitch in" by calling the alumni office at (212) 870-2288, and help with the continuing efforts.
Seconded.
Fred Bremer
532 West 111th Street
New York, N.Y. 10025
fbremer@pclient.ml.com
Morningside Heights has always seemed a comfortable place to live, but we must admit it is a bit shabby around the edges. In recent years, however, it has been taking on many Left Bank attributes — more sidewalk cafes, a restaurant with live opera, and a few small jazz clubs. Soon, a big change is about to occur.
High rises are coming to the Heights! The new senior dorm is open on 113th Street and Broadway (where the old CeeGee Garage and Chemical Bank used to be), and a faculty high-rise is about to go up on 110th and Broadway. And we hear reports of a private high-rise erupting over the Olympia Theatre at 107th and Broadway. Now the real estate folks are calling the area SOCO (SOuth of COlumbia). Can quiche stands be far behind?
It feels like the Class of '74 similarly has been propelled into the limelight as one of our own, George Van Amson (married, three kids) was recently honored at a black tie dinner in Low Rotunda where he received the John Jay Award for Distinguished Professional Achievement. George is a University trustee, member of the College's Board of Visitors, and a principal and senior equities trader at Morgan Stanley Dean Witter. Just as it seems bizarre for Morningside Heights to become chic, it feels too early for one of our own to have achieved so much.
More in keeping with our "perpetual youth" is Kevin Ward. While married with four boys, living in the New Jersey suburbs, and a long-time financial consultant for Merrill Lynch, we hear reports that Kevin has been frequenting local bars. No, not like the rest of us — Kevin is playing keyboard for a rock and roll band playing '60s and '70s hits. "Hey there, Little Red Riding Hood!"
Ted Gregory (married, one kid) is probably more typical of the careers of many of the class. The frequent mergers among the nation's financial institutions have caused Ted to move from the New York area to Chicago and now to Charlotte, N.C., where he now does commercial lending with Nationsbanc.
But what nefarious deeds does someone do whose title is "Business Intelligence Analyst?" Bob Adler, who recently accepted such a title at Chubb in Warren, N.J., claims the job involves market research and strategic planning, but we suspect there are business trips to the Watergate and hope that he sometimes gets to drive an Austin Martin. Black tie to alleged blackmail — there's no telling what our class is up to. I'll be forced to go to Deep Throat if you don't keep those letters and e-mails coming in!
Randy Nichols
503 Princeton Circle
Newtown Square, Pa. 19073
rnichols@sctcorp.com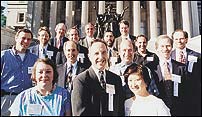 Class of 1975


Reunion 2000 is over, and those of us who attended are home with the memories we collected. Mine are good! More on the reunion later. Keep reading...
Guide to Effective Law Firm and In-House Partnerships by Harold B. Aspis appeared in the corporate counsel column of the March 30 edition of the New York Law Journal.
Albert Mrozik confirms that Lou Dalaveris is practicing as an opthalmologist on the East Side, and is doing very well. He also responds to the following questions posed to him by Bob Sclafani:
1) I moved when my father kicked me out of Toms River in 1979,
2) I have gotten a little too big to not be offended when I am referred to as "Big Al,"
3) What soup are you talking about ???, and
4) Do you mean Henry Winters, my roommate, or Dana Krotcher, my former fiancée?
Philip E. Mihlmester lives in Fairfax, Va., and is senior vice president at ICF Consulting, which works with utilities companies to expand their options in a deregulated industry. (At reunion, Phil and I found our ways into the Butler Library stacks, and we got a memory-rush from that distinct dusty odor. We both spent many hours of our Columbia careers at work-study jobs in the bowels of Butler. We were really amazed that the card catalog still exists. There must be thousands of our fingerprints stored on cards in those little drawers, as we also spent countless hours filing those *%)$#(& little cards!).
I had a very pleasant surprise at reunion when Sean O'Neill '77 tapped me on the shoulder. Sean is not 'officially' a member of '75, but he began with our class (I know, I was his first roommate in Carman) and I think I recall that he marched with us at Commencement. We won't go into why he is listed with the Class of '77, but are happy that he still counts us as his 'social class'!
After Columbia, Joseph Polizzotto went to NYU Law School. He is now managing director and general counsel at Lehman Brothers. He and wife, Janet Aspen, live in Brooklyn with their two daughters, Emily and Julie.
Samuel Shafner and his wife, Rosalyn Weiss Shafner, overcame obstacles presented by the Sabbath and journeyed to Columbia from Boston for the Columbia and Barnard Reunions. He is a partner at Burnes & Levinson, a large Boston firm, where he specializes in corporate and securities law and also works with many high tech and emerging growth companies. He and Rosalyn have four children, and he says "life is good!"
Neil Selinger is the managing partner of a White Plains, N.Y. law firm (recently re-located from N.Y.C.) with a national practice representing investors and consumers in class actions. He lives in Larchmont, N.Y., with his wife, artist Rima Grad, and two younger daughters (Emily, 10, and Julia, 7). Oldest daughter Hannah (about to turn 20) is entering her junior year at the College, where she is an editor of The Spectator. This summer, Hannah was an intern at The New Yorker. Neil also has a nephew who is a sophomore and a godson who will be entering the College this fall. Blood does run blue in that family — Columbia blue!
Kenneth A. Scherzer came to Reunion 2000 from Murfreesboro, Tenn., where he is a professor in the department of history at Middle Tennessee State University. Ken and his wife made the reunion a part of an extended vacation trip.
Randolph Scott-McLaughlin, director of the Social Justice Center at Pace University in White Plains, N.Y., was quoted on the front page of the May 25th Westchester Journal News in an article titled "IKEA in New Rochelle? It just won't happen." Earlier in the month, he was featured in an article headlined, "Randolph Scott-McLaughlin; Aiding the Underdog in the Steps of an Idol" in The New York Times. The idol, by the way, was the late William Kunstler. (I can't help being impressed with this guy and thinking what a great representative of our times he is. Of course, this has nothing to do with the fact that our first names are the same!)
Brad Tupi wrote that he regretted that he would not be at reunion, but included a lot of other news. He remembers debates in John Jay over the McGovern campaign in 1972. Then he was to the left of McGovern; now he is to the right of McCain. In 1997, he was elected a township commissioner in Upper St. Clair, his suburban home in Pittsburgh's South Hills. Brad is a lawyer with a mid-sized Pittsburgh firm, where he tries cases for and gives environmental advice to corporate clients. His wife, Ann Marie Cline (former St. Luke's nurse and Morningside Heights resident), runs a medical-legal consulting business from their home. They have two children, Nick (a 15-year punk rock drummer) and Steph (a 13-year-old Backstreet Boys worshipper and soccer jock). Rock 'n roll remains his hobby. In the old days he used to bring dance tapes to Fred Bremer's parties on 113th Street. Now he gets paid to deejay weddings, birthdays and other events.
At the Saturday evening reunion dinner, President Rupp announced that Richard Witten had been elected to the Board of Trustees that morning. Congratulations!
Now, back to reunion. Those who attended (Paul Barenholtz, Barry Berger, Terence Cloney, Barry Concool, Kevin Creeden, Louis Dalaveris, James Dolan, Russell Geoffrey, Joaquin Gonzalez, Michael Gordon, Stephen Jacobs, Jeffrey Kessler, Steven Krasner, Steven Lawitts, Stewart Lazow, Steven Lidofsky, Jay Lisnow, Moses Luski, Ira Malin, Dan Mauzy, Kevin McSweeney, Phil Mihlmester, Albert Mrozik, Randy Nichols, Sean O'Neill, Kenneth Scherzer, Rob Schneider, Neil Selinger, Samuel Shafner, Harold Shapiro, Andrew Sustiel, Floyd Warren, Irwin Wikler, Richard Witten) had a great time renewing acquaintances and sharing recollections. The reception at the Museum of the City of New York was warm; we were seated in one of the best rooms in the house. The panel with Hank and Dick Morris '67 was certainly stimulating, and Anna Quindlen, Barnard '74, is even better in person than she is in print! (Several members commented that they had not been in Low Rotunda for anything but a bonfire before.) There were only about a dozen of us who showed up for the class picture, and we sure hope to have more faces in that picture when we gather again in another five years. Until then, as usual, keep the cards and letters coming!
| | | |
| --- | --- | --- |
| | | |