CLASS NOTES
Stanley H. Gotliffe
117 King George Road
Georgetown, S.C. 29440
Many, many thanks to the faithful members of our class who have answered my call for letters bearing news. Please keep them coming. The following communications are listed in the approximate order of their receipt.
From Bob Dettmer comes word of Harry Mellins, who was invited to Hawaii to receive a gold medal from the Society of Uroradiology. This is a singular honor, awarded annually to an expert in radiology of the genitourinary tract. As of December 1999, Harry had retired from Harvard and was said to be fully enjoying his leisure.
Arthur Weinstock, who regularly sends me newspaper articles (more on those later on), and Betty are well. He still plays tennis regularly. Ray Robinson, our literary classmate, and Theresa Wright, who played Eleanor Gehrig in the film The Pride of the Yankees, were featured guests in late April at the Baseball Hall of Fame in Cooperstown, N.Y. They also appeared together at the Yogi Berra Museum in Montclair, N.J. in late May. Ray is the author of Iron Horse: Lou Gehrig In His Time and other sports biographies.
After having been a nuclear engineer for over 30 years, Charles E. Newlon and his wife, Dotty Jean, have retired to 1301 LaPaloma Drive, Knoxville, Tenn. 37923-1417; telephone (865) 693-7142. They now put on shows for senior citizens and other groups. He plays keyboard and she does readings. They would like to hear from classmates/friends and promise to respond.
Bill Franks, who now lives in Dalton, Ga., with wife, Allene, attended the wedding of their son, Bill, in London. In addition to the ceremony and subsequent reception, they toured parts of England and Scotland with the new bride (the groom had to stay in London and work). They report a most enjoyable stay.
Tom Gilliam of Englewood, Colo., has sent in further reminiscences of his days at Columbia. He recalls that while serving as water-boy for the football team, he would bring verbal instructions from Coach Little to Sid Luckman. (In those days coaches were not allowed to signal from the sidelines.) He also recalls dancing with Madeline Carroll at the Junior Prom and guiding Margaret Bourke-White around campus during a photo shoot.
"Chips" Hughes of Saddle River, N.J., writes that he and Dorothy are active and in good health, traveling, playing golf and doing "upland bird hunting." He has been retired from the textile business since 1992. They have five grandchildren ranging from 14 to 22; the oldest just graduated magna cum laude from Providence College. Attilio Renzetti, Jr. (also P&S '44) writes from Salt Lake City via the Alumni Office "just to let my classmates know that I am still alive!" He is now emeritus professor of medicine, having retired from the University of Utah on December 31, 1989. He notes that his 80th birthday is 11/11/00; to some of us, therefore, "still a kid." He remains "a fanatic of opera and baseball."
We deeply mourn the passing of two physician classmates who will not only be sorely missed by us and their families but by patients, friends, colleagues and the field of medicine. Jack Rainer died on March 12, 2000 succumbing to cancer of the pleura. Jack, who specialized in psychiatry, was not only a skilled psychoanalyst but also was expert in the fields of medical genetics and psychiatry for the deaf. On April 16, a memorial ceremony was held at the Hudson River Museum, attended by about 125 family members and friends, including Arthur Weinstock, who participated in the ceremonies as a representative of our class. On May 20, 20000 Alan Goldberg died in Delray Beach, Fla. Alan, who had been a family practitioner in the Bronx for 39 years, was also a gifted musician who willingly and regularly entertained us at class reunions. He did this not only with flawless piano music but with hilarious stories of which he appeared to have an inexhaustible supply. He was active as a jazz musician during his retirement in Florida, although he had been in declining health for a number of years.
Our sincerest sympathies go to Barbara Rainer and Muriel Goldberg, as well as to their families.
Herbert Mark
197 Hartsdale Avenue
White Plains, N.Y. 10606
avherbmark@cyburban.com
Our 60th reunion is still two years away, but planning has started as threatened. Ideas for a program and workers for telephoning are needed, so call me if you want to do the unprecedented and volunteer. Sandy Black is the first to offer himself. Sandy, who recently moved to a retirement community in Florida, will be contacting his year-round and seasonal neighbors to stir up support.
Word that our leader, Vic Zaro, had been hospitalized was disturbing until I called Vic and was reassured by the man himself that he is doing well and his recovery is on schedule.
We had another successful luncheon in May on campus. In attendance were Bill Carey, Art Graham, Mel Hershkowitz, Aldo Daniele, Jerry Klingon, Dave Harrison, Vic Zaro, Jack Arbolino (and son, John) and myself. We followed the usual script: no agenda but unlimited talk until we were the only ones left in the dining room. Another luncheon is being planned. Contact me if you want to be part of it.
Horace Karpf is still professionally active as a financial consultant. I have also talked to Jim Sondheim, Len Garth, Charles West and Fred Kiachif. All are well and busy and all except Len are fully retired. They travel or are planning to travel and admit to an enormous range of interests and activities. My wife and I got together with Charles and his wife, Ruth, at the wives' 55th Barnard reunion last month. We learned that the Wests had recently returned from a trip to Australia. Len Garth's judicial duties occasionally require his presence in the Virgin Islands.
Some members of the class have not yet returned their questionnaires. I need them for these notes. The answers to date have been a gold mine for me, with tales of careers, travel, long ago military service, grandchildren and you name it.
For instance, Al Kana was on the Columbia faculty in the department of statistics for 17 years and was later a professor at the School of Business at Seton Hall. Al lives in Yonkers and lists choir and photography among his hobbies.
Warren Baum retired from the World Bank after a distinguished 27-year career. His professional publications have been translated into several languages by the bank and remain in print. Warren spends half the year on Martha's Vineyard and half at home in the Washington area.
And again, bad news. We have lost two old friends, Larry Bangser and Kermit Lansner. Larry was a loyal old marine, supporter of the Special Olympics and strong family man who practiced law until the very end of his life. Kermit is remembered widely as the former editor of Newsweek magazine, but he earlier enjoyed a successful career in academia and later continued as a respected writer and critic of cultural affairs. Both friends are missed.
Dr. Donald Henne McLean
Carmel Valley Manor
8545 Carmel Valley Road
Carmel, Calif. 93923
We have heard from Raymond Raimondi, who remembers significantly the days in the second semester of CC (1940) when Professor Harry J. Carman said that there has always been a study of Western Civilization but not Eastern. Perhaps this comment had moved him to become a student of Eastern Civilization. "Carman's praise of Jacques Barzun ['27] led to my signing up for his course and writing two term papers, one on Giacomo Leopardi," the Italian poet of the early 19th century who eventually lost all faith in religion as well as politics. "I later taught freshman English at Syracuse. I've always wished to have the opportunity of talking with graduates about the quizzes on the books we read in Humanities... are they still given?"
The Brooklyn Friends School's 50th reunion of alumni and former faculty will bestow "the Best Teacher Award" to Harold C. Vaughan, teacher of history, 1950-1960: remembered still after 40 years! Quote, "History is people, events, geography." He insisted upon thoughtful, dispassionate consideration of all viewpoints, no matter how controversial. Succinctly, the Columbia philosophy.
Tom Kantor has returned from a six-week "fabulous cruise" to visit relatives in Australia.
Dick Fenton has three children associated with Columbia: a son, class of '71, who is now director of planning and development at Presbyterian Hospital; and two daughters with degrees from P&S in physical and occupational therapy.
Gordon Billipp writes, "Columbia College Today is really a fine publication and seems to improve with every issue. I like the fact that it is sent free to all alumni, so my modest contribution is actually a pleasure."
Walter Wager
200 West 79th Street
New York, N.Y. 10024
Dr. Joshua Lederberg - our distinguished scientist's recent publications include an article on "Pathways of Discovery-Infectious History" in the April issue of Science. In May, he addressed Columbia's innovative seminar on "Man, Computers and Society" in Faculty House.
Dr. Bruce Mazlish - the cultured president of the Toynbee Foundation presided at the May 17 assembly in the trustees room of the N.Y. Public Library when the 1999-2000 Toynbee Prize was awarded to Professor Natalie Davis, who delivered the Toynbee Prize Lecture.
Homer Schoen - the bard of Pound Ridge continues to contribute handsomely as newly appointed chairman of the facilities advisory committee of the Bedford Central School district. Current challenge is to recommend plans for facilities expansion and upgrade to meet projected 40 percent growth in student population.
Don Mitchell - cheerily wowing Oregon stamp collectors with his bronze ribbon winning philately displays. Undaunted by age or distance, he retains his profound respect and admiration for the fine undergraduates of Barnard College, according to recent missive.
Henry Hecht - a.k.a. Rolf Hecht, the fiscally sage retired v.p. of Merrill Lynch, has recently edited a financial text and attended the 60th anniversary of his N.Y.C. high school, Townsend Harris, graduation. A classmate at the bright kids academy who sent regrets was Maurice Spanbock, noted barrister and book collector briefly abroad with spouse, Marian, visiting daughter in London.
John Strom - in from his California abode on family fun in Manhattan, he's inquired about '44 plans to participate in Columbia's 250th birthday coming in 2004. October 31, if anybody's counting. Please eat an apple every day, don't stay out till three and forward your optimistic and brilliant suggestions to class correspondent who'll share them with newly appointed 250th tsar in Low Library, Mr. Jay Kaplan.
Clarence W. Sickles
57 Barn Owl Drive
Hackettstown, N.J. 07840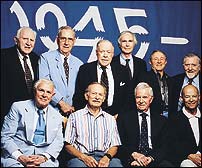 Class of 1945


Donna Satow, the competent and charming associate publisher of Columbia College Today, wrote that readers turn to their class section first when receiving CCT, which indicates how important is the news about the class of '45.
Dr. V. Peter Mastrorocco of Brooklyn, N.Y., kindly wrote to say that he found the '45 class notes informative and interesting. Thank you, Peter. He has been re-appointed to the board of trustees of the New York Methodist Hospital for another term ending in the year 2003 (that's optimism for you!) having served on the board continuously for 10 years. Peter has served on the hospital's strategic planning committee, professional relations committee and the bio-ethics committee.
Dr. Joseph M. Stein of Topeka, Kan. expressed gratitude for a rewarding education at Columbia during the World War II years. "Though never able to get to a reunion, I have fond memories of many of my classmates." Peter continues to practice neurology in Topeka. His wife is an alumna of the Columbia Presbyterian School of Nursing.
Clarence gave a lecture on graphology (handwriting analysis) in early May for the Columbia University Club of Northern New Jersey. Once again his plea to find a flaw in this discipline went unanswered. Remember his wag comment: "If rats could write, psychologists would be graphologists." It would be great to have the psychology department agree to test the validity of graphology. "Dean Quigley, could you arrange this in the interest of scientific research?"
Our nominees this time are Spurgeon M. Kenny, Jr., of Washington, D.C., and John P. Loth of Freeport, Maine. It would be good to hear from or about Spurgeon and John.