CLASS NOTES
Michael Hausig
19418 Encino Summit
San Antonio, Texas 78259
m.hausig@gte.net
Tom Lippman left The Washington Post after 33 years and began a new career as vice president for communications at the World Wildlife Fund. His new book, Madeleine Albright and the New American Diplomacy, was published in June by West View Press and was featured in the National Journal as the cover story.
Jonathan Shapiro was honored by the Massachusetts chapter of the National Lawyers Guild in Boston on May 19. Shapiro, who graduated Harvard Law in 1964, lived in Mississippi in the mid-'60s, working with the Lawyers' Committee for Civil Rights Under Law for the enforcement of newly enacted civil rights laws. He joined the NAACP Legal Defense Fund in New York in 1968, handling celebrated civil rights cases throughout the country. In 1973 he moved to Boston, and with Max Stern and Margaret Burnham founded a law firm committed to representation of the disadvantaged and the dispossessed.
Stuart Newman has moved his law practice to Salon, Marrow, Dyckman & Newman, 21 years after founding his original firm. Two of his three children have graduated from Columbia, Steve SEAS '87 and Jennifer '00. Jennifer is engaged to Lorenzo Melendez '00 and is pursuing and advertising career with Ogilvy & Mather. Stuart's wife, Joyce B'61, is still in active ob/gyn practice in Manhattan.
Eugene Milone has co-authored with Josef Kallrath a book on the analysis of light variation of binary star systems in and out of eclipse. It's entitled Eclipsing Binary Stars: Modeling and Analysis. He continues to direct activities at the University of Calgary's Rothney Astrophysical Observatory in the foothills of the Canadian Rockies.
Allen Kaplan has been elected president of the International Association of Allergology and Clinical Immunology and was appointed editor of Allergy and Clinical Immunology International. Allen lives in Charleston, S.C.
Ed McCreedy has had a busy year. He became the grandfather of twins, his son Matthew was married, and Ed was reelected to the board of trustees, New Jersey State Bar, and named treasurer of the New Jersey Lawyer newspaper.
Arthur Wisot has limited his practice to high-tech reproduction as a member of Reproductive Partners Medical Group with offices in southern California. He also teaches in the residency program and reproductive endocrinology fellowship as a clinical professor at the UCLA School of Medicine. He and his wife, Phyllis, are enjoying their new vacation home in Palm Desert.
Sharon and George Gehrman returned recently from a trip to Arizona where they had the opportunity to see their son, David, an aspiring actor, perform in As You Like It. George works at the energy department in Washington. When asked how many people work at the energy department, George indicated that about half of them did!
Wedding bells rang in our family in April! Daughter Sterling married Christopher Gill during the San Antonio fiesta celebration. The wedding was held in Mission San Jose, which was founded in 1720 and is the largest of the Spanish Missions in Texas.
Ed Pressman
99 Clent Road
Great Neck Plaza, N.Y. 11021
Sidney P. Kadish
121 Highland Street
West Newton, Mass. 02465
sidney.p.kadish@lahey.org
In April, your humble correspondent headed back to the campus for Dean's Day, accompanied by daughter, Emily. In addition to a stimulating day of lectures, we heard a recurring litany: applications are up, admissions are restricted to the super-gifted and mere mortals need not apply. "We wouldn't be able to get in today, either," said the Dean, our own Alumni Association president, and other notables, trying to give comfort. All in all, it seemed a bit discouraging.
David Alpern writes to say how happy he is to have helped choose a new editor for the revitalized Columbia College Today, as a member of the magazine's outgoing board of advisors. A senior editor at Newsweek magazine, he now directs the Newsweek poll of public opinion on various issues and trends in the news. He is also producer and co-host of the magazine's radio broadcast, Newsweek On Air. Guests over the years have included Bill Gates, Hillary Clinton, Katherine Hepburn, Norman Schwartzkopf, Michael Eisner, and other major figures. Helping to produce the program each week was a crew of modestly paid interns drawn from the staff of WKCR.
Steve Barcan welcomed his first grandchild, Katherine Talia Draisen. His son Adam will graduate this year as Rutgers' first ever Spanish-Portuguese major. "No more tuition payments!" exclaims Steve.
Henry Black continues to love Chicago, where he is the Charles and Margaret Roberts Professor at Rush Medical College. In addition, Henry has just been named associate dean and vice-president for research.
Huai Han Kung of Mt. Vernon, N.Y. reports that his daughter, Andrea, will start Columbia in the fall.
Bill Goebel has just retired from TIAA-CREF as senior counsel, after 28 years of service. He intends to continue to live in Syosset, N.Y. and would welcome hearing from fellow alums in the N.Y. metropolitan area.
Bob Ennis is living in Weston, Fla. and works as an associate professor of clinical orthopedic surgery at U. of Miami. Bob also heads a research company, Orthomed Consulting Services. In his spare time, he is the "Gasogene of the Miami Sherlock Holmes Society, the Tropical Deerstalkers." (What is a gasogene?)
News flash: Barry Reiss recently resigned from Columbia House as senior vice president for business and consumer affairs. He has established a private practice in entertainment law at 100 Park Avenue at 41st St. in New York.
Finally, it was a special day on April 2 when the Kraft Center for Jewish Life opened on 115th St. The Center will allow the very many Jewish activities to thrive and grow on campus, since before the Center they were confined to a small office in Earl Hall. Bill Goebel wrote: "I had the fortune to attend the dedication of the Robert Kraft and Family Jewish Center. It was quite enjoyable and emotionally and spiritually uplifting." Bob told me by phone that Columbia is dear to his heart, and he feels that now tradition and spirituality can have a better place on the campus that he (and all of us) love so well. Congratulations Bob Kraft and the Kraft family.
Norman Olch
233 Broadway
New York, N.Y. 10279
Daniel J.B. Mitchell reports the publication of his book, Pensions, Politics, and the Elderly: Historic Social Movements and Their Lessons for Our Aging Society. Dan is Ho-Su Wu Professor at UCLA's Anderson Graduate School of Management and the School of Public Policy and Social Research. He is also director of the Anderson Forecast, which provides quarterly projections of the United States and California economies.
Ken Matasar has been elected a fellow of the Academy of Radiology. His son is an internal medicine resident at P&S.
Ivan Weissman is the proud father of a newborn, Julia Rose. Ivan, Steve Singer and I attended the second (night) game of the Yankees-Mets doubleheader at Yankee Stadium (the first game was played at Shea Stadium that afternoon) in July. The Yankees won, so we all went home happy.
Leonard B. Pack
924 West End Avenue
New York, N.Y. 10025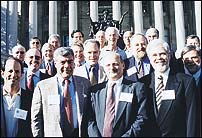 Class of 1965


Depending on the time of counting, approximately 35 to 50 of our classmates attended our 35th reunion at Columbia on June 2-4. Our reunion class committee put together a marvelous Saturday afternoon panel, "Back to College: Columbia's Core Curriculum," where we were treated to superb lecture presentations by Cathy Popkin, Jesse and George Siegal Professor in the Humanities and the director of the Humanities program, and Elaine R. Sisman, professor of music. Your correspondent was impressed by the incisive questions and thoughtful comments that your classmates are still capable of producing. It was wonderful to revisit the Core Curriculum.
Dr. David Berke, a cardiologist at Washington Hospital, Fremont, Cal., recently climbed to the top of Aconcagua in the Argentine Andes, the highest point in the western hemisphere. It took David and his guide nine days to reach the summit. He has now conquered three of the world's highest peaks (Kilimanjaro, Mt. McKinley and Aconcagua). Says David, "It can be dangerous at times and I usually lose about 10 pounds on a climb, but I enjoy every moment of it. The camping, solitude, and the challenge, I just love it."
A. Howard Matz has been a U.S. District Judge in the Central District of California since 1998. He was the subject of a front-page profile in the May 17 issue of the Los Angeles Daily Journal, the official newspaper of the City and County of Los Angeles, featuring two smiling portraits — formal in his robes and informal in shirt sleeves in his chambers. Howard also furnished us with the following remarks in his reunion questionnaire: "As a federal judge, I am expected to make important decisions on a near-daily basis. It is a humbling challenge but one that often is exhilarating, because what I do really matters — to litigants, lawyers, jurors, witnesses, and my staff."
Bob Szarnicki was prevented from attending the reunion by his son Tim's graduation from eighth grade. Bob and his wife, Mary, have established an endowed scholarship fund at Columbia to support deserving students, "just as I was supported during my years at the College."