CLASS NOTES
Henry S. Coleman
P.O. Box 1283
New Canaan, Conn. 06840
Hallelujah - plenty of notes this time. Arthur Haupt wrote from Little Rock that he was promoted to professor emeritus of internal medicine at the University of Arkansas Medical Sciences campus. He now works two days a month as a volunteer physician. His wife, Florence, their four adult offspring and three grandchildren compete for his time along with his new interests in astronomy and horticulture. Alan Zisman is still in medical practice and is still asking Glaucon, "What is the truth?" His wife, Sima, thrives and the children and grandchildren are decent citizens. Irwin Nydick has "retired" from practice of internal medicine but he teaches three times a week at Cornell-Weill Medical Center, including "special bedside teaching and physical examination requested by departmental chairman to breathe some last breaths into a dying art." He is striving to resurrect his old golf game and tennis. His travels are extensive and his health has been excellent.
I had a long letter from John McConnell who has been living in North Idaho for three years. Some excerpts include his second grandchild going to college; the birth of his second great-grandchild; and a family wedding at Redfish Lake Lodge in the Sawtooth Mountain range where the "bride and groom and several of the bridal party are bringing their horses, mules and pack animals to take a little extra time to enjoy the 'ambiance.'"
Your class secretary attended a 55th reunion of the 1945 crew that was attended by Warren Glaser, John Murphy, Dave Kelton, Reg Thayer '47 and Bill Hayes '47. Also there were two great '46 Engineers, Norm Trozzi and Fred Sirkel. I had a phone call from a missing crewmate, Graham Kiskaddon, who now lives in Laramie, Wyo. He and his wife, Jean, just completed a trip around the world.
Finally, Howard Clifford has moved to Sunken Paw, Mont., where he has started an Internet company that sells space on billboards in the desert area. Howard was back East for a brief trip and called me from Bernie Sunshine's office. He and Bernie are planning a class luncheon in October to make plans for our 55th reunion. Howard plans to be there and wants anyone who would like to attend to contact your class secretary at (203) 966-7517. Please keep the news flowing in!
George W. Cooper
P.O. Box 1311
Stamford, Conn. 06904-1311
Our editor informs us that the May issue was a record-breaker for Class Notes. Well, given sufficient help from other correspondents, what follows from our classmates should again put Class Notes over the top. Compared with the norm for our class, anniversary years excepted, here is a virtual bumper crop.
Starting with some old but worthy news that arrived days after the last Notes were sent in, George Kline reports that on November 20 he was presented with the Award for Distinguished Contributions to Slavic Studies at the national convention of the American Association for Advancement of Slavic Studies. George is Milton C. Nahra Professor Emeritus of Philosophy at Bryn Mawr College, where he taught Russian literature. Congrats to a stalwart birch tree in the Groves of Academe.
Continuing in the literary vein, Pierre Sales's book, From Ancient Afryqah to Modern Africa - Providing Clues to Modern Issues, has been completed and was scheduled for publication in May 2000. Modern technology strikes again: it is being produced on a single CD and contains separate treatment of 53 countries and 18 dependent territories, as well as 550 maps. Pierre's own company, Afryqah Ltd., will distribute the CD free of charge to schools in inner cities. A singular achievement and likely to be a valuable reference tool for students of that continent.
From literature to musical works incorporating same: Dan Hoffman has adapted his book-length poem on William Penn's Treaty with the Indians (as denominated in pre-politically correct days) as the libretto for an oratorio, "Brotherly Love," composed by Ezra Lederman. The premiere took place in (where else?) Philadelphia on March 4, performed by The Philadelphia Singers.
Turning from those arts to another, the art and practice of medicine, we learn that Leonard Fox has retired from private practice but still acts as a police surgeon for the New York Police Department, as he has been doing for over 35 years. Joe Rumage, likewise a physician for 50 years, reports from New Orleans that he is still practicing his profession in that bastion of French cuisine and streetcars named Desire.
Last but surely not least, for news from any classmate is of import to all others, regardless of its inherent significance, Peter Brescia has "nothing to report" except that he and his wife travel widely and particularly enjoyed touring the length of the Lewis & Clark Trail last year. Tell us, Pete, is it on to the "Silk Road" for an encore?
Theodore Melnechuk
251 Pelham Road
Amherst, Mass. 01002-1684
neuropoe@sbs.umass.edu
Jacques Barzun '27, not a member of our class but whom some of us were wise or lucky enough to study with more than half a century ago, has at the age of 92 published the 29th book he has written (he has edited or translated 14 more). Its title is From Dawn to Decadence: 500 Years of Western Cultural Life, 1500 to the Present, and it has earned a place on The New York Times' best-seller list. I've just begun reading my copy, and already in the second paragraph of its opening "Author's Note" it shows the wit that has spiced Professor Barzun's profundity from his courses at Columbia to his recent lecture on Hector Berlioz at Smith College: "I have tried to write as I might speak, with only a touch of pedantry here and there to show that I understand modern tastes." In a recent letter, he defined the "decadence" in his book's title as being "of a different species" from that of Spengler - "namely, a recurring historical condition that has nothing final or gloomy about it, only awkward and baffling for a time; after which, it is seen that the ground has been cleared for a new and truly original start." An excerpt from the book may be found in the Columbia Forum.
Robert DeMaria, who is indeed a member of our class, and so presumably is a generation younger than Professor Barzun, is comparably prolific, having published about 20 books, most of them novels. His latest, just out, is called That Kennedy Girl and is about Kathleen Kennedy, the sister who married into British aristocracy. As a biographical novel, it has involved Bob in the current controversy over the relationship between truth and fiction. Unlike the recent official Reagan biography, it does not use a fictional narrator, but does use imagined dialogue and merely probable minor incidents, though all of its major incidents can be documented. For more information, write Bob at 106 Vineyard Place, Port Jefferson, N.Y. 11777, or e-mail him at rdemaria@portjeff.net.
Sears E. Edwards, who enjoyed the 50th class reunion at Arden House, thinks it's not too early to begin planning another one, possibly the 55th, which would be held in just three years. He suggests that a committee be set up, perhaps including Bob Clayton and Dave Horowitz, and that a mailing go out to check class interest. Sears would like to hold such a reunion at Arden House again; I for one would prefer returning to the Columbia campus, as we did for our 45th, so that nostalgia-laden places could be revisited. You can send your opinions to Sears at 131 Hampton Road, Garden City, N.Y. 11530.
Herbert C.V. Feinstein, who tipped me off to Jacques Barzun's new book when it was still in press, thinks it's one of the best books ever written. Back in the middle to late '40s, Herb was one of those who revived the College's Philolexian Society, as Norm Kelvin recently reminded me. Those were the days when Herb called Freud "that notorious Viennese quack." Later, Herb was a professor of English at San Francisco State University for 41 years. Nowadays, he gives invited lectures on American literature and movies - oops, film. Last autumn, he was a guest professor at the Universita degli Studi di Torino, where he gave well-attended and well-received lectures and seminars on such cinematic icons as Mickey Mouse and Buster Keaton (whom Herb interviewed in 1960 and on whose work Herb has lectured and published widely). While in Turin, he interviewed John Carpenter, director of such films as Halloween and Starman. A few months ago, Herb gave an invited lecture to the Roxburghe Club of San Francisco, a private club of book printers and bibliophiles, on Mark Twain and copyright law, both subjects on which he is an expert. Herb lives at Apt. 8, 2201 Virginia St., Berkeley, Calif., 94709-1630.
In March, while going through pencil portraits he had drawn in the late '40s of Anna, his then girlfriend, soon fiancée, and since wife for more than 50 years, Theodore Melnechuk ran across a pencil portrait of Professor Harrison Ross Steeves, which Ted had drawn in Professor Steeves's class on May 13, 1948, his last day of teaching and Ted's last day as an undergraduate student. Having enjoyed John Steeves' letter about his late uncle Harrison in Columbia College Today (February 2000), Ted sent John a copy of the drawing, and John has sent copies to family members and to friends of his uncle, including Jacques Barzun. See it for yourself in this issue's Letters to the Editor.
Louis T. Milic has been retired for some time after having been professor of English at Cleveland State University, where he taught stylistics. (Back at Columbia, his dissertation was on Jonathan Swift, and he recalls that Professor Barzun got him a $500 grant to enable him to finish it.) After retiring, he spent several years as an officer of the Dictionary Society of America. He is now learning how to cook from cookbooks, not from classes, of which he has seen enough. Lou told me that when he still bothered to use his home computer, it was mainly as a typewriter, and he detests e-mail so much that the only letters he will answer are those delivered postally. He and his wife, Jan, have three daughters and live at 3111 Chelsea Drive, Cleveland Heights, Ohio 44118-1220. Seth Rubenstein sent in news about his sons Joshua '76 and Ephraim '78. Josh, who is chairman of the law firm Rosenman & Cohn, is also chairman of the trusts and estates section of the New York State Bar Association. Eph recently had a one-man show of his paintings at a gallery on 57th Street in New York. He teaches at the Arts Students League.
Laurence A. Spelman has just been elected president of the Sarasota, Fla. community in which he lives, which has more than 700 residential units. Larry's ever-ringing phone presents him with problems he never had to deal with in New York - such as how to rid lakes of alligators. As a new expert on that subject, he says that long sticks are passé. Those who want to learn how else to deal with alligators can write Larry at 4812 Kestral Park Circle, The Landings, Sarasota, Fla. 34321-3369.
After a career in the advertising business in New York, John F. Steeves retired to Savannah in 1981, where the cultural life is very rich. As a fan of classical music, John is especially pleased that the local symphony orchestra is excellent. Earlier installments of this column have told about his prowess in bridge and his work for charitable organizations. John likes to hear from old friends; his address is 7209 Van Buren Ave., Savannah, Ga. 31406.
A Columbia reunion of sorts took place on May 13, when George R. Woolfe gave away his sister Doris Woolfe in marriage to Emerson Farwell, in a resumption of a romance that dates back to high school days. In attendance were May Elaine Woolfe Patton GS '49, William Farren '49, and Andrew Gabrilowitsch '49. George lives at 462 Fearrington Post, Pittsboro, N.C. 27312.
Joseph B. Russell
180 Cabrini Blvd., #21
New York, N.Y. 10033
objrussell@earthlink.net
The variety of life experiences had by our classmates never ceases to amaze me, and for this issue we have several reminders from near and far.
"My very best to all my classmates," writes Charlie Bauer, who despite having had to discontinue medical practice in 1979 owing to the depredations of multiple sclerosis and is now paralyzed from the waist down, has managed to send me another long and chatty letter, to which I have responded personally. I have the impression that he would welcome letters from any classmates of the many who knew him when - write him at 345 East 69th St., New York, N.Y. 10021. Meanwhile, Joe Levie has asked that I send his warm regards.
Arnold Bull was originally enrolled in the '40 class but took a leave to move his grandparents to N.Y. from Florida and didn't return to Columbia until after serving 312 years in the Army during WWII. He observes that most of the gold has turned out to be fool's gold, but the search has been rewarding in other ways.
Still enjoying retirement in Flourtown, Pa., when Bob Crosson sees pictures of the campus he cannot but marvel at the changes!
Let's all congratulate tireless Marv Lipman ('54 P&S) on his election as trustee representing the public (that's us) to the 11-member board of trustees of U.S.P., the independent not-for-profit agency established 180 years ago that sets the official standards of strength, quality, purity, etc. for medical products used in the U.S. Marv has a few other irons in the fire as well - now clinical professor emeritus at N.Y. Medical College in Valhalla (don't you just love that name!), he has been an attending physician at White Plains Hospital Center since 1961 where he has served as director of the department of medicine, chief of the section of endocrinology and chairman of medical education; chief medical advisor for Consumers Union since 1967, and since its birth in 1989 medical editor of Consumer Reports on Health; and was medical consultant for, among others, the Random House Dictionary, 3rd edition. If your aspirins don't work, call him in the morning.
In the mists of Oregon, Paul Meyer celebrated his 75th birthday by conducting the Portland Baroque Orchestra in the first movement of Beethoven's Fourth Symphony at a Reed College concert on April 1, a unique birthday gift arranged by his wife, Alice. We are informed that his friends now address him as Maestro - be warned.
Perry Morrison, who was business manager of Columbia Review during his undergraduate years, found especially poignant the piece in CCT about John Hollander '50, who has achieved world renown as a poet (and was his classmate in junior high, high school and Columbia), together with '48 Class Notes re: Sylvan Bromberger and others as the heart of the magazine. He adds that in celebration of his 40th wedding anniversary this August he intends to retire from the real estate business of May Stern & Co. in Pittsburgh, where he has been for the past 42 years, most recently as its president. Perry, do you also recall Bob Gibson '50, my roommate during the Fall of '47, who was, if I recall correctly, your successor as business manager?
From Small Island Farm, Leesburg, Va., Jim Rocks writes that as he lived off campus (as did your correspondent from December '47) and was for three years a member of the chapel choir, he had little contact with the rest of our class, but the College had an enormous effect on him, such that he continues to participate in alumni affairs. Jim spent 45 years in the computer business as system designer, professor, inventor and programmer, farming on the side. The computer business "is... for younger minds and rather than tussle with the Internet, [I] tend to my farmland which includes an island in the Potomac River... The more productive I become, the worse the prices offered. And climbing around on the roof of my barn today, I realized my muscles are worse, too. So I have leased 50 acres of my prime corn-growing bottomland (an island) to three governments (county, State and federal) where they will, at their expense, grow an instant climax forest riparian buffer to protect the Chesapeake Bay from pollution by herbicides, pesticides and excess fertilizer, provide another link in the forest chain that connects the Bay with West Virginia for eagles (a nest has appeared nearby), prevent bank erosion and take some corn land out of production. The lease price is about my average profit growing corn.[I]t was the right thing to do. We are too old to have to decide whether or not personally to control the population." Jim also notes that as class correspondent for Holderness School '43, he is fortunate if he can contact or elicit responses from two of its 17 survivors in any year. Mathematicians out there - can you tell me whether our '49ers respond at a greater rate?
Gene Straube '50E was back on campus in June to enjoy the 50th reunion of his Engineering & Applied Science class.
As we approach the copy filing deadline for this issue, your correspondent is convalescing from surgery to relieve a severe spinal stenosis, and coming along nicely, thank you. Thanks, especially, are gratefully offered to Ed Housepian who, though retired, looked in on me cheeringly just before and twice after the operation, and to Joe Levie for his and Hallie's calls and visit. One consoles oneself with the thought that the alternative is doubtless worse.
Mario Palmieri
33 Lakeview Avenue
W. Cortlandt Manor, N.Y. 10567
mapal@bestweb.net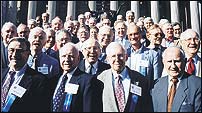 Class of 1950


Our 50-year reunion was the best ever. There were 51 classmates, plus 39 spouses and other guests for a total attendance of 90. That's the greatest number we've ever had and an excellent showing among all the classes. We were favored with gorgeous weather and, judging by the comments that reached my ears, everyone had a smashing good time.
Here's who was there: Joe Adamczyk, Al Arees, John Arents, Patrick Barry, Carmine Bianchi, Daniel Brachfeld, Richard Briggs, George Buchband, Jim Garofalo, Franklin Gill, Eugene Gottfried, Ash Green, Bob Hayman, Gil Hermann, Jim Horton, Carl Hovde, Ralph Italie, Dave Karlin, Bud Kassel, Jerry Kaye, Dan Kelly, Ed Kessler, Joe Koerner, Irving Kushner, Walter Laske, Jerry Lasser, Milton Levine, Michael Loeb, Glenn Lubash, Alex MacDonell, Charley Marquardt, Joe Mehan, John Nelson, Jack Noonan, Dan O'Keefe, Mario Palmieri, Harry Pauley, Ed Peters, Bernie Prudhomme, Dudley Rochester, John Rosenberg, Ray Scalettar, Bob Schiller, Al Schmitt, Bob Siegel, Norm Skinner, Walter Smith, Ernie Thiesing, Arthur Trezise, Ric Yarwood, Charles Young.
A major effort in connection with the reunion was the campaign to raise $100,000 for the Columbia College Fund. This column had to be prepared before the books closed for the fiscal year, and so I cannot report the final figure. You all know, though, that at reunion time we were extremely close. I am optimistic that we'll have achieved our goal and possibly exceeded it. More next time.
News of classmates: Publication of Harry Pauley's book, Shakespeare: The Main Story, was scheduled for the spring, on line as well as in print, so you should be able to look for it now.
Sadly, there are three deaths to report: Jim Devaney died in July 1998 at his home in Plant City, Florida, Frank LoSacco of Chappaqua, N.Y. died in April, and Leo P. Mabel of Seattle was reported in July as deceased.
Finally, Alex MacDonell's e-mail address was incorrectly reported in the reunion directory. The correct address is: alexmacd@cybercomm.net.