CLASS NOTES
Stuart M. Berkman
24 Mooregate Square
Atlanta, Ga. 30327
overseas@mindspring.com
Adding to our undoubtedly accurate perception that an inordinate number of our classmates have joined us in the Peach State, we heard recently from Steven Leichter, who writes, "Don't look now, but I am southwest of you, down in the wilds of Cataula, Ga.! Actually, I live where Hamilton, Cataula, Waverly Hall, and Ellerslie all meet. After years in Kentucky and Virginia, I found my way to life as a country gentleman on a small estate northeast of Columbus. I have a large endocrine practice in the city of Columbus. I am also active as the business editor of Clinical Diabetes, a member of the board of the regional American Diabetes Association, and a professor of medicine at Mercer University in Macon, Ga. I am married, have five children, one grandchild, and three dogs. I never could have conceived that my life would lead me to reside in the rural Deep South. But it has been a satisfying journey, filled with many accomplishments in diabetes, which has become the professional focus of my life." His e-mail address is Sugardoc6@aol.com.
We noted with interest in reading A Global Perspective, the President's report for 1998-99, that Ira Katznelson chairs the new European Task Force at Columbia. The Ruggles Professor of Political Science and History is charged with "considering how Columbia can best organize to foster European studies in the coming decades, retaining the excellence already achieved and positioning the University to realize new opportunities."
Steve Weinstein of Corona del Mar, Calif. was proud to attend the graduation of his son Josh '00, a four-year varsity soccer player. "Couldn't get him interested in fencing in sunny California," Steve comments.
"I am a counselor in a New York state prison for women," writes David Stern, who lives in Brooklyn N.Y. "My wife Robin is photo editor at Abbeville Press. Our son, Jonathan, is 8, a student at PS 321 in Park Slope, active in Little League and the 78th Precinct basketball." David sends a special greeting to his "old tablemates from the Caravan Restaurant and, of course, Tom's."
Congratulations go to Lydia Roach, who was admitted early-decision to the College class of '04. Her father, Bill Roach, is still with the Chicago-based law firm of Gardner, Carton & Douglas. "Just completed my second and last term on the firm's management committee and have accepted the position of chairman of its national health law practice. Some say this evidences a need for mental health treatment." Bill reports that his wife, Deborah, Barnard '66, remains busy and happy as a graphic designer. Catch up with Bill at wroach@gcd.com.
Bruce Trinkley is taking a year-long sabbatical to write an opera based on the journals of Lewis and Clark. He has residencies at artist colonies in California and Scotland to compose the work. Bruce, who lives in State College, Pa., has been teaching and directing the Penn State Glee Club since 1970.
From Bryn Mawr, Pa., we received the following news from Rick Davis:
"After graduation I stayed on at Columbia and received a doctorate in anthropology in 1974. I am a prehistoric archaeologist and have focused on the Paleolithic period primarily. I have dug extensively in Afghanistan, Iran, Turkey, Tajikistan and central Siberia, and for the last four years I've been working in the Eastern Aleutian Islands. For over 20 years I have been teaching at Bryn Mawr College, where I am a professor of anthropology. My wife, Rita, and I have four children, two already through college (Yale and Penn). The big news is that our third child, Alex, has been accepted early decision to Columbia College class of 2004. He saw the light. Go Lions!! So I hope to be on Morningside more often and keep in touch with my old friends, Tom Kappner, Ken Ascher, and Roger Sanjek, all '66 grads living on the Upper West Side." Reach Rick at rdavis@brynmawr.edu.
John Burrows informs us that most of the sales of The Perfect Storm CD, about which we reported recently in this column, are from the website theperfectstorm.net, which has three songs to download free. "I am beginning my fourth year playing with my band at John Stone's Tavern in Ashland, Mass. The tavern is listed in the National Historic Haunted Register. On a more academic note, my daughter, Amanda, is entering Dartmouth in the fall and is ranked as one of the top five girls in golf in Massachusetts. She captained her otherwise all-boys golf team in high school, leading them to the state championship tourney, and competing against 84 boys, recorded the first hole-in-one in the Massachusetts tournament's history." John's e-mail address has now changed to pks4000@mediaone.net.
It was certainly disconcerting to see in the report of the 47th Annual College Fund that the donations from the Class of 1966 were the lowest of any class in two entire decades, the 1950s and 1960s. Our total was even less than the average for the classes of the 1970s, who attended Columbia during times far less spirited than ours. The ignominy of it all! What do you suppose we can do about this, fellows?
The usual reminder: Please include your e-mail address when submitting your news.
Kenneth L. Haydock
817 East Glendale Avenue #3
Shorewood, Wis. 53211
klhlion@execpc.com
News of members of The Cleverest Class in the World (ours) reaches us from a number of widely dispersed fronts. From Washington, D.C., Carlton Carl quotes Harvard Law Dean Roscoe Pound as having written, "The fight over jury rights was, in reality, the fight for American independence." Carlton adds, "The Seventh Amendment rivals or exceeds the First Amendment in my Pantheon. Then there's the much-maligned Fifth. Give us back a discussion of American basics. I am privileged to defend these rights and get paid for it." In an even more poetic vein, John Elsberg, across the Potomac in Arlington, Va., reports that New Hope International has just published Sailor, a collection of poems he wrote about his relationship with his "enigmatic father."
The New York Times covered Joel Hoffman's ambitious real estate activities in Ellenville, N.Y., purchasing and upgrading the 800-acre Nevele Grande Resort in the Catskills, a project due for completion next March. David Schiff, a music professor at Reed College in Portland, Ore. and frequent contributor to The New York Times and leading magazines, has received an award from ASCAP for his talents as a composer, for the eighth year running! David is also an alumnus of Cambridge, the Manhattan School of Music and Julliard.
The Robert Costa family crossed Manhattan's Central Park recently, for more than an idle stroll. After 35 years on the West Side, Bob is now an East Sider. Bob is a senior officer of the Chase Manhattan Bank. And after a four-year, five-month job search, your class correspondent is more than casually pleased to report his emergence from the ranks of the unemployed as counsel on the legal staff of newly created CNH Global, N.V., in Racine, Wis. A descendant of the threshing machine founded near there in 1842 by Jerome Increase Case, the successor Fortune 500 company is the world's third-largest producer of construction equipment and leading producer of tractors and other farm equipment. Ken will primarily support CNH Capital Corporation, the commercial lending arm.
What keeps this column filled with information not about Kent Hall is your letters and e-mail. Dick Jupa recognizes the value of this. You can, too!
Ken Tomecki, M.D.
2983 Brighton Road
Shaker Heights, Ohio 44120
The Yankees and Mets will see October daylight. The Indians won't.
Re: News and such, I got (e)mail...
Bob Yuhas, friend and roustabout from the past, sent greetings to "long lost friends" (Bender, Stras, The Greek, Ooze, et al — "All the Jocks at AXP"). Still strategically based in Los Angeles, where he's a TV producer and programmer, he recently completed a documentary for the Travel Channel entitled Gasherbrum: Ascent on G2. The assignment necessitated a trek of 19,500 feet up the Karakorum mountain range in Pakistan, a task that was "a little more difficult than climbing the flagpole in front of Low Library." In a different vein, he proudly claimed status as a full-fledged "grandfather Lion," courtesy of his daughter, Tonya ("who was born when I was at Columbia"). Thanks Bob, for keeping in touch. Re: your question, "Ever hear from Don Hubert?" No, but he and all the other AXP rascals are always welcome to write or call.
From the home office... I learned that Tom Barran, associate professor of Russian at Brooklyn College (CUNY), wrote a book entitled Russia Reads Rousseau, 1762-1825, soon to be published by Northwestern University Press, which I'll gladly review if asked. Another book, on Tolstoy, is near completion. Ever prolific, he "read a paper" at the International Conference of Scholars, held last year at Yasnaya Polyana, Tolstoy's home estate. Xopo(sho). Tom lives in Park Slope (Brooklyn) with his wife, Barbara, and two dogs, and travels "whenever I can write it off."
Bill Hudgins, based in Gallatin, Tenn., is the newly elected vice president of the Truck Writers of North America (TWNA), an association of journalists and PR types in the trucking industry.
That's all folks. Hope to hear from somebody(ies), anybody before the leaves fall in Ohio, especially anyone whose last name begins with G or H. Got that? In the interim, support the College Fund.
Michael Oberman
Kramer Levin Naftalis & Frankel
919 Third Avenue
New York, N.Y. 10022
moberman@kramerlevin.com
Sometimes a classmate's own good news is good news for all of us. Such is surely the case with the accompanying item on Nick Garaufis being named a United States District Court Judge for the Eastern District of New York. We wish Nick well as he begins what is certain to be a distinguished judicial career.
Jonathan Souweine has been re-elected to a second term on the Connecticut River Watershed Council, a non-profit organization that advocates for New England's largest river throughout the four-state basin. While he continues to practice law in Northampton, Mass. and visit his son, Isaac '01, whenever possible (Isaac is currently on leave and working at a dot.com start-up formed by some of his Columbia buddies), he finds his "environmental advocacy work a very satisfying component of my life work."
Jeffrey Schwartz writes that "1999 was a great year." His new book, Sudden Origins: Fossils, Genes, and the Origin of Species, has been "receiving a lot of attention in reviews and is shaking up conventional Darwinism with a new theory of how evolution works." His wife, Lynn Emanuel, is a professor at the University of Pittsburgh and her third book of poetry, Then Suddenly —, has been positively received.
Michael Brown (who notes that our class had two classmates with the same name, and the other one was valedictorian) reports that his daughter, Corita Brown (born December 1972), is now getting a master's degree from Teachers College. His other daughter, Nessa (born December 1999), "smiles a lot and I hope will keep me young." Michael now directs the Jewish Organizing Initiative in Boston, a year-long training program in community organizing and Jewish tradition for post-college young adults interested in social and economic justice as a vocation. Now in its second year, the program has been very fulfilling for Michael by giving him the chance to work with young people who are "exploring their faith, making a difference in the world, and generally keeping hope alive." You can learn more about the group or contact him at Jewishorganizing.org or Mbrown7387@aol.com.
Mark Drucker has the most curious item to share. His friend, Bob Randisi, has published the book, Blood on the Arch, the latest entry in a police procedural series in which there is a "Mark Drucker" character. This book apparently opens with the discovery of Mark Drucker's body with its head bashed in, and the book is the search for his killer. Mark seems pleased by this, although he does point out that the fictional "Mark Drucker" and the real life Mark Drucker are not one and the same. This is, of course, proven by the fact that he e-mailed me and by the fact Mark attended the book publishing party.
Take a moment to e-mail me now, so that your news can go quickly from your computer to my computer and then to CCT's computer. This from a class columnist who is old enough to remember the time when we had to use the phone to get classmates' news.
Peter N. Stevens
180 Riverside Drive Apt. 9A
New York, N.Y. 10024
peter.stevens@bms.com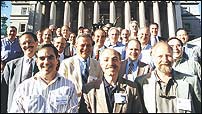 Class of 1970


My schedule has been crazy the past few weeks and has prevented a full report on our 30th reunion. A complete summary on our class activities and participants will follow in the next column. In a nutshell, the reunion was very successful. Our class exceeded the goal for our class gift. The programs that our class committee put together were stimulating. We also had lots of fun.
As usual, I'll be spending my Saturday afternoons at Baker Field on the North 35 yard line both rooting and occasionally offering Coach Tellier advice along with our other class faithful: Bernie Josefsberg, Dennis Graham, Bill Poppe, Phil Russotti and Terry Sweeney. We welcome new additions.
To become eligible for the first annual Class of '70 Morningside Heights award, please put the following Broadway stores in the chronological order in which they went out of business: (1) Henry Verby Photography; (2) Tad's Steakhouse; (3) Takome 2; (4) Drive Liquor Store; and (5) Duke's. More importantly, please let me know what's been happening in your lives so I can report this news to the rest of our class.