CLASS NOTES
Clyde A. Moneyhun
English Department
University of Delaware
Newark, Del. 19711
moneyhun@udel.edu
Dr. Steve K. Dubrow-Eichel (né Steve K. Eichel), a psychologist in Philadelphia, has been awarded diplomate status in counseling psychology by the American Board of Professional Psychology and has been elected a fellow of the ABPP's Academy of Counseling Psychology. "My daughter, Jennifer Dubrow, a 'legacy' student at the College, graduated in May after finishing in three years (shades of my old Columbia roommate Ken Brightfield!). Jennifer earned a double major in MEALAC (Middle East and Asian Languages and Culture) and music. She begins the Ph.D. program in South Asian languages and civilizations (on a full scholarship) at the University of Chicago in the fall 2000."
Michael Gilbride is on a leave of absence from teaching literacy to elementary school kids in the Bronx for New York public schools and this June will be getting his third graduate degree, a master's and advanced certificate in school psychology. "People who knew me back when might be surprised to know that I've entered the psychological profession," Michael observes. "But there it is."
Thanks to the 76ers who have sent homepage URLs and other materials for posting to the "College '76 Class Notes" website: www.english.udel.edu/moneyhun/college76.htm. Personal and business URLs will be posted as well as photos from either Columbia days or today.
David Gorman
111 Regal Dr.
DeKalb Ill. 60115
dgorman@niu.edu
I grew up in the '70s — even got through college. Although the '80s were not always easy, things improved pretty steadily for me throughout the '90s. So I look forward with confidence to the… to the… well, darn it, to this next decade. I have been waiting for somebody to tell us what the period 2000-2009 ought to be called for short. But I've decided that it may be up to us: please write in with suggestions, along with news. (Or let me know if you think that we're just stuck until 2010.) Speaking of news:
The Rev. Thomas Worcester, S.J. received tenure and a promotion to associate professor of history at Holy Cross College, whereupon — as is the way with us academics — he will go on sabbatical during the fall and spring terms to work on a book on "the religious origins of national consciousness in early modern France." Best of luck.
I was glad to hear from Martha Schall Czaczkes, wife of Murray Czaczkes since 1997. She tells us that Murray remains in partnership with his brother in a law practice in Norwich, Conn., and that she and Murray enjoyed the class reunion in 1997. She also announces the arrival of Joshua Ethan Czaczkes on January 3, 2000. Finally, she notes that she and Murray (and now Joshua) "live on his family's wonderful old farm in the quiet town of North Franklin in northeastern Connecticut" and that "I commute to New Haven where I work for a rival Ivy League institution that shall remain nameless."
Bill Dorsey (bill2024@aol.com) is a clinical social worker with Kaiser Permanente — has been for 10 years now. He works at two sites in California (Santa Rosa and San Rafael), somehow doing a laundry-list of things: patient supervision, counseling and referrals, liaison with community agencies, and management of projects such as an eldercare task force. His wife, Lynn, is an occupational therapist, and their boys, Brendan (8) and Brian (5), enjoy computer games, sports, and, not incidentally, music. Bill adds that "this former Burnt Turkey drummer still finds some time for music, playing with a jazz combo in coffeehouses in the area." Evokes a whole lifestyle, doesn't it? Bill follows CCT faithfully, noting, "It's fun to catch a name here and there of someone I know." More fun to follow, I promise.
P.S.: I will include your e-mail address in the column only at your express request.
Matthew Nemerson
35 Huntington Street
New Haven, Conn. 06511
mattnem@aol.com
Lyle Steele
511 East 73rd Street
Suite 7
New York, N.Y. 10021
Stephen Kinsman is a pediatric neurologist directing programs in spina bifida and cerebral palsy at the Kennedy Krieger Institute and is on the faculty at Johns Hopkins School of Medicine.
Peter Nadler is practicing law as the deputy director of the New York Conflicts of Interest Board. He also has become a portrait painter.
Craig Lesser
160 West End Ave., #18F
New York, N.Y. 10023
CraigL160@aol.com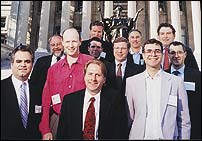 Class of 1980


The Class of 1980 held its 20-year reunion June 2-4. Turnout was strong with the following class members signing up for some or all of the weekend's activities: Jeff Benson, Eric Blattman, Michael Brown, Ray Commisso, Larry Duran, James Gerkis, Timothy Howard, David Israel, Michael Kaplan, Keith Krasney, David Maloof, Sam McPherson, John Metaxas, Brian O'Hagan, Bruce Paulsen, Tim Pinsky, Mark Pollack, Jim Schachter, James Smyth, David Steiner, Ariel Teitel, Martin "Doc" Thompson, Aron Wahrman, David Walker, and Douglas Wong.
Weekend activities included a cocktail reception at the Museum of the City of New York on Friday evening, a Saturday afternoon barbecue and e-commerce panel discussion, a Saturday night dinner with dancing on the Low Steps, and talks with film critic Andrew Sarris '51 and former dean of students Roger Lehecka '67.
I regret that I was unable to make the reunion and see those of you who attended. I'm sure those who attended had a great weekend and enjoyed seeing the many changes to the Columbia campus.
David Walker, recently at Brooklyn College fundraising, is now at Long Island College Hospital in Brooklyn Heights. Mike Brown works in the East 50s in financial services. Both attended several of the reunion events and reported in on the events.
I hope increasing numbers of you will keep in touch by phone, mail or e-mail as it gets increasingly difficult to find material for non-reunion columns. Also, it's never too early to start thinking about interesting ideas for our 25th reunion in 2005.