CLASS NOTES
Alan N. Miller
257 Central Park West Apt. 9D
New York, N.Y. 10024
A number of loyal Columbia "gentlemen" of the superb class of 1956 gathered at the relatively new Columbia (Princeton) Club on the evening of May 3 to start reunion planning: Al Broadwin, John Censor, Steve Easton, Warren Goodman, Danny Link, Don Morris, Buzz Paaswell, Michael Spett, Lenny Wolfe, several representatives from the alumni office and yours truly. Some would say a thoroughly disreputable group, but I will defend us vigorously. Yes, my friends of too many decades to comprehend, we are drawing close to our 45th reunion early next June — shudder! But it is great to be around and, at times, thinking clearly. More later!
Don Horowitz of Seattle, who with his wife we mentioned in the last CCT as donors of multiple scholarships to Columbia (pause for reserved applause), accuses me of undeserved omniscience in using his Hebrew appellation Daniel or Dan instead of the usual Don. His comment, tongue in cheek, about anatomy not in the control we once had, certainly resonated in the thoughts of your humble president, but we will both continue to have "fun in our hearts" and hopefully, what remains in our bodies.
Steve Easton, whom I had dinner with recently, writes about his broken shoulder, skiing, which is about healed. He remains our adventurous one and recently returned from a solo trip to "Peking." He wishes everyone a great summer and suggests we do a study of our four class identical twin pairs.
Michael Berch is proud that his daughter, Jessica, will be entering the College this fall. She plans to emulate her lawyer parents and perhaps follow in the footsteps of her mother, a court of appeals judge in Arizona. It is good to know we may have a judicial advocate in Arizona in case we get into trouble — but, hopefully, not to repeat our youthful testosterone years.
Ray Boelstler has just retired as a dentist after 41 years. His son, Gerald, is graduating Boston College's Wallace E. Carroll School of Management, and his daughter, Laura, is completing her sophomore year at Loyola College in Baltimore. He feels blessed by his family, (as do we all, most of the time) and looks forward to his life in retirement.
Bob Siroty, our long-time committee member, is planning imminent retirement after a long medical career. Bob missed our May 3 meeting because of viral illness but swears undying allegiance to our reunion and will appear at our next meeting on September 13 with bells on. Speaking of reunion planning, other classmates who couldn't make the first meeting but have expressed interest in joining in the fun in the future include: Mark Novick, Lou Hemmerdinger, Bill Fischer, Lee Seidler, John Garnjost, Larry Gitten, Frank Thomas, Stanley Klein, Hillel Tobias, Stan Soren and, hopefully, Nick Coch and maybe even Ed Botwinick. Don't be bashful — any new class blood is welcome to call "Uncle Al" to join in the fray. Do not hesitate to call me at (212) 712-2369 or fax me at (212) 875-0955.
So let us raise a glass or whatever else to ourselves and cheers to our long-suffering wives or significant others, our progeny and our grandchildren and let us hear it for Columbia. Love to all.
Herman Levy
7322 Rockford Drive
Falls Church, Va. 22043-2931
HDLLEditor@aol.com
Gary Angleberger remarks how things have changed at Columbia since it went coeducational. After graduation, he entered Union Theological Seminary, where noted theologians Reinhold Niebuhr and Paul Tillich were on the faculty. Following ordination as a Presbyterian minister in 1960, he served churches in New York State and then served as pastor of a church in Granville, Ohio, home of Denison University, during the turbulent '60s and '70s. Following that, he was involved for over 20 years in the promotion and funding of Presbyterian national and international mission programs. Before retiring in June, he served as an associate executive for communication and stewardship in the Synod of the Trinity — a regional administrative and governing body of the Presbyterian Church (U.S.A.). In retirement, he plans to serve as an interim pastor.
His wife is the Rev. Judy A. Angleberger, pastor of a Presbyterian church in Beaver Falls, Pa. They have four children, three of whom are grown. The youngest, Kelley, plans to enter Allegheny College this fall. Gary hopes that he can return to Columbia for a class reunion sometime soon.
Albert J. Anton Jr. continues as a resident of South Orange, N.J. and partner of Carl Pforzheimer & Co., an investment firm specializing in the oil industry and a member of the New York Stock Exchange. The National Association of Petroleum Investment Analysts recently named Al an honorary life member.
Jim Barker has endowed a chair in Contemporary Civilization. The chair is part of a new program the Dean has announced to attract senior professors to teach the Core Curriculum and be committed to it. Jim's chair is one of the first in the program to be announced.
At his 65th birthday, John Breeskin took the opportunity to bring classmates up to speed on some of the significant details of his life's journey. In his first career, John served 20 years in the Air Force, retiring in 1978 as a lieutenant colonel. He served at the Air Force's major teaching hospital, where he did extensive work with returning Vietnam prisoners of war. In his second career, also lasting 20 years, he was director of a large outpatient mental health clinic just outside Washington D.C., with emphasis on group therapy, men's issues, and forensic psychology. In his third career, in progress, he is a distance learning fellow at the University of Maryland, hard at work converting the traditional classroom teaching model to the internet. He plans to do this for the next 20 years to round out the picture.
On the personal side, John is happily married to Andi, a chief warrant officer four in the Army Reserves. They play high-level tournament duplicate bridge for enjoyment and challenge while proudly watching the lives of their three children and two grandchildren.
Richard J. Cohen remains in active practice as an oncologist in San Francisco. Nevertheless, Dick and his wife, Sandra '59 Barnard, have been in their adventure mode. In the last two years, they have visited Borneo, the Galapagos Islands, Tanzania, India, Turkey, Tuscany and Kenya. "If not now, when?" they ask. They have "lots of great photographs and [have had] incredible experiences…"
Ted Dwyer arranged for Steve Epstein to deliver a lecture at the New Jersey Medical School, where Ted is chairman of the cardiovascular department. Steve, who had been head of the cardiology department at the National Institutes of Health, specializes in coronary artery disease at Washington Heart Center, Washington D.C.
The Newark (N.J.) Preservation and Landmarks Committee has appointed Douglas Eldridge executive director. Doug was a founder of the organization in 1973.
William F. (Bill) Friedman, a prominent pediatric cardiologist, was a founder of that medical specialty. He is now dean for academic affairs at UCLA Medical School, with a CV of 51 pages. Bill has lectured (and played golf) all over the world, from China to Cairo, and continues to be sought out for his expertise. Married to Denise, he has two grown sons and lives very happily in Los Angeles.
Edward Hylsky retired after working over 40 years in nuclear research; he has moved from "snowy Idaho" to "beautiful southeastern Arizona." Ed lives in Sierra Vista, Ariz.
Alvin Kass's son, Daniel '95, is engaged to the daughter of another rabbi. Daniel, an M.D., is interning at Columbia-Presbyterian Hospital. Alvin, senior rabbi at The East Midwood Jewish Center in Brooklyn, reports that his congregation recently absorbed another Brooklyn congregation, the third in recent years. He reports that Brooklyn is booming with economic activity and new construction; truly it is experiencing a renaissance.
Herman Levy attended Dean's Day in Washington D.C. on April 29. The day began with introductions from Dr. Laurance Guido '65, director, University Alumni Relations, and Bruce Ferguson, dean, School of the Arts. Afterwards there were two successive groups of three alternative lectures. Herman attended "Reflections on a Half Millennium of Nationalism" by Anthony Marx, associate professor of political science, and its sequel, "The Continuing Legacy of Multinational Empires," by Karen Barkey, associate professor, sociology (the subjects of a cover story in the May 2000 CCT). Luncheon followed; the keynote speaker was Lisa Anderson, dean, School of International and Public Affairs, and professor of political science. A lively question and answer period followed both lectures and the keynote speech; our College's Washington contingent has no dearth of alumni keen on history and international affairs.
Bob Lipsyte reports that his daughter, Susannah, is at Georgetown Law School; he will "soon be covered for nefarities." Bob's son, Sam, has published his first book of short stories, Venus Drive (Grove/Atlantic); Bob now will not "have to write anymore." Bob's personal rabbi, Al Kass, and personal astrologer, Al's daughter Sarah '87, "have everything else covered."
Ira Lubell has followed a career in public health, most recently in the San Francisco area. He recently retired as medical director of Santa Clara Valley Hospital and currently serves as chairman of the medical quality board of the State of California.
John H. Norton, a urologist, founded and runs a community health clinic in San Francisco.
Samuel N. Rosenberg retired at the end of 1999 as professor of French and Italian at Indiana University, where he taught since 1962. He plans to remain in Bloomington with his companion of many years, Jeffrey Ankrom, and to maintain his career-long commitment to scholarly research and publication.
Herb Sturman is of counsel to Freeman, Freeman & Smiley, into which he merged his former firm two years ago. Herb specializes in tax matters; the firm's specialty is estate planning. He and Bev have recently moved to a "gorgeous new condo" on Wilshire Boulevard; they have three children. Herb is proud that he has virtually no body fat and can press 390 pounds.
Ed Weinstein, on an April visit to Los Angeles, twice dined with Bill Friedman, Herb Sturman, and Dick Hannes '56. Ed and Sandra attended this year's Dean's Day in New York, meeting Al Anton, Arthur Bernstein, and Marty Fisher; Ed remembers Al's having put a blind side block on him at an inter-fraternity football game. He reports that Dean's Day "was something special. Sandra and I were treated to three outstanding lectures as well as commentary by Dean Quigley. Fritz Stern '46, one of the professors whose lecture we attended, agreed with Dean Quigley that the University and the College have entered an era of extraordinary achievement."
Ed has been elected vice president of the Alumni Association and chairman of the Alumni Fund, following in the footsteps of two other classmates, Saul Cohen and Jim Barker. Ed also has been elected chairman of the supervisory board of PLUS Integration, a privately-owned information technology company with headquarters in Amsterdam, The Netherlands, but with operations in both the USA and Europe. Under the Dutch system, the supervisory board is separate from management and consists entirely of outside directors; it has general governance responsibilities and policy-setting responsibilities for the company.
Ed's widespread activities also include service as one of five public members of the New York City Rent Guidelines Board. The real estate section of the June 11 New York Times has a lead article on the Board; Ed's picture appears on the front page and the article quotes him extensively. It notes him as a retired senior partner of Deloitte and Touche and as a board member "of six not-for-profit organizations, including the Cooper-Hewitt Museum." Ed tells us that Saul Cohen is responsible for his appointment to that Board three years ago.
John Wellington retired in July 1999 as vice president of Mountainside Hospital Foundation, Montclair N.J. He is finding free time to enjoy friends and family.
Alan J. Zuckerman has had a career in social services; currently he is involved in vocational training for people not in the work force. He lives in Washington D.C. and is the father of two boys.
Please send whatever news you may have-family, career, retirement, community activity, travel, etc. to Herman D. Levy, telephone and facsimile (703) 698-5246, or e-mail him at the above address.
Barry Dickman
24 Bergen Street
Hackensack, N.J. 07601
Congratulations to: Dick Waldman on the marriage of his son, Mitchell '90E, to Jolene Lai.
Marshall Front, who, as previously reported, received an honorary degree from St. Xavier U. in Chicago. We now have more details; according to the University's announcement, Marshall was awarded a Doctorate of Public Service "in recognition of his outstanding career accomplishments and his exemplary service to our community."
It is with the deepest regret that we report two deaths. Our classmate, Walter Green, died on February 24 after a three-year battle with lung cancer. Walter had been the chief of corporate editorial services for the Metropolitan Transportation Authority. He is survived by his wife, Rona; his sons, Adam and Matthew; and his mother, Emily.
Ernie Brod's wife, Carol, died on May 6 after a long struggle with complications arising from treatment for a brain tumor. A graduate of Hunter College who held two master's degrees and a Ph.D. in psychoanalysis from the Union Institute, Carol had a private psychoanalytic practice and was a member of the board of directors of the Center for Modern Psychoanalytic Studies, as well as being deeply involved with many of its activities. She is also survived by her children, Joanna, Mara and Jon, and by her parents.
Bert Hirschhorn seems to be as busy as ever since retiring as visiting professor of public health at the U. of Minnesota and director of family health at the State Health Department. Bert is now working as a consultant to the World Health Organization and the Tobacco-Free Initiative. He has also followed his Minnesotan wife, Cynthia, to Beirut, where she is associate dean for research and Bert is a senior lecturer on the faculty of health sciences at the American University. However, a return to New York is a possibility; Cynthia is contemplating a dramatic career change by applying to the Columbia School of Architecture. Bert has published a collection of poetry entitled A Cracked River. Bert and Cynthia have two grandchildren, with another on the way.
Bob Furey has been named one of New York's best doctors, both in New York magazine's annual survey and the Castle-Connolly Guide, How to Find the Best Doctors. Other '58 physicians listed in the Guide include Stan Goldsmith, Bob Waldbaum and Boyd Seidenberg.
Speaking of Stan Goldsmith, he received the award for career excellence as a teacher of radiology from the SUNY Health Science Center, where he got his M.D., and the distinguished educator award from the Society of Nuclear Medicine. Stan is a professor of radiology and medicine at the Medical College of Cornell U. and director of nuclear medicine at the N.Y. Presbyterian Hospital. He has completed a five-year term as editor-in-chief of the Journal of Nuclear Medicine. He recently delivered the keynote address to the Israel Society of Nuclear Medicine in Herzlia, followed by lectures on the Isle of Capri on prostate cancer and lymphoma. Stan and his wife, Miriam, have four married children and two grandchildren.
George Braman is now an assistant professor at SUNY Health Science Center in Brooklyn. George, who was managing editor of the Columbia Review as an undergraduate, has continued his literary efforts; he has had several poems published in the Annals of Internal Medicine. George and his wife, Joan, live in Riverdale; their son, Leonard, is a member of the Class of '02.
Another recent retiree, Richard Bossert, left the N.Y. State Consumer Protection Board in Albany and has become the newest member of the board of visitors of the Sunmount Developmental Services Office, a branch of the State Office of Mental Retardation and Developmental Disabilities serving six upstate counties. Richard earned a Ph.D. from the Nelson A. Rockefeller College of Public Administration and Policy at SUNY-Albany in 1994. Richard and his wife, Paula, have two daughters and two granddaughters and were foster parents for teenagers who had experienced emotional difficulties.
Not that any member of the Class of '58 ever had the slightest doubt, but the Office of the Independent Counsel (the "Starr Chamber") has belatedly issued a report definitively clearing Bernie Nussbaum of any wrongdoing in connection with "Filegate," an investigation into the White House's handling of confidential FBI files while Bernie was President Clinton's counsel. The report cleared the White House staff of all criminal charges.
And another reminder about the class lunch Scott Shukat hosts on the second Tuesday of every month, in the Grill Room of the Princeton/Columbia Club, 15 W. 43rd Street. ($31 per person). You can let Scott know if you plan to attend up to the day before, by phone at (2l2) 582-7614; by fax at (212) 315-3752; or by e-mail at scott@shukat.com.
Ed Mendrzycki
Simpson Thacher & Bartlett
425 Lexington Avenue
New York, N.Y. 10017
David McNutt and his wife, Kristen, recently relocated from the Chicago area to California, where they were married 31 years ago when both were post-doc fellows. Dave was appointed health officer and director of medical services for the County of Santa Cruz on April 1. He oversees the public health and environmental health services, two primary care centers, emergency medical services and the jail medical services for the county. The McNutts can be reached at (831) 466-9558.
Donald P. Brown ("Avadhoot") reports from South Fallsburg, N.Y. that he continues to practice Siddha yoga, which he has been doing since September 1970, first under "Baba" (Swami Muktananda) and now with his successor, "Guru Mayi" (Swami Chidrilas-ananda). He meditates, chants & does seva (selfless service) each day, at home and at the SYDA Foundation's Shree Muktananda Ashran nearby.
Jim Levy writes from Sydney, Australia, to say how much he enjoyed last year's reunion. Jim and his wife, Valerie, traveled to China earlier this year and spent July and early August in France. Jim's e-mail address is J.Levy@unsw.edu.au.
J. David Farmer
100 Haven Ave., 12C
New York, N.Y. 10032
david@daheshmuseum.org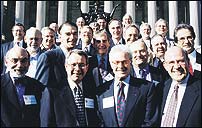 Class of 1960


Jerry Schmelzer, whom I remember as a fellow WKCR "personality," writes with justifiable pride of the completion of a major redevelopment project that he spearheaded as president of Historic Gateway Corporation in Cleveland. The $12 million commercial, entertainment and apartment development is adjacent to the splendid new Jacobs Field and Gund Arena that have rejuvenated the Gateway District in downtown Cleveland.
John Gubbings, who has been working as a computer systems program manager, is retiring to have more time to spend on investments and social justice issues. The latter are most important to address during the good times, he notes.
I note with deep regret the death of my former roommate, Jean-Louis Huot, in April. Jean-Louis was quick, bright and already well-read, but he was not clear then on what he wanted in life. He did not graduate, although he remained loyal to the school and to many Columbia friends. He joined us for the 30th reunion in 1990 and had a fine time. After two failed marriages, he acknowledged that he was gay and found a comfortable life of service to the gay community and a long-time senior position in an art supply store, where he worked until a few days before his death from cancer. He had a wicked sense of humor — he immediately named his lethal tumor Henry, which is how we were all able to refer to it without false sensitivity. Jean-Louis wrote letters as few among us do today, full of outrageous puns, jokes and opinions, and he wrote more often than he received responses, I am sure. He was one of the most generous friends anyone could have; none of his regular visits was unaccompanied by a present for every member of the family. He loved to travel and in recent years became an excellent photographer. Most of his friends have a framed photograph or two by him that will remain a tangible reminder of this special man.
| | | |
| --- | --- | --- |
| | | |