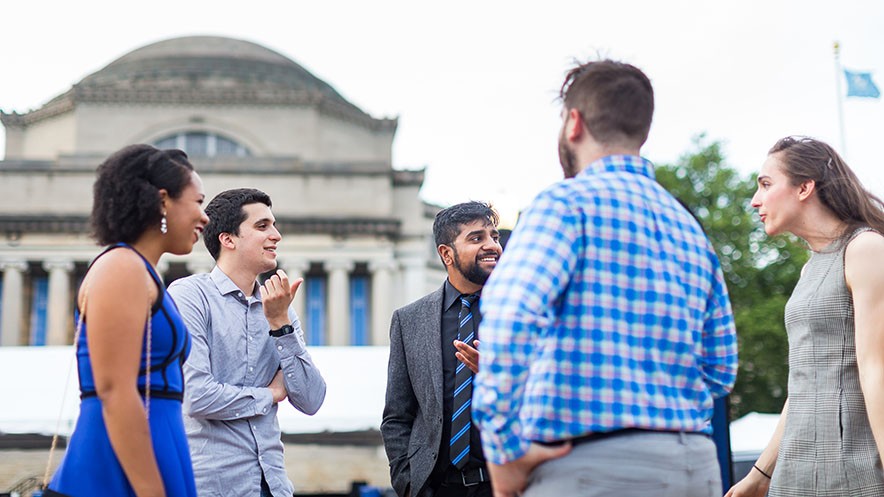 Class Agents drive the growth of Columbia College Fund, and help to secure Columbia College's standing as one of the premier colleges in the world.
More than 600 Class Agents share their time, connections and talents as spokespeople for giving to the College Fund. By networking at reunions and alumni activities, sending letters or making phone calls to classmates, these alumni champion worthy programs and provide invaluable support to the College.
To log in to the Class Agent online platform, please click here. To register, please contact Joanna Leavitt at jl4719@columbia.edu.
CLASS AGENT CO-CHAIRS
Carlos Cuevas CC'05, SIPA'12, PH'12
Jennifer Ryan CC'89, P: CC'21
CLASS AGENT VICE CHAIRS
Chuck Callan CC'78
Gairy Hall CC'11, BUS'16
Sonia

Hirdaramani

CC'02
Dara Marmon CC'95

Yerin Pak CC'15, LAW'19
CLASS CAPTAINS
Iyobosa Bello-Asemota CC

'

19
Stephen Borstelmann CC

'

89
Tiffany Bryant CC

'

08

Allie Carieri CC'15

Ray Chan CC'95

John Connell CC'76 P: CC'13, CC'16, CC'19

Tom Gilman CC

'

84
Austin Glover CC'14

Matt Jacobs CC'13

Arnold Kim CC'98, BUS'06

Emily Lavine CC'18

Brandon Martinez Gonzalez CC'16

Cliff Massey CC'10

David Mazzuca CC

'

07, GSAPP

'13

Caitlin Pannese CC

'99

Preston Pohl CC

'

09
Maria Ramirez Jurgens CC

'92

Brian Sarfo CC'17

Jerry Sherwin CC'55

Neil Turitz CC

'93

Jonathan White CC'85 LAW'88, P: CC'14

Kurt Williams CC

'

12
​
SEE CLASS AGENT VOLUNTEER Opportunities
---