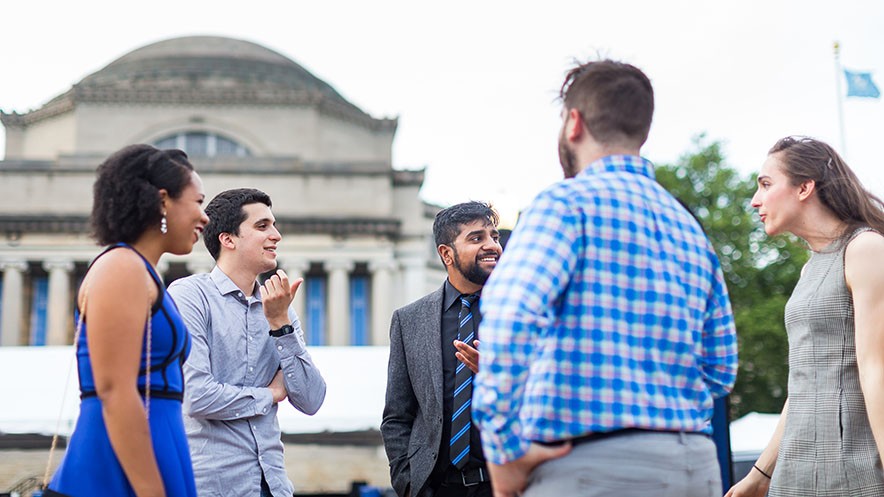 The Class Agents is an alumni peer-to-peer fundraising network. These dedicated alumni drive the growth of the Columbia College Fund by encouraging alumni giving in their classes.
Nearly 500 Columbia College alumni from nearly 70 classes volunteer as Class Agents, sharing their time, connections and talents as spokespeople for giving to the College Fund. By networking at reunions and alumni activities, reaching out to classmates and serving as ambassadors for the College, these alumni champion worthy programs and provide invaluable support to the College Fund. Members are invited to exclusive events throughout the year and receive one-of-a-kind gifts.
To access the Class Agent platform, please click here.
2020-21 COMMITTEE
Co-Chairs
Carlos Cuevas CC'05, SIPA'12, PH'12

Jennifer Ryan CC'89, P: CC'21
Vice-Chairs
Chuck Callan CC'78 - Vice-Chair for the 1970s

Whitney Berkholtz Chiate CC'96 - Vice-Chair for Reunions

Carlos Cruz CC'88 - Vice-Chair for Planned Giving

Gairy Hall CC'11 - Vice-Chair for Engagement

Sonia Hirdaramani CC'02 - Vice-Chair for International Alumni

Dara Marmon CC'95 - Vice-Chair for Recruitment & the 1990s

Yerin Pak CC'15 - Vice-Chair for Young Alumni

Chris Perkins CC'14 - Vice-Chair for Technology

Ana Salper CC'96 - Vice-Chair for Reunions

Scott Yagoda CC'86, LAW'92, P: CC'20, CC'25 - Vice-Chair for the 1980s
Class Captains
Betty Baron CC'96

Tiffany Bryant CC'08

Monica Byrne-Jimenez CC'88, TC'03

Allie Carieri CC'15

Ray Chan CC'95

John Connell CC'76, P: CC'13, CC'16, CC'19

Alison Donohoe Albert CC'97

Tom Gilman CC'84

Austin Glover CC'14

Matt Jacobs CC'13

Stephen Kane CC'80

Mary Killackey CC'94, PS'98

Elie Levine CC'96

Brandon Martinez Gonzalez CC'16

Cliff Massey CC'10

David Mazzuca CC'07, GSAPP'13

Zehra Naqvi CC'21

Michael Noviellie CC'03

Caitlin Pannese CC'99

Preston Pohl CC'09

Gary Rachelefsky CC'63

Maria Ramirez Jurgens CC'92

Emily Lavine Rosin CC'18

Brian Sarfo CC'17

Robert Schweitzer CC'90

Christopher Totman CC'00

Neil Turitz CC'93

George Wilson CC'82, GSAPP'86​
---