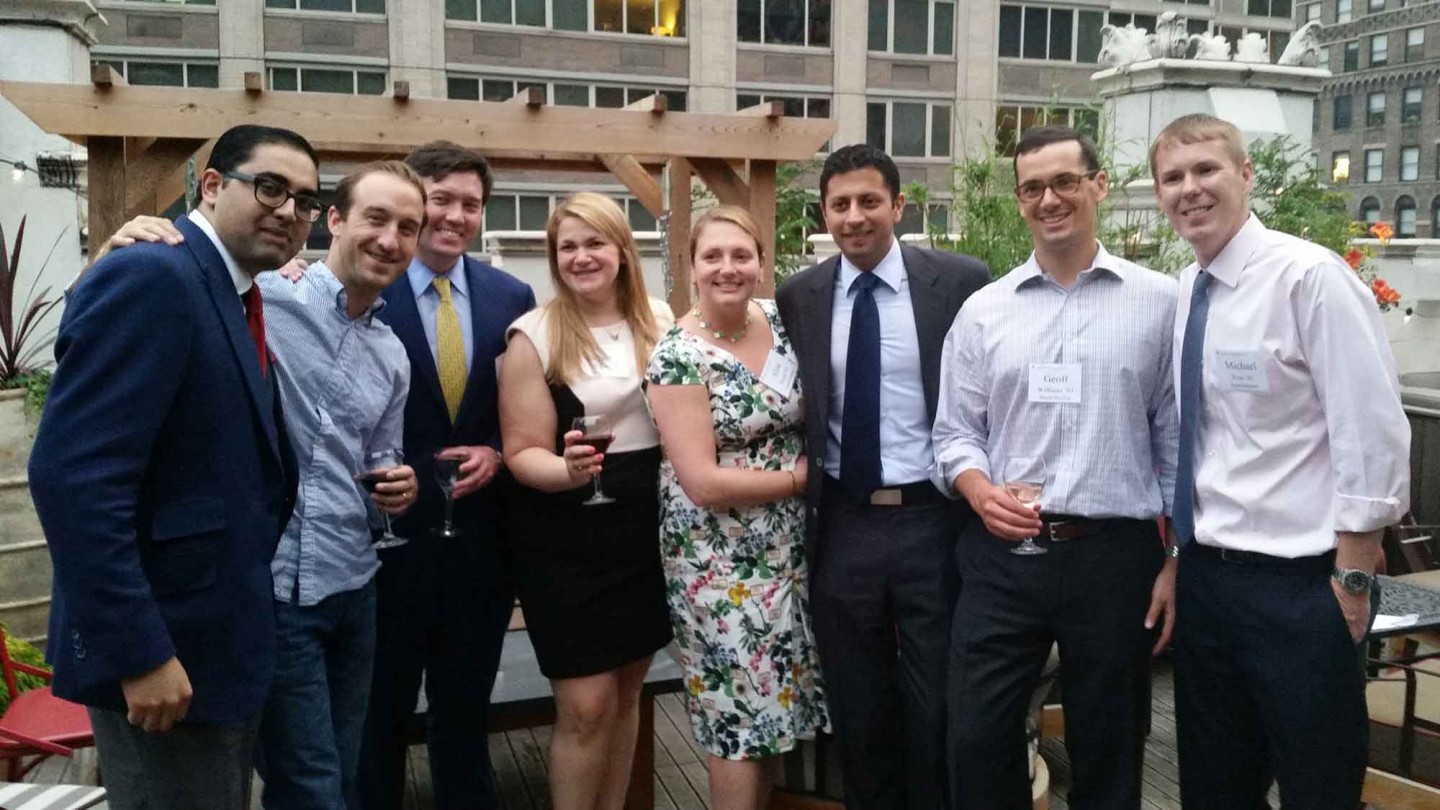 The Young Leaders Council (YLC) is an alumni leadership group at Columbia College that seeks to cultivate young philanthropists and develop a pipeline of committed, engaged alumni. Membership in the YLC offers Columbia College alumni 1-20 years out of college unique opportunities to network with other recent alumni and gain access to specially curated intellectual content available through the University's network. Council members make an annual College Fund gift of $1,500 or more. ​
Benefits
Access to key University and alumni leaders via Young Leaders Council events and programming.
Networking opportunities with young alumni peers.
Opportunities for growth within the Columbia College volunteer community based on level and quality of engagement.
Curated invitations to and notifications of College and University events.
Quarterly guest speaker series bringing together powerful, unique, and interesting voices from within the Columbia College network to young alumni.
Upcoming Events
Doug Cifu CC'87 LAW '90, CEO of Virtu Financial Inc. and Vice Chairman, Partner and Alternate Governor of the Florida Panthers Hockey Club
Wednesday, February 28, 2018
Past Events & Speakers​
George Stephanopoulos CC'82, News Anchor, Former White House Advisor in the Clinton Administration
Saturday, December 1, 2012
Senator Judd Gregg CC'69, Former U.S. Senator Judd A. Gregg '69 (R-NH)
Wednesday, October 1, 2014
Alex Castellanos, Founding Partner of Purple Strategies and media consultant for five U.S. Presidential campaigns.
Jennifer Hanley, Managing Director at Tusk Ventures and former press secretary for Hillary Clinton.
Tuesday, September 20, 2016
Lt. Michael Leiter CC'91, former Director of the United States National Counterterrorism Center under President G. W. Bush and President Obama
Thursday, February 2, 2017
Nicholas Vita CC'95, Chief Executive of Columbia Care LLC, a medical-marijuana company
Wednesday, April 26 2017
Judge Joseph Greenaway CC'78, United States District Court Judge for the District of New Jersey
Tuesday, May 23, 2017
Judge Rolando Acosta CC'79 LAW '82, Associate Justice of the New York State Supreme Court
Thursday, September 28, 2017
Peter Hatch CC'92, Chief of Staff, Office of the Deputy Mayor for Health and Human Services
Wednesday, November 8, 2017
2017 Board Members
Randy Berkowitz CC'04

Ganesh Betanabhatla CC'06

Francesca Bodini CC'06
Tyler Boyd CC'06 (Co-Chair)

Caitlin Brodie CC'06

Mike Brown CC'06 (Co-Chair)
Zecki Dossal CC'02
Avram Drori CC'04
Kevin Galligan CC'05
Megan Lundy CC'08
Tom Meister CC'09

Heather

Meyerdirk

CC'06

Vijay Mohan CC'01

Sumana Rao CC'08

Lisa Heffner Scolnik CC'06
Geoffrey Williams CC'03
Alastair Wood CC'01
Alisa Wood CC'01 (Chair Emerita)
Iain Wood CC'03
2017 Council Members
Zila Acosta-Grimes CC'11

Ram Ahluwalia CC'01

Tala Akhavan CC'13
Jeremy Banon CC

'

13

Katie Day Benvenuto CC'03

Christian Capasso CC'07

Sarah Coleman CC'15

Carlos Cuevas CC'05

Mariele Dunn CC'11

Samantha Feingold-Criss CC'07

Thomas Gorman CC'04

Brian Grimes CC'11

Stephanie Hagio CC'06

Andrew Heinrich CC'13

Laura Heller CC'01

Keith Hernandez CC'07

Sonia Hirdaramani CC'02

Oleg Ilichev CC'04

Janice Mok Ince CC'01

Ian Jay

CC'

05

Mallory Jensen CC'05

Christopher Jones CC'07

Arvind Kadaba CC'07
Arjun Kapoor CC'09
Venkat Kausik CC'13
Jon Keehner

CC'

00

John Kenney CC'13

Scott Koonin CC'02
Kevin Lawi

CC'

00

Rob Meyerhoff CC'06

David Morgan CC'12
Dan Moss CC'03
Nathania Nisonson CC'03
Susan Phan CC

'

12
Azhar Quader CC'02

Carter Reum CC'03

Adam Rozencwajg CC'06

Diana Benton Schechter CC'05

David Seidman CC'06
David Toledano CC'05

Miklos Vasarhelyi CC'04

Paul

Wang CC'12

John Zaro CC'05

Kevin Zhang CC'14

Charlotte Evans Will CC'03