Gifts to the Columbia College Fund support four main priorities: Core Curriculum, financial aid, internships and student life. These priorities are fundamental to the first-rate undergraduate experience that defines Columbia College.
What the College Fund Supports
This chart provides a breakdown of the priorities supported by the Columbia College Fund in fiscal year 2021.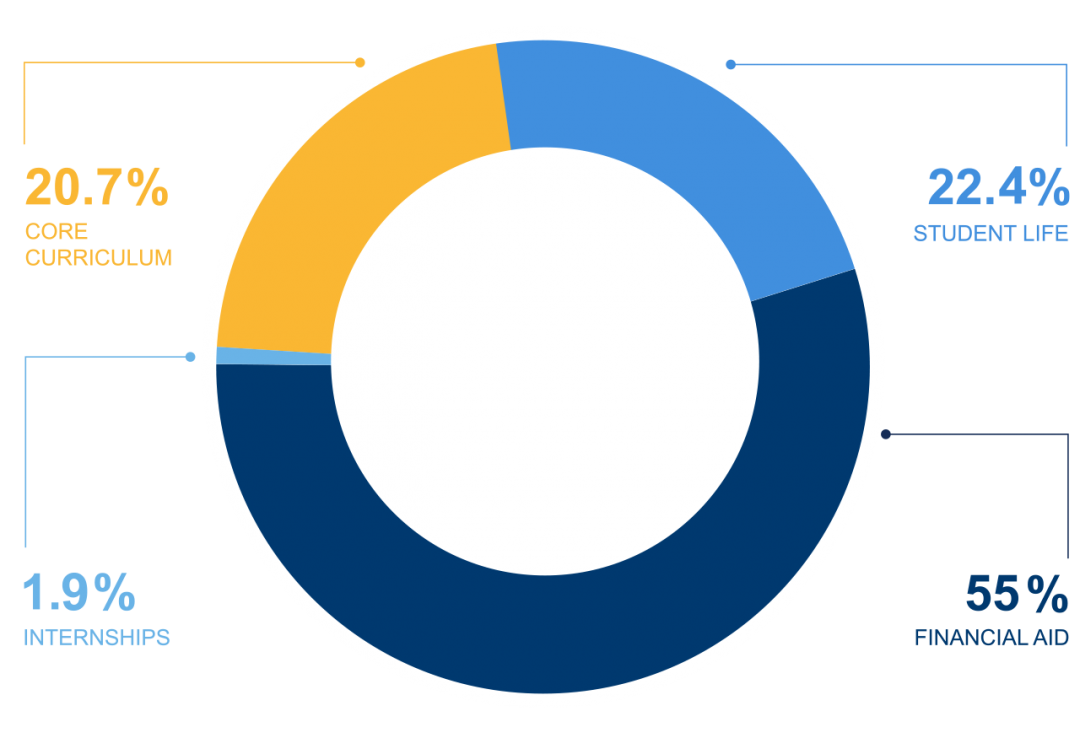 How College Fund Dollars are Spent
Core Curriculum: Keeps class sizes small and provides funding for off-campus trips to the opera and museums.
Financial Aid: Helps the College maintain its commitment to need-blind admissions and full-need financial aid.
Internships: Provides stipends to students pursuing unpaid and low-paid internships, research and volunteer opportunities.
Student Life: Supports study breaks, orientation programs and residence hall activities.
Dollars at Work
Your support matters. Gifts of all sizes to the College Fund have an immediate impact on the lives of students, funding countless programs, activities, and opportunities.
Propel the Fund (Priorities)
Allows 10 students to attend a guided tour of The Cathedral of St. John the Divine for Art Humanities
Purchases an opera ticket for a financial aid student in a Music Humanities class
Covers a student's registration fee for a club-related national conference in Washington, D.C.
Supports a community-building event in a residence hall to introduce first-year students to career counselors and career development resources
Purchases two business suits for financial aid students to wear to career fairs or interviews
Sponsors professional development training for students participating in internships
Supports career assessments and personal advising that helps students with career planning
Covers the costs of books for one financial aid student in an academic year
Hosts the First-in-Family Welcome Reception, connecting students who are the first in their families to attend college with faculty, deans and other students
Provides leadership training for students who lead Columbia's Special Interest Communities
Brings an intellectual leader to campus to discuss their Core Curriculum related scholarship in a course-wide lecture
Funds orientation programs and activities that prepare all first-year students for their four-year journey
Supports a year of Faculty-in-Residence programming connecting students with faculty outside of the classroom
Fully sponsors one student participating in Columbia Experience Overseas, an 8-week summer internship program in an international city